The Layers of Learning Podcast with Karen and Michelle is here to help you get your whole family learning together in your homeschool. We are the sisters behind Layers of Learning. We love getting together to chat about homeschooling and this podcast is just a series of our chats. We're inviting you to listen in on our conversations.
We both have big families, but we teach almost all of our school subjects to everyone at once. We want to help you find the joy in that too, so we talk a lot about family homeschooling. To see all of our episodes, visit our Layers of Learning Podcast Page. Join us as we explore how to have a happy, hands-on, family-style homeschool.
The World Is Your Classroom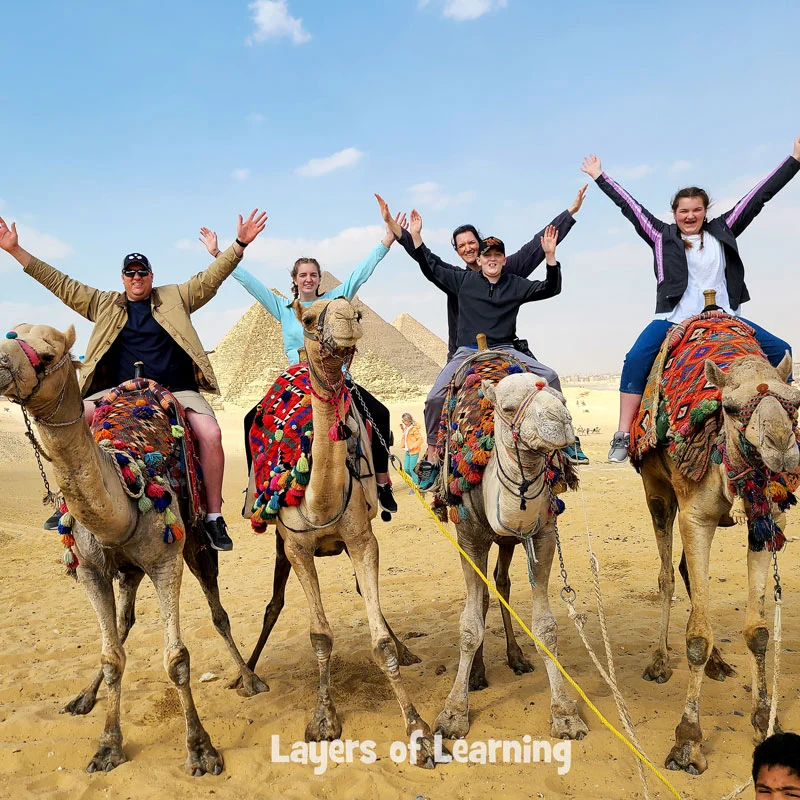 Karen and Michelle discuss how when you homeschool, the world truly can be your classroom. Learning doesn't always mean sitting at a desk with a pencil in your hand. You can apply the things you are learning to the real world as you venture beyond the classroom. This podcast episode touches on how learning can truly come to life through outdoor adventures, field trips, outings, and even family vacations.
Here Are A Few Topics You'll Hear About in this Podcast:
Sometimes just changing the scenery of your classroom, like doing a math lesson outdoors, can give a breath of fresh air to your homeschool.
Visiting spots where what you're learning about meets the real world, like visiting the zoo, an ecosystem, a doctor's office, or anywhere they can see some things they are learning about in the real world, is invaluable.
You don't have to have a lesson plan or even have something that coordinates perfectly with your lesson plans.
Go visit historical sites, become a tourist in your own area, talk with the experts in your area who can teach your family about the history and geography of the place you live.
Head outside to sketch, observe the natural world, experiment, or just read and learn in the great outdoors.
Take advantage of opportunities to see plays, visit museums, and notice the art and architecture all around you. Notice the art all around you, point it out to your kids, and discuss what you see.
Learn about other cultures and peoples through interactions whenever you can. Travel, near or far, can elevate your homeschool. Talking to people and understanding them helps overcome prejudices and misunderstandings.
Explore landforms – rivers, deserts, mountains, and more – and see the things you are learning about in books.
Have your kids help plan trips, scout out field trips, use maps, and navigate around the places you're visiting.
Physically engaging with the things you are learning about deepens our knowledge and understanding. Letting the world become your classroom will open your homeschool to all kinds of learning.
Click the Play button to hear the podcast, then subscribe below!
Podcast: Play in new window | Download
Subscribe: Google Podcasts | Stitcher | Email | RSS | More
Free Samples
Try family-style homeschooling now with free samples of four Layers of Learning units when you subscribe. You'll get to try family-style history, geography, science, and arts with your children.
You can unsubscribe any time.