On this page we'll try to answer the questions that have cropped up so far.  If you have more questions, leave a comment at the end of this page, and we'll answer as soon as possible.
Is Layers of Learning a Christian curriculum?
No.  Our worldview, including our western heritage and respect of others do come through in the units.  But we do not intersperse Bible quotes or references or preach.  We do teach about religions, including Christianity, when it is historically or geographically relevant.  We do not teach faith in either secularism or any religion. Instead of teaching our version of religion, our approach is to ask questions that challenge you to think actively about your philosophy regarding religion, politics, morals, and your worldview.  We ask, you discuss with your kids what you believe, and together you develop your own answers to the important stuff.  Critical thinking is built into the program.  Parents are given back the responsibility of training their children's morals and worldview.
Evolution or Creationism?
There are three ways to approach scientific knowledge.  We'll use the example of the turtle's shell to explain.
Evolution method
: The turtle's shell evolved to protect it from predators.
Creation method
: The turtle was created with a hard shell that protects it from predators.
Factual method
: The turtle has a hard shell, which protects it from predators. We use the factual method. We simply explain what is observable and don't speculate on origins.  This is the most scientific and responsible way to present information.  Science is merely one way of learning about the world, not the only way.  Science can only answer questions about what is observable and testable in the physical universe.  It cannot answer questions in the realm of faith, ethics, sociality, or about knowledge gained in other ways.  That does not mean other ways of gaining knowledge are wrong, but they are unscientific.  We keep science firmly in the realm of science and don't allow it to creep out of its area of expertise.  In a few places we do address how different points of view have affected scientific inquiry, classification, and politics.  We usually do this in the form of questions for you and your student to think about and discuss. Just because we present the facts doesn't mean we assert that science isn't about questioning.  That is precisely what it is about.  We present facts and then encourage you to experiment, research, and pursue further knowledge.  That's what scientists do!  They are always trying to experiment and explain.  Layers of Learning is a springboard for pursuits of knowledge.  We provide facts, topics, resources, questions, and experiment ideas, and then allow you to explore and establish theories, beliefs, and ideas.
Which ages is LoL written for?
It is for kids from 1st grade through 12th grade (6 years old to 18 years old).  There are colored smileys throughout the books to indicate which age group we feel particular books and activities are best suited for.  It was written so it can be used with multiple ages of kids at the same time.
Do I have to read everything on the Library Lists?
No.  The Library Lists are comprised of the best books we have found on the particular topics in each unit.  Search for them at your library.  But if you can't find these or don't like these, read something else.  We list far too many books to read in just one unit anyway. Choose your favorites and pass on the rest.  Only rarely do activities in the units depend on the Library List.  Instead the books are listed because we expect outside reading to be your main source of information as opposed to textbookish writing that we might supply.  We also add more resource ideas to the
Layers of Learning Pinterest Community pages
we keep for each unit as we find them.  These are options; not requirements.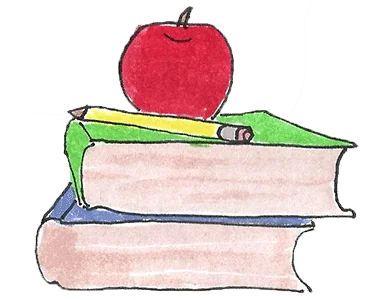 Can Layers of Learning be used by public, private, and charter schools?
Yes, Layers of Learning is an approved curriculum for most public, private, and charter schools. In addition, we accept purchase orders from schools as outlined within our
Purchase Agreement.
The terms and details are specified within the agreement. Please email us at contact@layers-of-learning.com for inquiries about purchase orders, wholesale pricing, or other commercial contracts.
Is Layers of Learning Common Core-aligned?
"Common Core" is a set of standards that has been developed in the United States and which most states have adopted.  Some states use charter or umbrella schools which require homeschools to use common core-aligned curriculum. Some parents want to make sure their students are getting the latest high standards in education. There are a lot of misconceptions about Common Core though, In truth, the outlined standards are not a set of facts to know as many believe, but are instead, goals regarding how children learn to evaluate and process information they find in the world.  Layers of Learning easily meets these standards as parents and children read, discuss, and analyze books, videos, and other information in the curriculum. Common Core standards primarily apply to language arts and mathematics, but the principles extend to social studies (history and geography) and to science. Many curriculum companies did not change their curriculum to match Common Core, but instead, just took the time to point out where in the existing curriculum, those standards were addressed. When we wrote Layers of Learning we did not make an attempt to align the curriculum with any set of standards or learning goals except our own.  Our personal standards include these things:
Literature-based learning instead of textbooks.
Many learning styles from reading and writing to hands-on to visual and auditory.
Rich in facts and information.
Primary sources used frequently in every subject.
Children learn to think and discuss instead of read and regurgitate.
Children learn to produce their own thoughts and develop their own opinions in written and verbal forms.
Children learn how to learn and love it so learning becomes a life-long habit and not just for school.
Basically, we used our own experience in teaching our own kids who have a diversity of learning styles and personalities, coupled with the educational philosophies of the last several hundred years, to form a thorough, intentional, deep style of learning. Common Core standards include things such as:
Reading and analyzing primary sources.
Understanding the messages an author is trying to convey.
Understanding the definition of key terms an author uses.
Distinguish between fact and opinion.
Cite text in support of your own argument.
Read and analyze multiple sources on the same subject.
Evaluate an author's premise or claims.
Follow a multi-step procedure while doing science experiments.
Understand science terms and symbols.
Compare what you learn through experimentation in the real world with what authors say.
You can read more about Common core standards at
CoreStandards.org
. As you use Layers of Learning, you will definitely recognize these things within the program. However, we have not actually aligned the standards with Common Core. It is a pick-and-choose curriculum that is designed to be flexible and fun that instills a love of learning, not a checklist of standards to complete.
How do I translate Layers of Learning into credit for a transcript?
Each year (if you do all the topics in Layers of Learning) gives you a credit or course in history, geography, science, and art.  For a high school transcript you would give one credit (.5  or 1 credit per semester, depending on how local credits are calculated) for each topic.  Here's a chart to show how it breaks down.
| | | | | |
| --- | --- | --- | --- | --- |
| | History | Geography | Science | Arts |
| Year One | 1 credit Ancient World History | 1 credit Geography 1 | 1 credit Earth & Space | 1 credit Art 1 |
| Year Two | 1 credit Medieval World History | 1 credit Geography 2 | 1 credit Biology | 1 credit Art 2 |
| Year Three | 1 credit Colonial World History | 1 credit Geography 3 | 1 credit Chemistry | 1 credit Art 3 |
| Year Four | 1 credit Modern World History | 1 credit Geography 4 | 1 credit Physics | 1 credit Art 4 |
Also, more information on
evaluating Layers of Learning assignments and courses
. And general info on
how to grade courses
, especially for high school.
How much time should I spend on each unit?
The units were designed to be used for one month each, one to two hours per day, depending on the ages of your children. The schedule is completely flexible and you can arrange your weekly time however you like. Here is one option for a subject-of-the-day approach: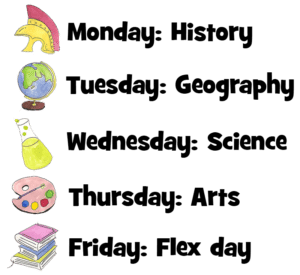 Not everyone will use the curriculum as a monthly program or in the subject-of-the-day pattern.  You might want to do history several times a week, or spend less time on some topics and more on others.  It's very flexible, allowing for you to create your own schedule, while still organizing your studies in a logical way.
Do I have to complete all the Explorations, Experiments, and Expeditions?
No.  This is a pick-and-choose curriculum.  We give ideas, you decide what works for you.  Most people will probably only do one or two explorations per week in each subject.  Think of the units like a learning buffet; if you tried to have it all, it would be too much.  But you should complete a few activities in each unit to make this a complete learning course for your kids. You will likely learn about most of the topics the Explorations cover through your reading and video lessons, but you should not try to do hands-on projects and activities for every single fact, event, and principle you learn about.
How do I download the product I purchased?
After you complete a purchase you should be immediately returned to a page with the download links. You should also get a receipt in your email inbox within seconds of your purchase.  Click on the link to your online receipt.  If you do not receive an emailed receipt within a few minutes of your purchase then contact us (
contact@layers-of-learning.com
) right away.  We can send you your receipt or your units directly.
My purchase won't download!
When you click on a link on the receipt, your download should start automatically.  If it does not, it is most likely a problem with your email client or your virus protection. Most email clients use virus protection to check uploads and downloads.  If both the email virus protection and your personal virus protection are running at the same time they can conflict and block downloads, especially of large files.  If you can't figure out the problem, email us with as much info as you can.  In particular it helps us to know what kind of device you are downloading to and which browser you are using. Screenshots are golden. The units we sell are large files with lots of graphics so most phones and some tablets do not have the memory required.  Phones and tablets also have to have a way to view the files once downloaded. The files we sell are all pdfs. Use the free
Adobe Acrobat reader
to view them.
My files won't open!
The planners we sell are in zip files (so we can bundle a set of individual files together in one product) and a few people have had trouble opening them.  You have to have a program on your device that can unzip files.  Desktops and laptops usually come with this, but phones and tablets may not. Once you are sure you have the software to unzip the files, right click on the file to see a menu of options, click on "unzip" or "extract."  The files will open and you will be able to view them as normally. If you can't figure out how to view a file, email us (contact@layers-of-learning.com) and we will do our best to help you.  We need to know your operating system and the type of device you are using.  Again, a screenshot can be very helpful so we can see what you see.
What are your terms of use and return policy?
Digital products may be printed for personal use within a single family or classroom (including co-ops), but not to pass out to friends, share with your whole school, or resell. Please do not share digital copies as this a violation of copyright law. Once downloaded, digital products cannot be returned or refunded, though we are happy to work with you if you are not satisfied. We encourage you to
get the free samples
to view before you make a purchase so you are aware of what you are buying.  Please contact us at contact@layers-of-learning.com.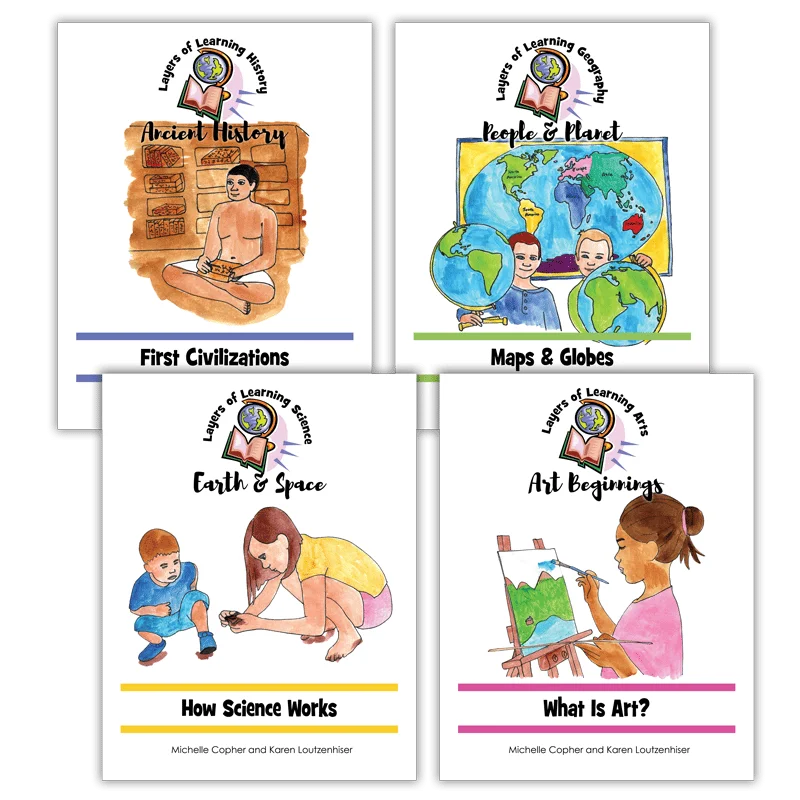 Support    
One of the quickest places to get support for your questions is in the
Layers of Learning Facebook Group
.  You can ask Karen and Michelle as well as other users questions about Layers of Learning. If you have questions about your order or are including personal information, we request that you e-mail us directly at
contact@layers-of-learning.com
.