In short, you begin homeschooling at the beginning. Your beginning may be a different place than mine. I began when my oldest was starting kindergarten, which will look very different from the homeschooler that is beginning in the middle of 2nd grade when a reading disability is discovered before an online ADHD treatment begins, or during 5th grade when a difficult teacher is making your kid miserable, or when it's decided that the junior high school is too dangerous. Some of us begin just with a desire to teach and be with our children, but some homeschool families also have some bad experiences, difficulties, or negativity jading their start. You have to start at your beginning – and figure out what brought you to this path.
Finding Your WHY
Whatever your beginning, take a minute to write down WHY you are homeschooling. This may seem unimportant, but I can promise you that at some point in time you will appreciate the few minutes you took to write down WHY. A good WHY can get you through hard times and help you have joy in your homeschool. Use this printable My Homeschool Plan packet as you begin homeschooling. It follows the sections of my "How To Homeschool Guide for New Homeschoolers" and can help record your thoughts as you begin your homeschooling path. If you'd prefer a black and white version of the printable guide you can find that here.
Put the packet in a binder that you can look at and refer to often.  In my homeschool binder I also keep wishlists of books and homeschooling resources, ideas for things I want to do with my kids, websites we like (along with log-in/password info.), goals, and more.  Between this free printable packet and the Layers of Learning Homeschool Planner, you'll find all the pages I keep in my Homeschool Binder.
Homeschool Laws & Requirements
The next step is to find out what the homeschooling laws and requirements are in your state, country, or area. If you live in the United States, HSLDA is the best place to visit to learn about exactly what your state requires. You may be required to notify your school district, submit a notarized letter of intent, create an individualized home instruction plan, keep transcripts or work, administer tests, and comply with day, hour, and subject requirements. On the other hand, in Idaho where I currently live, there are no requirements. I don't even have to tell anyone we are homeschooling. It's your job to find out though, so you can make sure that you are within the law. I've homeschooled in two other states that had tougher requirements. Make sure that you follow the laws of your location. Write down the basic laws where you live in your packet.
Take Some Time To Adjust
If your kids are leaving school for some reason, make sure you give everyone some adjustment time. You don't need to pull them out on Friday and begin to homeschool on Monday. Between anxiety and lack of preparation time, especially when polluted by recent bad experiences in school, you'll be creating a perfect storm of failure for a new homeschool family. Take a few weeks or a month off to give everyone time to process the life change and to prepare for this new endeavor. It will give you a chance to create a plan and feel more prepared, and will give your kids an opportunity to have a fresh start.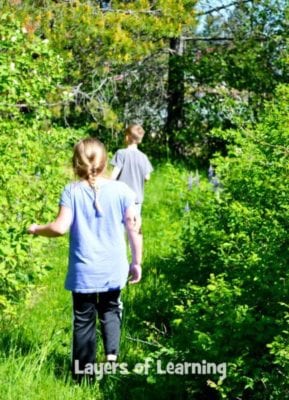 A break is important, but be careful with how you spend the break. Rather than filling the time with TV and boredom, go on field trips and outings, read a lot, go to the library, do some cool science experiments just for fun. Sketch and paint. Play math games online. Write and illustrate stories. Bit by bit, make your house into a learning house. Write down ideas for fun learning activities in your packet. These will begin in your adjustment time, and will hopefully continue as you homeschool.
Brainstorm a List of What You Want Your Kids To Know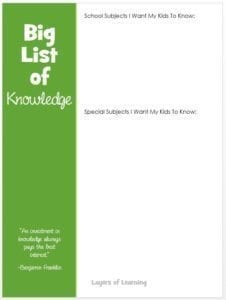 In the coming steps, I'll be going into more detail of what you should teach your kids, but before you are told by anyone what you should teach, you should create your own list. Most likely your list will include Math, Reading, and Writing. Chances are you'll write down History, Geography, Science, and Art too, but beyond the normal essential school subjects we think of, there are a variety of electives to consider. In my homeschool we call them "Specials." They are the extras. My kids don't all do all the same specials. My oldest son is learning to play the guitar and do computer programming while my daughter is learning dentistry, violin, and sign language right now. All four of my kids play on basketball teams. Let go of a limiting public school mentality. You have the chance to teach your kids anything under the sun, so why not start with a huge list of cool ideas?
Subjects To Think About
Here are a few ideas to get you started, though this is a general list and is not exhaustive. Be as specific as you like.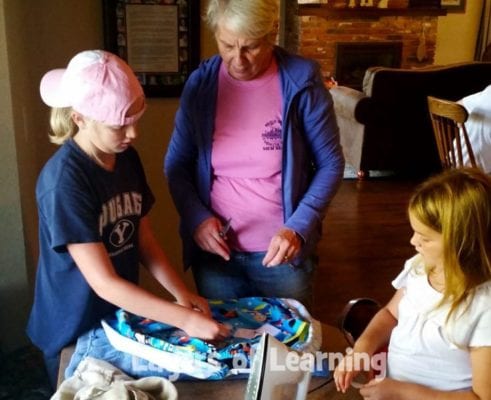 Religion/Character
P.E./Sports
Government/Civics
Life Skills (money, budgeting, understanding insurance, home repairs, automotive maintenance, grocery shopping, meal planning, cleaning, gardening, filling out forms, learning to write a resume, first aid, decorating, sewing, cooking, and more)
Specialized Interests (woodworking, knitting, forging, soap making, beekeeping, how to fly an airplane, and so on.)
Computer Programming/Robotics/STEM/Other Tech Training
Foreign Languages
Music or Art Lessons (different from the arts, where you learn about fine art. Instead this is the process of learning to produce music or art)
Speech/Rhetoric – the study of how to persuade, entertain, or inform an audience.
Logic – Learning to make a valid argument, deliberately use techniques to sway an audience, and spot argumentative mistakes or deliberately misleading lies in the media, advertising, your neighbor, or politicians
Dead Languages (Latin or Greek)
Economics
Business/Entrepreneurship
Test Prep – preparation for taking standardized tests, including college entrance exams
A Long-Term Education Plan
You will not be able to teach everything you want to every single year, so you are going to create a long term education plan. Sketch out a basic plan of what to teach and when for the whole of your child's education. You can, for example, jot down that you would like to teach two years of foreign language in 9th and 10th grades, then one year of logic in 11th grade, and a computer programming course in 12th grade. You might also divide some subjects into semesters, listing more than one in a year.
You'll find a Long Term Education Plan worksheet in the packet as well. It will help you organize your thoughts and keep a record. You can put it right in your homeschool plan binder. Don't worry if you're not sure. You can change the plan later as you gain experience, as your children grow, as your circumstances change, and so on.
Here is an example of how to fill out the sheet.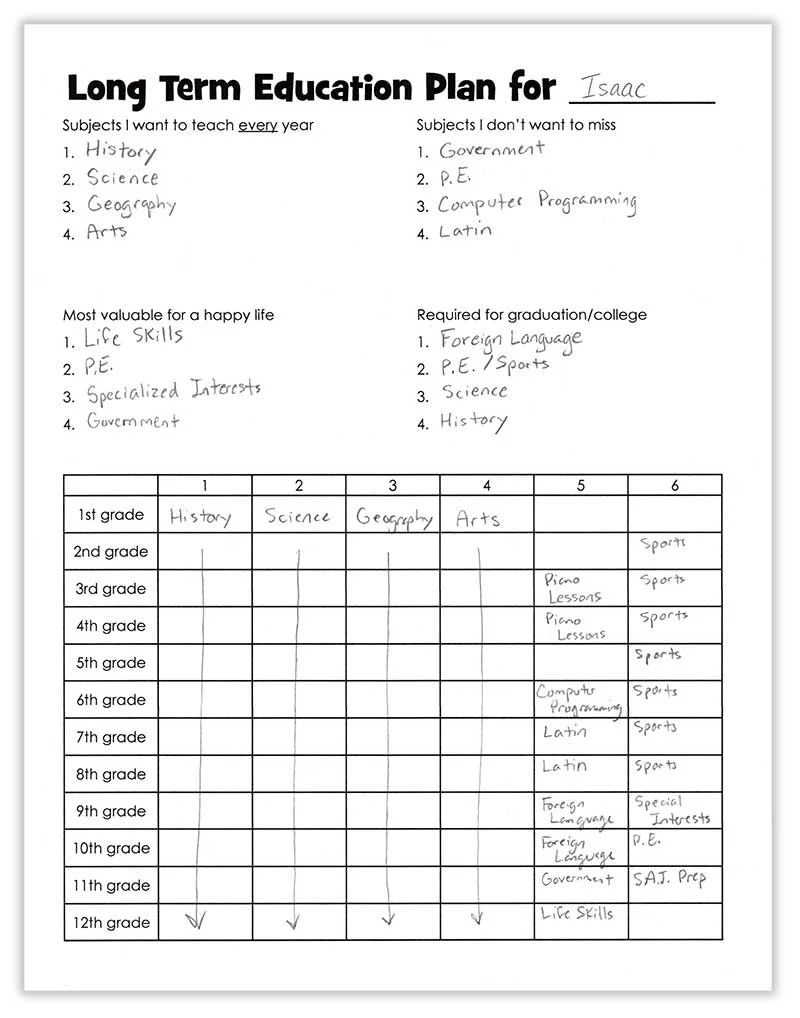 The beauty of having a long term education plan is that you can now gracefully lay aside many things. After all, you know you will get to them in other years. You can't do it all right now.
The Four Year Plan
As you create your long-term plan you might feel you want to be more specific. This step is completely optional. I felt like I wanted to have a good map before I started, If you can fly by the seat of your pants, so be it. But if you want to create a more detailed overview, the Four Year Plan is used by a lot of homeschoolers as they structure their homeschool. It is a way to break down the subjects into manageable chunks. Layers of Learning uses an adaptation of the 4 year plan. Here are the breakdowns of subjects by year: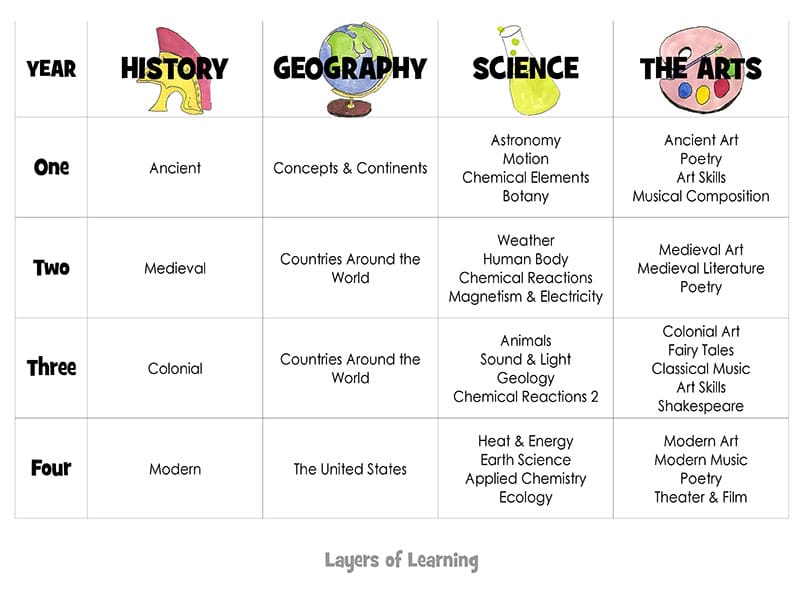 Once you've gone through the four years, you are ready to begin again, this time learning things more deeply and at a new level. Imagine a first grader learning about astronomy. By the time she reaches 5th grade and begins astronomy again, she is more capable of greater depth. Then astronomy would be studied a third and final time in 9th grade, again, at a deeper level than before.
There are many ways to structure your plan, but the 4 year plan seems to be organized enough for peace of mind, yet flexible enough to really work in your homeschool.
Create a Homeschool Vision
Before we move to the next step, take a few minutes and write down what your homeschool vision is. Your vision is how you see your homeschool in your mind.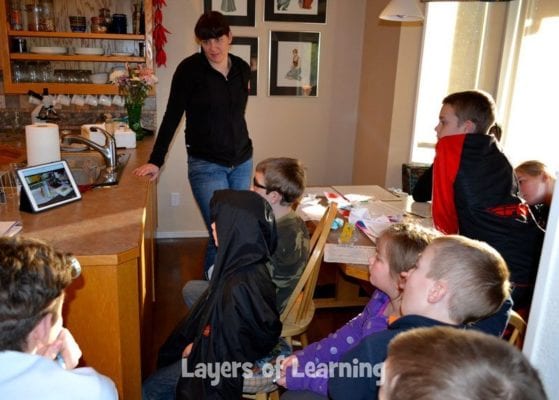 Close your eyes and describe how you envision your homeschool. Do you picture kids sitting at desks or sprawled out on the couch? Do you picture outings and field trips or quiet, peaceful afternoons with books? Read-alouds? Games? Workbooks? Online classes? Nature studies? Will you learn as a family or more independently? Do you see yourself at a co-op with other homeschoolers? Will you travel? Do you want to take a weekly outing to the library? Will music be playing? Will you have science experiments sitting on the kitchen counter? Or will all of your homeschool supplies fit tidily on one shelf?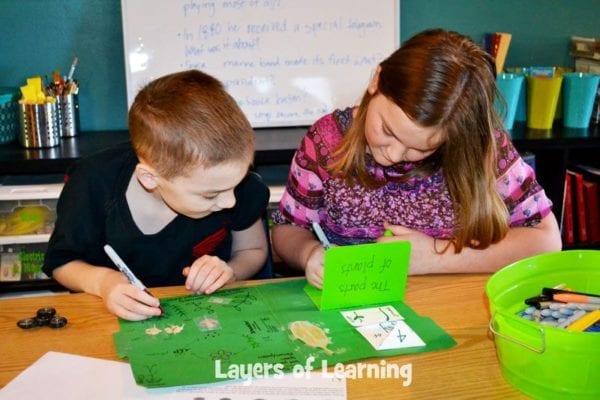 Your vision will likely change somewhat as you go on, but it's important to paint a picture in your mind of what you want to accomplish and what you want your days to look like. This will help you in your next step as you find your homeschooling style.
Free Samples
Try family-style homeschooling now with free samples of four Layers of Learning units when you subscribe. You'll get to try family-style history, geography, science, and arts with your children.
You can unsubscribe any time.