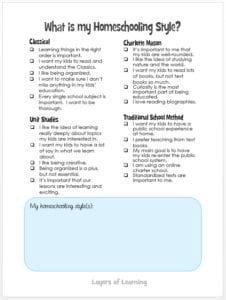 When we, Karen and Michelle, each started homeschooling it seemed like everyone we spoke with and every book we read talked about homeschooling styles. Everyone wants to know what "style" of homeschooler you are. Well, we weren't sure what style we were until we tried each one on for a bit. Like most other homeschoolers we found we were eclectic, taking the parts of each style that we liked best and melding them together.
Layers of Learning is built this way, taking the best of each style to make a flexible program that fits every style of homeschool and every type of learner as the mentor guides the children in their education.
As you read about each homeschooling style, take notes on the Homeschooling Style page. Check the boxes that ring true for you. At the bottom, articulate what your style is, remembering that most people are actually eclectic (a combination of several styles). Remember, this is just for you. Writing it out isn't a commitment. It's just an exercise to help you think about what's important to you.
Classical Method
In a nutshell, the classical method involves learning lots of facts in order to create a framework, then learning to express oneself effectively, and finally coming to understand and discuss the great (and not so great) ideas of the past and present. These three goals are met through a method called the Trivium.
Trivium means there are three stages to a child's maturing and learning.
Grammar stage (age 6-9) where kids are absorbing facts and learning the basics so they have context and practice using their brains. They are learning the fundamentals of writing, mathematics, and every other subject.
Dialectic stage (age 10-13) where children continue to learn facts, but also are able to think about, explain, and analyze the facts verbally and in writing. They begin to think creatively and add their own ideas to their learning.
Rhetoric stage (age 14-18) where kids are thinking deeply, applying their learning to themselves and finding the big ideas behind the things they learn.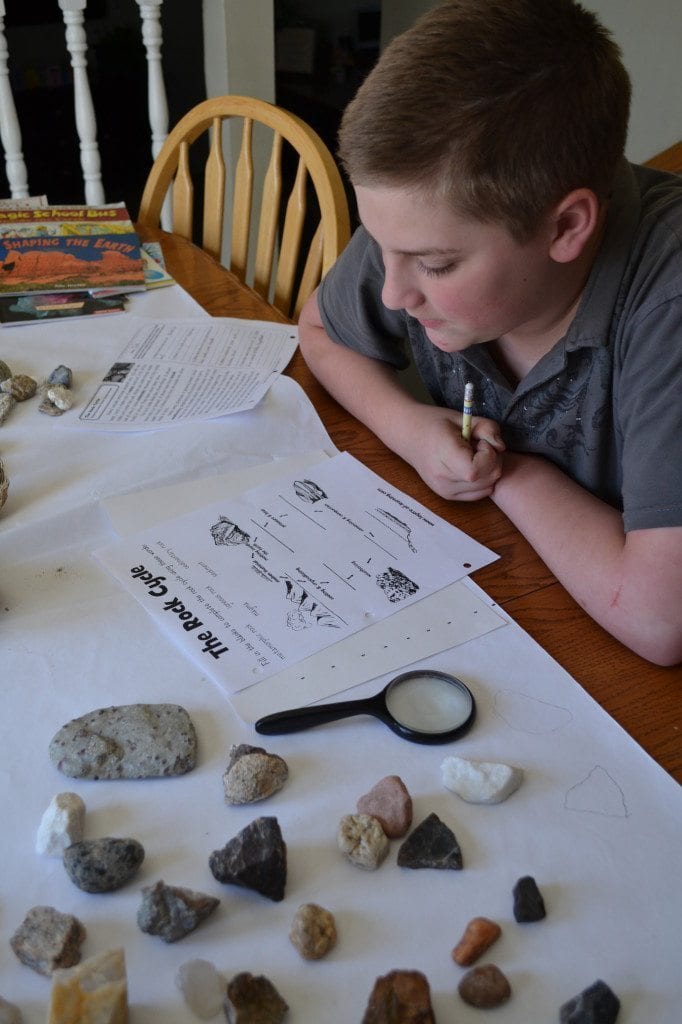 Layers of Learning is built around a four year cycle. Kids go through their cycle three times during their education and this matches the stages of the Trivium. We often talk about how you repeat Layers of Learning, but your kids are older, reading more complex books, writing more, and having deeper discussions. This is actually the trivium built into Layers of Learning.
Layers of Learning also incudes the Great Books sometimes as lessons built into the curriculum, but more often as options for reading in the Library List. Great Books are an essential part of classical education because they represent the Great Conversation, a discussion of the best ideas of mankind that has been progressing since writing was invented. Your children are being trained to take part in the Great Conversation even if their part is only to think deeply about what others have said and come to their own conclusions.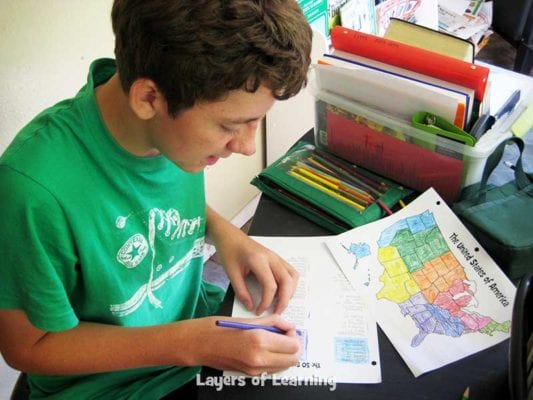 Charlotte Mason
Charlotte Mason and Classical styles of homeschooling are close cousins. There are enough differences though that Charlotte Mason is a distinct style all its own. Charlotte Mason was a school teacher in England when only the rich were well educated and could afford the best classical education, but she wanted all students to have a fine education.
Charlotte Mason's goal was to bring out well-rounded, intelligent children who had a love for learning and an insatiable curiosity about the world. Her students used few text books, they learned from what Mason called living books, books written by authors with passion for the subject. They spent time in nature, looking at the wonders around them. Recording what they saw in their notebooks taught them to identify leaves, bugs, flowers, rocks, and birds. History studies utilized living books and biographies of important people.
Layers of Learning also uses living books. Instead of the curriculum we sell being a text book, it is a guidebook for the adult mentor. It is full of library lists and Bookworms sidebars where interesting, engaging books are listed that you can choose from among to custom design a curriculum to appeal to your children. You hand the books to your children to read during reading time or as part of a Layers of Learning lesson, or you read them aloud together.
Layers of Learning also focuses hard on fun and loving learning, which is a Charlotte Mason method to turn the drudgery of school into a life long love of learning. We go outside to learn about the world, do hands on activities, read living books, and include videos as parts of lessons to bring immediacy and interest to otherwise boring topics.
Unit Study Method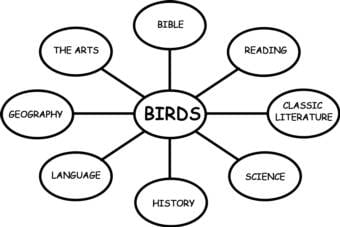 Unit studies are popular among homeschoolers. The idea is that you choose a topic and surround your curriculum for a period of several weeks with that topic. For example, you might choose bicycles. You could learn about the physics of bicycles: gears, levers and wheels, the history of the bicycle, have spelling words related to bicycles, make a map showing where in the world people use bicycles as a primary means of transport, use bicycle riding for physical education, take a field trip to a bicycle repair shop, read a novel or story where bicycles are an important element, and so on. All these topics would be delved into with a great deal of detail and would certainly be memorable to the students.
Your core topic could be anything in the history, science, geography, or even character topics. You could do a unit study around the topic of honesty as well as one around the topic of the pyramids of Egypt.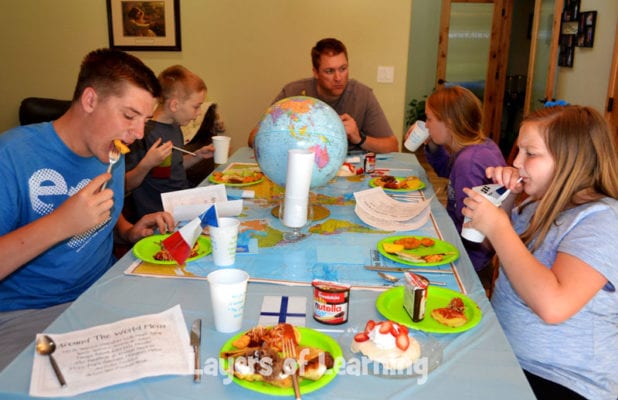 Layers of Learning utilizes the unit study idea by coordinating the lessons between history, geography, science, and art as much as possible. the correlation isn't perfect because we don't want to miss anything of leave gaps, but where possible we line up studying the history of Africa with learning about the geography of Africa, the climates of Africa, and the art of Africa, as one example. You can see how the subjects coordinate by perusing the Units at a Glance, a chart that shows the titles and topics of each unit in the program.
Traditional School Method
Of all the methods of schooling the traditional school method is probably the hardest to define because usually people just mean whatever the local public school is doing when they say "traditional schooling." However, this generally means a subject and text book based approach to learning.
Kids are taught from workbooks and text books in the basics from English to math to social studies. Each study area is separate from the others rather than integrated.
Most homeschoolers using this method do so through an online charter school. The school usually sends them the books and materials and has teachers that check in with the parents and often even teach class sessions online. The charter school usually administers standardized tests too. The online schools also provide official transcripts. It can create an easier transition for kids who will eventually be returning to public school. People who continue to homeschool long-term most often drift away from this style. It is harder to maintain, especially when you're teaching kids of a variety of ages. It's also not individualized to kids' abilities and interests.
Layers of Learning follows this model only in separating the subjects. We distinguish history from geography from art from science. In reality everything happens in history from wars to great works of art to scientific discoveries to the formation of countries and the subjects could be taught in a completely integrated way. We don't do that because it is more difficult for the testing, scheduling, and patterns that are found in traditional schooling, society, and library systems.
So Which Homeschool Style Are You?
I'd be surprised if you were just one. Most of us are eclectic, which means we pick and choose the best fits for our family from many styles of learning. For example, I have found that I need overall structure and a yearly plan, but I also need flexibility built in and want my kids to have some choices too. I also know that I don't find joy in textbooks, but I love all the books we find at our local library. I also have found that we thrive with projects rather than just workbooks. Layers of Learning takes the best of all the styles to give kids an organized, methodical method that grabs their interest, helps them grow in their critical thinking skills, and makes them love learning.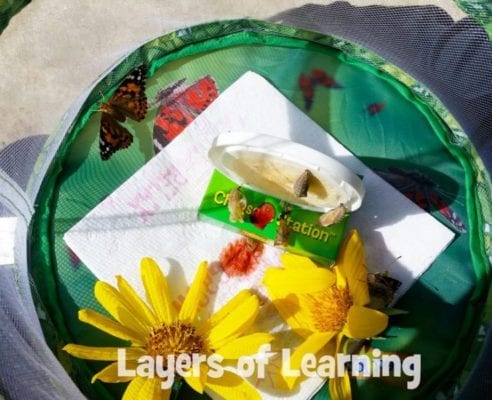 The printable My Homeschool Plan packet includes a page that lists some 3 R's curriculum options within each style if you lean heavily to one or the other.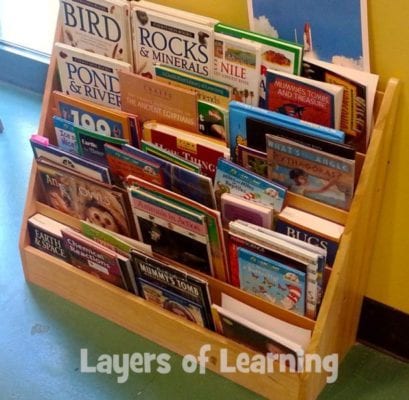 Year One of Layers of Learning
This is the first year of Layers of Learning. It is a set of books for the mentor to use to guide your children's learning. Each book includes nine units, one for each month of your school year. Each unit includes a big library list and many lesson plans that you choose among to design your own course for your kids.
Moving On
Now that you know your style, let's head over to Step 3: Choosing Your Curriculum.
Free Samples
Try family-style homeschooling now with free samples of four Layers of Learning units when you subscribe. You'll get to try family-style history, geography, science, and arts with your children.
You can unsubscribe any time.