A Book of Years is an interactive journal and world timeline book, authored by your very own family.  As you learn about each civilization from your history studies, you'll add more and more to your book, until you've created an awesome story about what has happened over the history of the world. 
We sell a ready-made Book of Years in our catalog. You can choose the PDF or Paperback versions.
Years ago though, the Book of Years was just an idea that Karen had. Here's the story of how the Book of Years came to be…
Our Very First Book of Years
For years our family has kept a Book of Years that we add to at the end of each history unit. I love teaching history in the right order, and making a Book of Years has helped us to see the overall context of the world and make connections even more.
If you want to follow along and make your own Book of Years, you will need:
As Amazon affiliates, the recommended books and products below kick back a tiny percentage of your purchase to us. It doesn't affect your cost and it helps us run our website. We thank you!
I made our first Book of Years using an oversized 11″ x 14″sketchbook. We used rubber cement to adhere blue cardstock to the cover, and then I printed out some cover art I designed to adhere to the card stock. Here is our printable Book of Years Cover if you'd like to use it.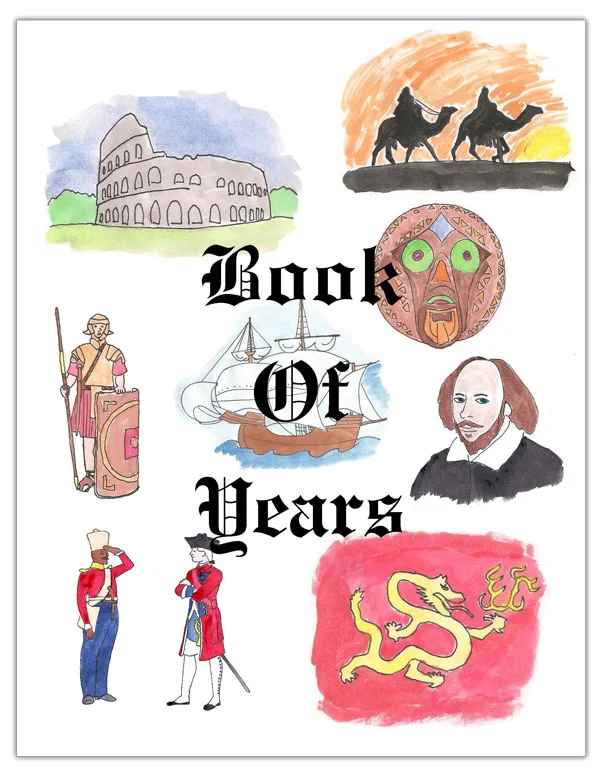 Next, I used a ruler and measured 3 inches (7.6 cm) down from the top of each page and drew a light pencil line, then cut along it, leaving it attached at the binding.
This allowed us to record our timeline along the top pages and our entries in the larger bottom section. We can turn the pages independently of each other so that we can see the things that were happening in all the parts of the world at the same time in the timeline even though it wouldn't fit on one-page spread.
It took me a bit to figure out how to do the years along the timeline. The earliest parts of history are hard to manage because we don't know much at all about the beginnings of the world, and the spread of years is huge during that time. We are religious, so we began with one page about the creation, Adam and Eve, Noah's ark, and the Tower of Babel. The years along this page aren't labeled.
Then we put a year split mark, indicating an unknown passage of time, and then began recording the events from the Layers of Learning units as we came across them.
After that page, we began with 5000 BC and had each 2-page timeline spread represent 100 years. When we reached the year 1600 AD I spread that out to 50 years per page since we'll have so many modern events to include on our timeline.
We create a little symbol for each unit and mark the symbol by the entries and also on the timeline so we can quickly see which civilization entries belong with. If we are recording a conflict between two groups of peoples the entries may have two symbols by them. The Persians' symbol below represents the tomb of Cyrus the Great. You can see it on the page with the entries about Persia and also on the timeline items above.
I have each of my kids write and illustrate at least one entry for each of the units. Sometimes we learn a lot of interesting things and do more, but usually, they just choose their favorite thing we learned from the unit to add to our Book of Years.
We try to hit all the really important historical events, but we also include things that are just interesting to the time and people we are studying. I let the kids choose what their entries are, so we have a big variety of things.
We love reviewing what we've learned using our Book of Years because the kids can see all their own work and they always get excited about it. It seems to trigger the memories of the projects we've done and what we've been learning. I love it too. It has become my favorite history book on our shelf.
Starting Your Own Book of Years
If you want to make your own Book of Years from scratch, you can follow Karen's instructions and inspiration from above.  We had an overwhelming response from people who asked us for more help in creating this cool history keepsake, and that's why you can now get a ready-made Book of Years right in our catalog. 
We took the preparation and guesswork out of it so you can get right down to creating. The book is coordinated with the Layers of Learning history courses and there are timeline tags in each unit to add to the book. You can create one book for your whole family, or have individual ones for each kid.  Either way, we hope you love and treasure your Book of Years like we do!
Free Samples
Try family-style homeschooling now with free samples of four Layers of Learning units when you subscribe. You'll get to try family-style history, geography, science, and arts with your children.
You can unsubscribe any time.