Course Overview
Ancient History is an activity-based history program, encompassing 3500 BC to approximately AD 400. This method teaches civilizations, events, and people from the past by means of hands-on activities. The best part is the family-style design that allows you to teach all ages at once.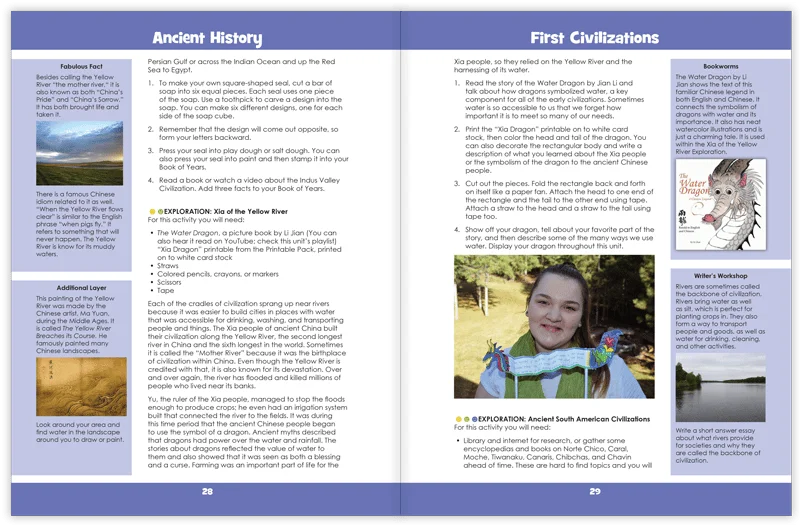 Learn more about how Layers of Learning works.
What's In This PDF Set?
Ancient History includes nine individual month-long units including:
First Civilizations – Basic history skills like primary and secondary sources, identifying bias, understanding the scope of history, and creating a Book of Years timeline. Then learn about the five cradles of civilization across the earth.
Ancient Egypt – From the Old Kingdom through the time of Alexander the Great, this unit spans thousands of years along the Nile and then discusses neighboring kingdoms.
Ancient China – From the Shang Dynasty through the first Empire of China. Plus learn about China's neighbors in ancient times including Korea and Japan.
Bronze Age Near East – Minoans, Myceneans, Babylonians, Assyrians, Hittites and other ancient civilizations before the Bronze Age Collapse.
Iron Age Near East – Neo Babylonians, Israelites, Canaanites, Persians, and other civilizations that followed the Bronze Age Collapse.
Ancient India – From the earliest kingdoms to the empires that conquered the north of India.
Ancient Europe – Bell Beaker people to the Celts. Learn about Stonehenge, Skara Brae, and other Neolithic sites.
Ancient Greece – Begins with the Greeks emerging from the Dark Age and ends with the subjugation by Rome.
Ancient Rome – Begins with Romulus and Remus, proceeds through the Republic, and then to the Empire and the fall of the Western Empire. Finally, learn about the start of Christianity.
A Layers of Learning History Lesson
Each Exploration in the units is written as a complete lesson plan. It will direct you in books to read, videos to watch, projects to craft, and discussions to have. The units are clear full of Explorations to choose from, and you won't have time for them all. This is a pick-and-choose curriculum.
Besides the history lesson for the day, the units are lined with sidebars that direct you to discussions, books, famous people, interesting facts, writing ideas, and more.
You will also see a Library List at the beginning and a Show What You Know section at the end that will help you create assessments or tests based on your individual learning.
Reusable and for All Ages
These units books are for the mentor, not to hand to the student. They are supposed to be used repeatedly. Since this is a pick-and-choose curriculum, you do some of the experiments and explorations and save others for later on. If you follow the four-year cycle, you will progress through Ancient History, Middle Ages History, Colonial History, and finally, Modern History. Then you will cycle back to Ancient History in the fifth year when your kids are older and learning at a higher level. In all, you may use this book three times with your child.
The Ancient History units contain lessons ranging from mummy crafts to discussions about The Epic of Gilgamesh. There are plenty of concepts for little kids and plenty to challenge high schoolers. Most lessons are meant to be taught to many ages, from 6-year-olds clear up to seniors in high school.  Each age group gets the same Exploration and principles, but they learn on the level they are ready for. Books from your library and video from the YouTube playlists customize the learning for each age.
Extra Resources
YouTube playlists and links to helpful websites are all assembled and ready for you to access on the Ancient History Resources for Layers of Learning page.
If you are buying the PDF course, you may want a printable Ancient History PDF Cover for your binder.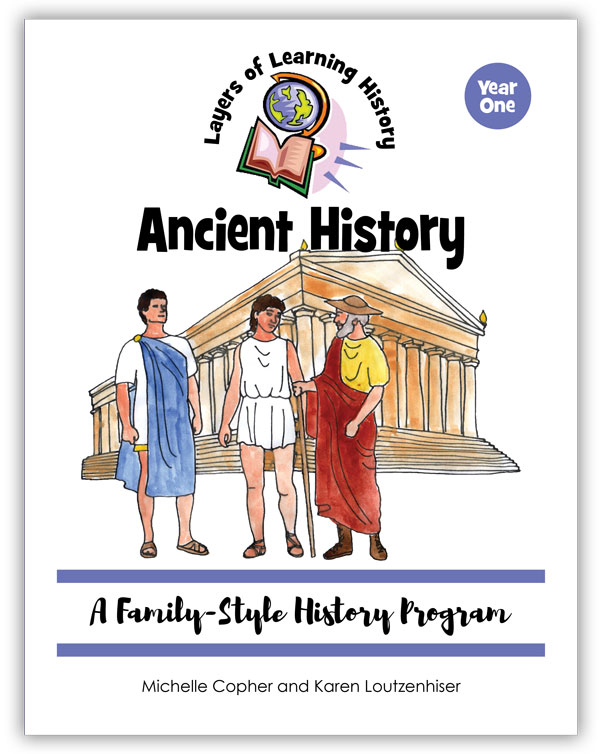 Printable Packs
Ancient History also includes printables for every unit. These are worksheets or paper crafts for the students. The Printable Packs are available as a digital PDF download and come with your purchase on your receipt.
Also Sold As Individual PDFs
The Ancient History course also comes as individual PDF units you can purchase one-by-one as you go. The individual PDFs are exactly the same content as the units that are included within the paperback or PDF Ancient History book. It's like buying the course chapter by chapter in a digital format.