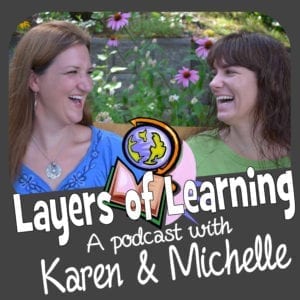 The
Layers of Learning Podcast
with Karen and Michelle is here to help you get your whole family learning together in your homeschool. We are the sisters behind Layers of Learning. We love getting together to chat about homeschooling and this podcast is just a series of our chats. We're inviting you to listen in on our conversations. We both have big families, but we teach almost all of our school subjects to everyone at once, and we want to help you find the joy in that too, so we talk a lot about family homeschooling. To see all of our episodes,
visit our Layers of Learning Podcast Page
. Join us as we explore how to have a happy, hands-on, family-style homeschool.
Matching Your Teaching Style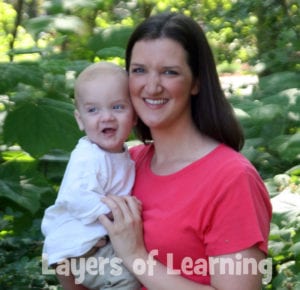 In Episode 8 Karen and Michelle discuss the importance of homeschool moms teaching in their own style. They say if Mama ain't happy ain't nobody happy, and it's really true. To happily homeschool, you need to listen to your inner voice
and learn to ignore the outside world that is telling you how you should homeschool your kids.
Here are a few of the topics you'll hear in this podcast:
You don't have to choose someone else's homeschool or teaching style. Instead, take the bits and pieces you like from each style and make your very own unique homeschool style that fits you.
Be your best self instead of trying to imitate someone else.
Create a homeschool that keeps you excited about learning new things. It will rub off on your kids.
Take ideas you like and implement the ideas, but don't see other moms and try to become them.
Know yourself. Get in touch with the intricacies of your personality and accept them. Meet your needs first. You will be a better mom if you are meeting your needs.
Understand where you fall on the extrovert/introvert scale.
Dig into each style to discover the bits and pieces you like from it – Charlotte Mason, Classical, Unit Studies, Unschooling, Montessori, and Traditional schooling.
Once all those bits and pieces come together, you've created your own personal homeschool style, perfectly suited to you.
Click the PLAY button to hear the podcast and SUBSCRIBE below:
Podcast: Play in new window | Download
Subscribe: Google Podcasts | Stitcher | Email | RSS | More
Free Samples
Try family-style homeschooling now with free samples of four Layers of Learning units when you subscribe. You'll get to try family-style history, geography, science, and arts with your children.
You can unsubscribe any time.