Writer's Workshop is a writing program your whole family, from emergent writers right up to Mom and Dad can explore together. This is a sample exercise about diamante poems. Try it with all your kids.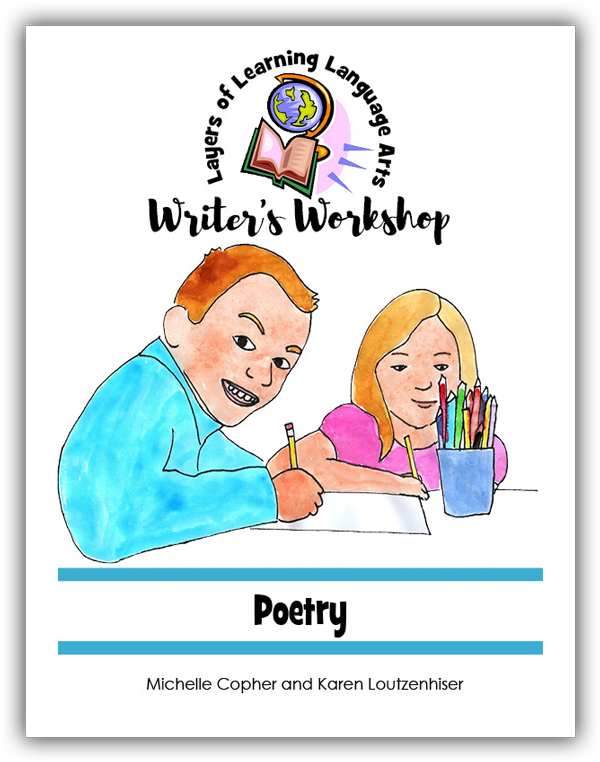 This Writer's Workshop exercise is from Writer's Workshop Poetry. In Writer's Workshop Poetry you'll learn about the elements of writing poetry and explore poems in many forms and patterns. You'll write lots of poems and play with language in fun ways. Join us for a family-style writing program with Writer's Workshop.
A diamante is a seven-line poem that doesn't rhyme. The written words are shaped like a diamond, which is what gives this kind of poem its name. Diamante means "diamond" in Italian. The first and last lines are the shortest, with the lines in the middle increasingly longer.
Diamante poems are a great starter poem to help kids warm up to the idea of writing poetry, especially when you want to show them that poems don't have to rhyme. Poetry uses concise and powerful language to describe things; that is exactly what diamante poems do.
Step 1 Mini-Lesson
A mini-lesson is like a writing warm-up. Through a series of daily mini-lessons, your kids will learn writing, grammar, and genre skills a bit at a time. You will find a series of mini-lessons to choose from in the sidebars of every single Writer's Workshop unit.
Brainstorm a list of topics you could write a poem about. You might choose a season, a holiday, a family tradition, a pet, or an activity you like to do. Once you have chosen a topic together, brainstorm a list of words about your topic. Include nouns, verbs, and adjectives that describe your topic. You have created a word wall to help you write your diamante poem.
Step 2 Exercise: Diamante Poems
Spend most of your Writer's Workshop time on the exercise, writing a simple diamante poem. Formula poems are wonderful tools for reluctant writers or new poets because of their high level of structure. It's a lot like a fill-in-the-blank exercise. Write one together, out loud as a family with the parent holding the pen and taking suggestions from everyone. Next, challenge your budding poets to write their own.
Here are the basic rules:
1. Your poem will be 7 lines long.
2. The first and last lines only get one word each. The second and sixth lines have 2 words. The third and fifth lines have 3 words. The fourth line has 4 words.
3. Nouns make up lines 1, 4, and 7. Adjectives make up lines 2 and 6. Lines 5 and 3 have verbs.
Here's a visual:
noun
adjective, adjective
verb, verb, verb
noun, noun, noun, noun
verb, verb, verb
adjective, adjective
noun
So now you know the rules. Use ideas from your word wall to write your own diamante poem.
Here's an example of a completed exercise.
Spring
lovely, bright
living, breathing, flowering
crocus blooms, tulips, raindrops, sunshine
breezing, warming, blooming
living, colorful
season
This exercise will go into the Journal section of the Writer's Notebook. If you enjoy writing diamantes, you might decide to write a book of diamantes for your writing project this month.
Step 3: Writing Project
Most exercises stay in your Writer's Notebook to be used as a reference, for inspiration, or to be tossed at a later date, but about once a month, one piece of writing should be taken clear through the writing process. This is your writing project.
For the Writer's Workshop Poetry project, kids can even choose to write a variety of poems that they will combine into a book of poetry that is revised, edited, and illustrated.
You can learn details about the writing process and how to mentor writers in the Writer's Workshop Guidebook.
Step 4: Evaluating Writing
Every piece of writing that makes it to publication needs to be shared before an audience and then evaluated. Have everyone take turns reading his or her diamante poem aloud (even Mom or Dad!). The audience should cheer for the writer and ask curious and positive questions about the writing when appropriate. Evaluations should be designed to help the writer grow, not just to create a grade. Every Writer's Workshop unit comes with specific helps for the mentor, including a rubric that is specific to the genre being taught. General writing evaluation criteria and strategies are taught to the parent in the Writer's Workshop Guidebook.
What You'll Find in Every Writer's Workshop Unit
Printables
You'll find printables in every Writer's Workshop unit. They are tools for helping kids learn the writing process, skills, and ways to write in specific genres. They make lessons in a family-school setting a little more manageable for parents too.
Ideas Banks
In each unit, kids will be doing a variety of writing exercises as well as one project. They will learn to take their project through the writing process, incorporating what they've learned during the exercises. Each unit has a big idea bank for kids to choose from so they can take ownership of their own writing.
Rubrics
Every unit also includes a rubric to help parents or mentors know how to give feedback that will help writers grow. Rubrics are tools writers can use to self-check, and mentors can use to know what to look for in each writing genre. We never just slap a grade on writing. Every bit of feedback is a tool to improve and grow.
More Writer's Workshop
Learn more about Writer's Workshop and how it can help you create writers (not just grammar workbook filler-outers!). We invite you to check out the Writer's Workshop Curriculum Guide. Then see how Layers of Learning can change your whole homeschool into a happy, hands-on family school with the Writer's Workshop Guidebook. We believe learning is about exploring! If you like exploring, you'll love the rest of the Layers of Learning program too – history, geography, science, and art, all taught with your whole family exploring together.