The Layers of Learning Podcast with Karen and Michelle is here to help you get your whole family learning together in your homeschool. We are the sisters behind Layers of Learning. We love getting together to chat about homeschooling and this podcast is just a series of our chats. We're inviting you to listen in on our conversations.
We both have big families, but we teach almost all of our school subjects to everyone at once, and we want to help you find the joy in that too, so we talk a lot about family homeschooling. To see all of our episodes, visit our Layers of Learning Podcast Page. Join us as we explore how to have a happy, hands-on, family-style homeschool.
Creating A Homeschool Paper Trail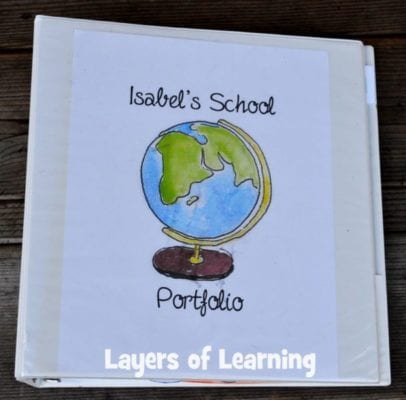 Michelle and Karen talk about the all-important job of keeping records and creating a homeschool paper trail. It's one of the less-enviable roles of being a homeschool parent, but such an important one. Depending on where you live, the exact things you need will vary, but we chat about how to create a basic ten-page portfolio that showcases a year of your child's education. In addition, you'll learn about creating transcripts and what you should keep and what should be thrown away in your homeschool.
Effective and efficient homeschool records go much further than holding on to every assignment. In a homeschool portfolio, you will showcase your kid's progress, struggles, personality, experiences, and extracurriculars, all in an accessible format.
We invite you to take a look at this post, all about how to make a homeschool portfolio, so you can see pictures of the portfolio we describe in the podcast. We also now offer our Grades and Transcripts Sheet for just 99 cents in the Layers of Learning catalog! It will help you calculate GPAs and keep an official high school transcript for homeschoolers.
Here Are A Few Topics You'll Hear About In This Podcast:
Requirements and laws in various areas
What a ten-page portfolio includes
Other methods of keeping records
What to keep and what to throw away
Why and how to keep high school transcripts
How to figure out GPAs (grade point averages)
Other record-keeping ideas
Click the Play button to hear the podcast, then subscribe below!
Podcast: Play in new window | Download
Subscribe: Google Podcasts | Stitcher | Email | RSS | More