The Layers of Learning Podcast with Karen and Michelle is here to help you get your whole family learning together in your homeschool. We are the sisters behind Layers of Learning. We love getting together to chat about homeschooling and this podcast is just a series of our chats. We're inviting you to listen in on our conversations.
We both have big families, but we teach almost all of our school subjects to everyone at once, and we want to help you find the joy in that too, so we talk a lot about family homeschooling. To see all of our episodes, visit our Layers of Learning Podcast Page. Join us as we explore how to have a happy, hands-on, family-style homeschool.
Morning Time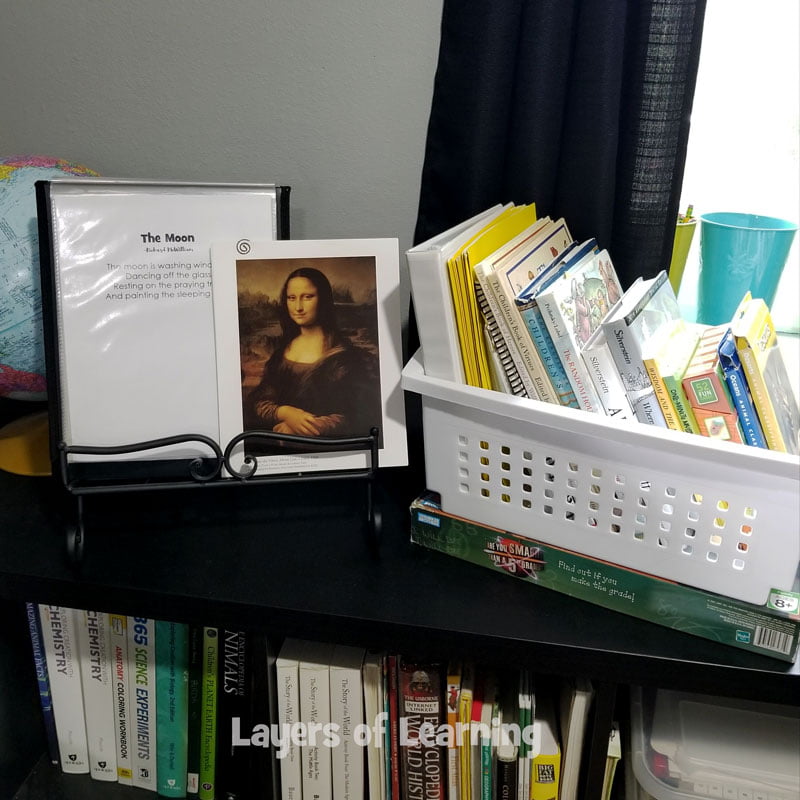 In Episode 25, Morning Time, Michelle and Karen chat candidly about the things they do for morning time in their own homeschools. It's a casual approach that involves a simple basket instead of lots of planning, patterns, and routines. Morning time is all about gathering your family together. It is a perfect signal to the start of your homeschool day. It's a time for teaching and discussing the topics that don't need to be on a transcript and that you don't need a lesson plan for. Reject the idea that you need to buy a morning time plan. Stop writing out detailed schedules in your planner. Say no to adding more and more to your already growing to-do list in your homeschool day. When you can relax and feel the ebb and flow of your family, morning time can be joyful instead of stressful. It's time to stop intricately planning your morning time in your planner and start enjoying it with your little ones.
Karen and Michelle share their ideas, both with each other and with you, for simple things to implement. It's as simple as games, poetry, character study, art, and music. You can use fun flashcards, holiday and seasonal topics, and storybooks. The real key to having a stress-free, planning-free morning time is keeping a few resources on hand that you can grab, spur of the moment. A morning time basket will inspire your morning times without needing any meticulous plans. Our baskets are filled with books, folders, games, and flashcards that we can use again and again. No planning ahead is necessary! When your whole school day is family-style, your morning time need not be long or arduous. Let it become a gentle, pleasant start to your homeschool day, for parents and kids alike.
Here Are A Few Topics You'll Hear About In This Podcast:
Why we keep our morning time streamlined and simple instead of having intricate and detailed plans
Ideas to incorporate without a lot of fuss or stress
How overplanning and incorporating too many components can actually detract from your morning time goals
Overcoming the urge to keep adding more and more to your plans by cycling and rotating through the things you want to cover
Incorporating quotes, poems, scriptures, songs, artwork, virtues, games, and more
Sprinkling in holidays, current events, and other one-time items
Using morning time as a review time for the things you're learning about together in your homeschool
Realizing that it can be as simple as ONE thing you do together in the morning – reading one story, looking at one painting, reading one poem, discussing one philosophical idea or quote
Being flexible with the schedule to meet your needs
Ideas for things to put in a morning basket
How to have morning time become a positive, gentle start to your family-style homeschool
Click the Play button to hear the podcast, then subscribe below!
Podcast: Play in new window | Download
Subscribe: Google Podcasts | Stitcher | Email | RSS | More
Free Samples
Try family-style homeschooling now with free samples of four Layers of Learning units when you subscribe. You'll get to try family-style history, geography, science, and arts with your children.
You can unsubscribe any time.