The Layers of Learning Podcast with Karen and Michelle is here to help you get your whole family learning together in your homeschool. We are the sisters behind Layers of Learning. We love getting together to chat about homeschooling and this podcast is just a series of our chats. We're inviting you to listen in on our conversations.
We both have big families, but we teach almost all of our school subjects to everyone at once. We want to help you find the joy in that too, so we talk a lot about family homeschooling. To see all of our episodes, visit our Layers of Learning Podcast Page. Join us as we explore how to have a happy, hands-on, family-style homeschool.
How To Teach History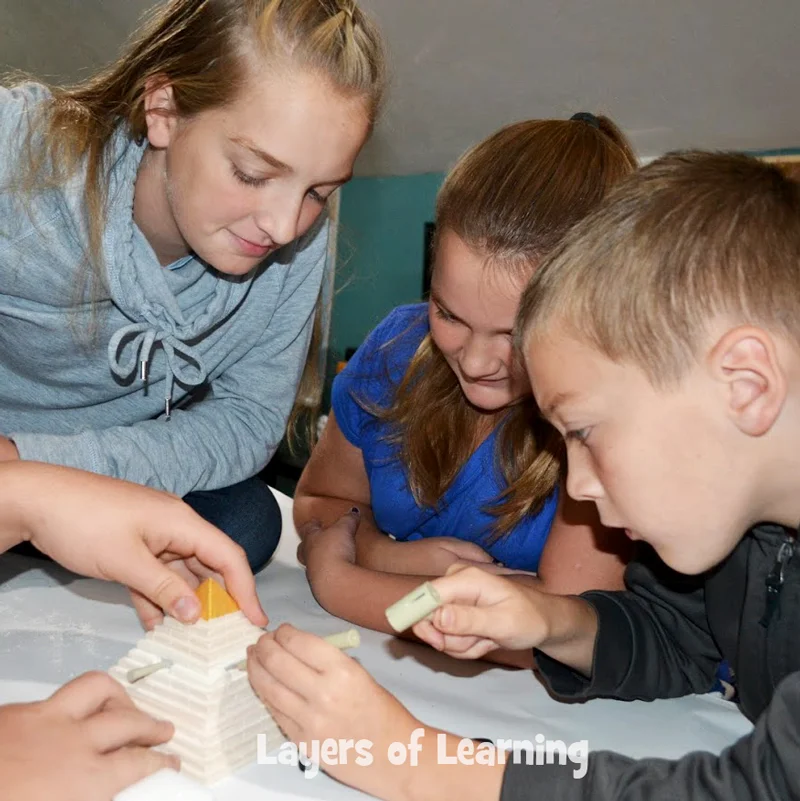 Michelle and Karen discuss how to teach history. They discuss what to teach, how to approach it, and the philosophy behind history lessons. Listen in to find out why teaching history in the proper order and context is so valuable. In addition, you'll hear why living books and primary sources are key. They help us understand other times, people, and places. Beyond that, incorporating hands-on crafts and activities within the history lessons will solidify the knowledge. After all, a lesson is only as good as what kids take away from it. It's up to you to create a home environment ripe for discussions and learning together.
History is the story of the civilizations that have risen and fallen on our planet. We study it to examine our own lives more deeply by understanding the lives of our predecessors. In essence, we study history to examine human nature. Furthermore, we see how our tendencies, attitudes, and decisions affect others. In this episode, you will get a glimpse of how the authors of Layers of Learning approach history lessons with their own kids. Finally, you might also enjoy these sample history lessons if you're wondering how to teach history.
Here Are A Few Topics You'll Hear About In This Podcast:
Teaching history in order provides context. It helps kids make connections and understand causes and effects.
Looking at what has helped and hindered mankind helps us examine our own place in history.
Using timelines will help you understand the progression of events. You can see relationships between civilizations that existed in different places at the same time.
Teaching history in the proper context allows us to see stories from other perspectives.
History allows us the chance to contemplate our own selves. We can discuss how we might have fared if we had lived in other times and places. In addition, we can take those lessons from the past to aid us in making decisions about our current lives.
Reading living books, biographies, and historical fictional novels will enable you to come to know and connect with historical people.
In addition, watching documentaries can allow you a glimpse into historical times.
Importantly, incorporating primary sources gives insight into the minds and hearts of the people from history. Make sure to find accessible, modern translations of older primary sources.
Studying history should be a family pursuit that kids of all ages can do together in your home.
Finally, as you consider how to teach history, relax, and recognize that learning history is meant to be a lifelong pursuit.
Click the Play button to hear the podcast, then subscribe below!
Podcast: Play in new window | Download
Subscribe: Google Podcasts | Stitcher | Email | RSS | More