The Layers of Learning Podcast with Karen and Michelle is here to help you get your whole family learning together in your homeschool. We are the sisters behind Layers of Learning. We love getting together to chat about homeschooling and this podcast is just a series of our chats. We're inviting you to listen in on our conversations.
We both have big families, but we teach almost all of our school subjects to everyone at once. We want to help you find the joy in that too, so we talk a lot about family homeschooling. To see all of our episodes, visit our Layers of Learning Podcast Page. Join us as we explore how to have a happy, hands-on, family-style homeschool.
Homeschooling Q and A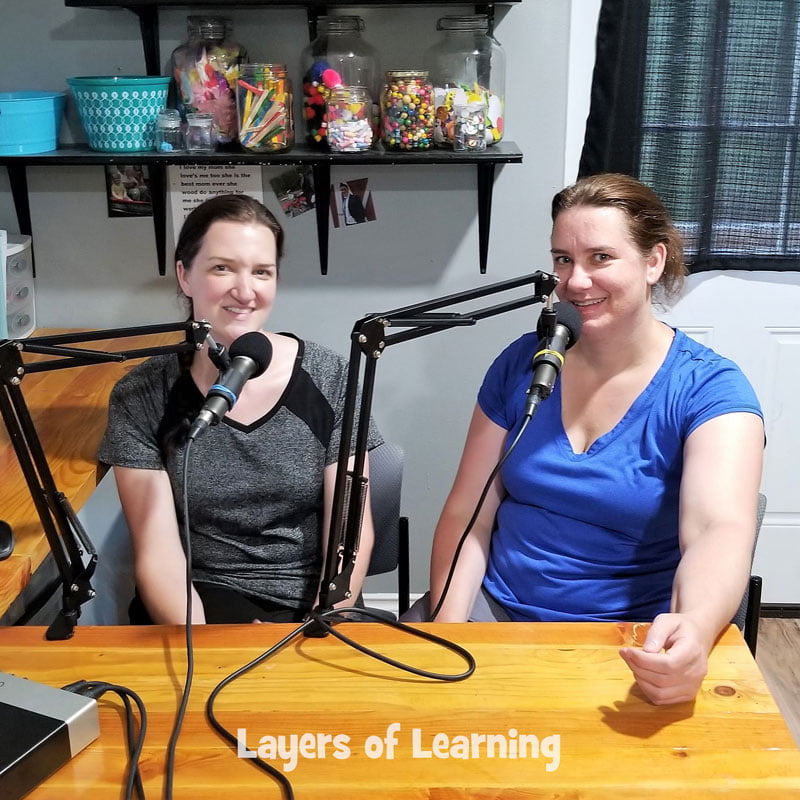 In this podcast episode, join us for a candid homeschooling Q & A session. Michelle and Karen get asked a lot of questions constantly about homeschooling and the Layers of Learning curriculum. During this bonus podcast episode, the sisters answer the questions that have been asked lately in the Layers of Learning Homeschoolers Facebook Group. The group is an eclectic group of homeschool parents from a variety of countries, beliefs, homeschool styles, and interests who all come together kindly and respectfully into our Layers of Learning community. Listen in for the answers to the homeschooling questions you've had lately.
Here Are The Questions Karen & Michelle Answer In This Homeschooling Q & A Podcast:
Can you combine Layers of Learning with other curriculums?
How do you find books or instructional materials if your library isn't very good? It's been especially hard lately with so many libraries closed.
How do you get lazy or unmotivated kids to do school work?
How do we fit in holiday learning or other types of fun days into our school schedule?
Why doesn't Layers of Learning cover the Stone Age?
My kids are getting bored during Layers of Learning…HELP!
What formats is Writer's Workshop available in?
Does Layers of Learning work for a dyslexic child, an ADHD child, or a child with other sorts of learning disabilities?
Can you add in religious or Biblical history to Layers of Learning?
How do you approach it if you feel like your child is behind?
We invite to listen in on this homeschooling Q and A session and also to join the Layers of Learning Homeschoolers Facebook Group to get even more of your homeschooling questions answered. Michelle and Karen are there and love chatting with other homeschoolers.
Click the Play button to hear the podcast, then subscribe below!
Podcast: Play in new window | Download
Subscribe: Google Podcasts | Email | RSS | More
Free Samples
Try family-style homeschooling now with free samples of four Layers of Learning units when you subscribe. You'll get to try family-style history, geography, science, and arts with your children.
You can unsubscribe any time.