The Layers of Learning Podcast with Karen and Michelle is here to help you get your whole family learning together in your homeschool. We are the sisters behind Layers of Learning. We love getting together to chat about homeschooling and this podcast is just a series of our chats. We're inviting you to listen in on our conversations.
We both have big families, but we teach almost all of our school subjects to everyone at once. We want to help you find the joy in that too, so we talk a lot about family homeschooling. To see all of our episodes, visit our Layers of Learning Podcast Page. Join us as we explore how to have a happy, hands-on, family-style homeschool.
Word Work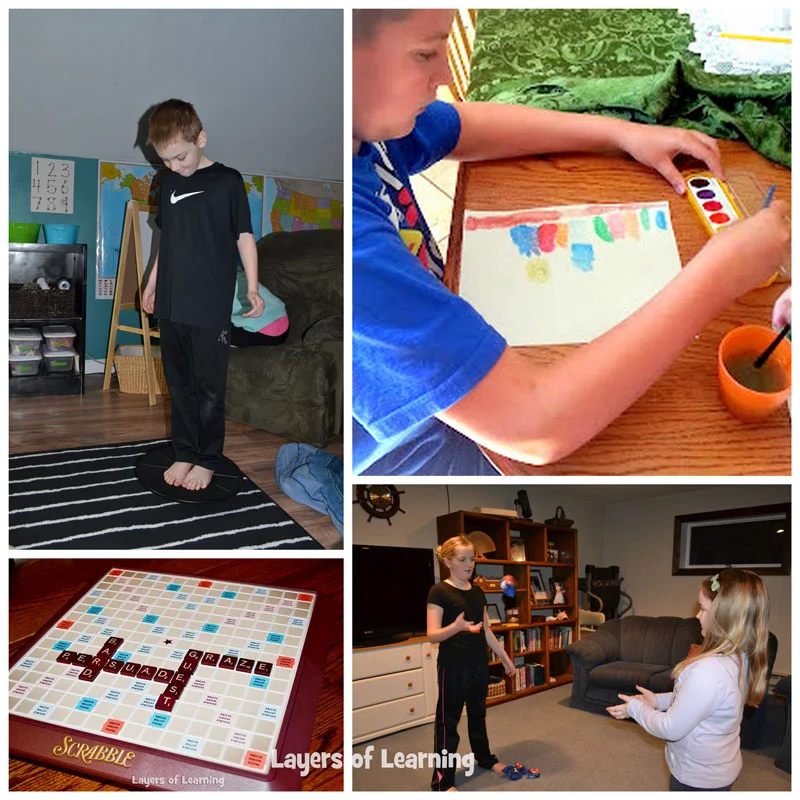 Word Work is a component to Layers of Learning's Writer's Workshop program. It is daily practice of spelling and vocabulary word mastery. It involves lots of activities for teaching kids about words. There are printables, hands-on activities, and a huge variety of ideas for practicing spelling and vocabulary through written, manipulative, physical, and verbal methods. Mixing and matching these activities can provide a rounded education for all learning styles.
During this podcast episode, Michelle and Karen share how the program was developed, offer ideas for implementing it, and also discuss what has changed in their homeschools over the years of using Word Work as a companion to Writer's Workshop.
Here Are A Few Topics You'll Hear About In This Podcast
The first section of Word Work offers written exercises. They are a variety of fun methods for your kids to practice writing words, many of which are printable games.
The second section of Word Work involves manipulatives – magnet letters, salt boxes, or other learning toys.
Word Work's third section includes physical and verbal activities. Beanbag spelling, jump rope spelling, ASL spelling, and other physical activities offer practice and an extra challenge for budding spellers. Kids who spell naturally can use these as an extra challenge.
Keeping a basket on hand that includes the jump ropes, beanbags, and other Word Work tools will help you be consistent and have Word Work be an easy, quick, and fun part of your homeschool day.
Spelling lessons can be simple. Start with a list from the Printable Pack and then have kids practice learning the words in a variety of fun ways from the Word Work program. When they have mastered the list, whether it takes 3 days or 10, just move on to the next list. You can also incorporate words from their writing, from a unit you're learning about, or just ones they want to learn.
Word roots and vocabulary are another component of Word Work. The lists and activities will help your kids prepare for advanced writing, SAT preparation, and college readiness.
Podcast: Play in new window | Download
Subscribe: Google Podcasts | Email | RSS | More
Free Samples
Try family-style homeschooling now with free samples of four Layers of Learning units when you subscribe. You'll get to try family-style history, geography, science, and arts with your children.
You can unsubscribe any time.