The Layers of Learning Podcast with Karen and Michelle is here to help you get your whole family learning together in your homeschool. We are the sisters behind Layers of Learning. We love getting together to chat about homeschooling and this podcast is just a series of our chats. We're inviting you to listen in on our conversations.
We both have big families, but we teach almost all of our school subjects to everyone at once. We want to help you find the joy in that too, so we talk a lot about family homeschooling. To see all of our episodes, visit our Layers of Learning Podcast Page. Join us as we explore how to have a happy, hands-on, family-style homeschool.
Why You Should Teach Art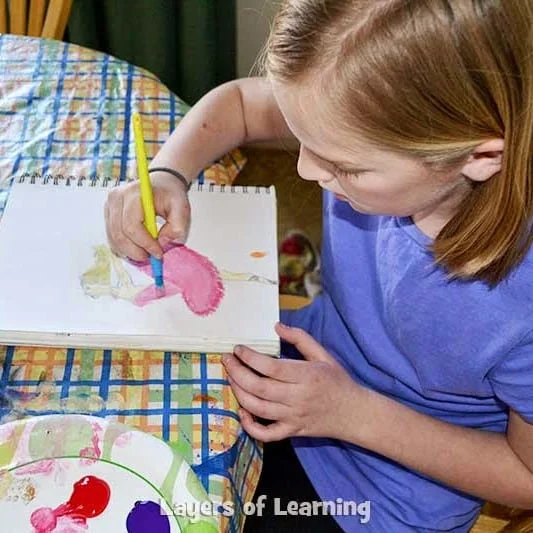 Art is the black sheep of the education world. It's the first subject that gets skipped if we lack money, time, or motivation. Schools and homeschoolers alike tend to think of art as just fluff that isn't all that important to a true education. Teaching art isn't given much weight at all…it's just overlooked.
We believe there's a lot more to learning art than just doing a cutesy craft project with your kids. Art is pervasive. It is everywhere around us and has a profound effect on the people of this world. As we study art, we gain intangible skills of observation, analysis, creativity, and ingenuity. We also begin to make connections between art and historical events. Artists are inspired by what is happening in the world all around them, and as we dig into the meaning behind their pieces, it adds meaning to our lives as well. Likewise, when something is meaningful to us, we are motivated to create. Art becomes a link, an interaction, between the people and the world. Teaching art is teaching your kids to truly see the world and to put a piece of themselves out into it.
Here Are A Few Topics You'll Hear About In This Podcast
Art is everywhere all around us! When we study it, we develop eyes that notice the details.
Cultural literacy comes from studying literature and art. You can't delve into meaning without being culturally literate.
As you teach art, you will see your kids learn to connect and create.
Creating things is also therapeutic and healing for many kids.
Art forces you to slow down and process things. It promotes metacognition, or thinking about thinking.
In most school subjects, the teacher is giving the information and the kids are asked to receive it. Teaching art is the opposite. We are asking kids to give. We are asking them to think, create, and put a piece of themselves out into the world.
Creating and sharing art together in your homeschool gives an opportunity for your kids to be vulnerable and learn to connect with and trust others as they share a piece of themselves.
Teaching art is fun! Creating art is fun! It can create a homeschool experience…a childhood…that is truly fun and memorable.
Podcast: Play in new window | Download
Subscribe: Google Podcasts | Stitcher | Email | RSS | More
Free Samples
Try family-style homeschooling now with free samples of four Layers of Learning units when you subscribe. You'll get to try family-style history, geography, science, and arts with your children.
You can unsubscribe any time.