The Layers of Learning Podcast with Karen and Michelle is here to help you get your whole family learning together in your homeschool. We are the sisters behind Layers of Learning. We love getting together to chat about homeschooling and this podcast is just a series of our chats. We're inviting you to listen in on our conversations.
We both have big families, but we teach almost all of our school subjects to everyone at once. We want to help you find the joy in that too, so we talk a lot about family homeschooling. To see all of our episodes, visit our Layers of Learning Podcast Page. Join us as we explore how to have a happy, hands-on, family-style homeschool.
Student Journals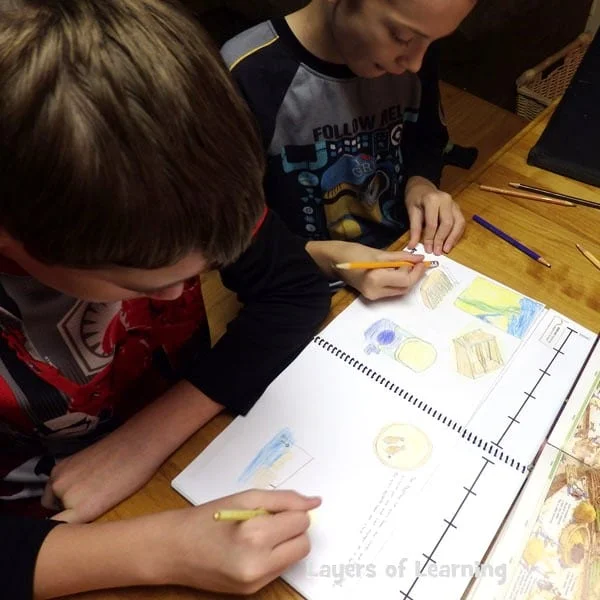 Journaling is a huge part of our homeschool. Even for hesitant writers, journaling can be a powerful tool because it can be done in small bits and pieces, combined with pictures, and helped along by mentors. Our student journals are an ongoing record of what we're learning about it our homeschool.
Student journals are mostly blank books that your family will fill with facts, illustrations, notes, and foldables. It is a combination notebooking/journaling approach that helps your kids record the things they are learning about. It's also a powerful review tool as well as a really fun record that your family will come to treasure. It's so precious to watch your kids grow, progress, and learn through their journal entries. You can either choose to create a family journal or give each of your kids their own set to keep.
Here Are A Few Topics You'll Hear About In This Podcast
You can choose between the spiral bound, ready-made journals sold at Layers of Learning and the pdf versions that you print and prepare yourself. Both versions go right along with your Layers of Learning unit studies and keep everything tidy and organized for your kids.
The Book of Years is a really eye-opening way to see what events were happening in the world at the same time. As you study each civilization, you add their key events. With each civilization that unfolds, you begin to see how they relate to each other and what things were happening in the world at the same time. You'll add entries on the pages and add in the timeline tags that are provided in each unit's Printable Pack.
The World Explorer Journal has printed maps and a place for you to record what you are learning about the world as it is today. It is your record of your geography studies. It is a lot like an illustrated children's atlas that is made by your own kids. There are lots of printables you can include as well.
The Science Notebook is designed like a real scientist's notebook. Your kids will keep field notes and labs in their Science Notebook as they work through the Layers of Learning Science courses. They will record information, diagram things, draw pictures, take notes, and even build their own table of contents.
The Art Sketchbook connects famous art and art movements with your own creativity. Kids will be making their own versions of the things they are learning about. There are bits of clipart, picture frames, and prompts throughout.
Each unit has instructions, printables, and prompts for adding to each of your Student Journals.
The Writer's Journal is a kids' private booklet of their own writing. It isn't intended to be graded or evaluated. Your kids can write authentically in their journal because it isn't for others' eyes.
Podcast: Play in new window | Download
Subscribe: Google Podcasts | Stitcher | Email | RSS | More
Student Journals
These are the books that student fill in and create as they complete each Layers of Learning course.