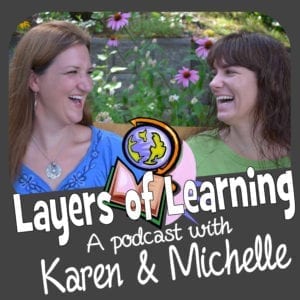 Welcome to the Layers of Learning Podcast! Karen and Michelle are your hosts!
This podcast will be your source for homeschooling ideas and inspiration. You'll learn how to help your family learn together more fully, be excited about learning, and create a happy atmosphere in your homeschool. We both have big families and have spent many years helping homeschool moms to fall in love with homeschooling. We're excited to help you too!
Listen to this off-the-cuff planning session to hear how Michelle and Karen each plan units…
Tell Us What You Think!
We'd love to hear your thoughts, questions, or topic ideas. If there's something you want Karen & Michelle to chat about on an episode, feel free to send us a quick message!