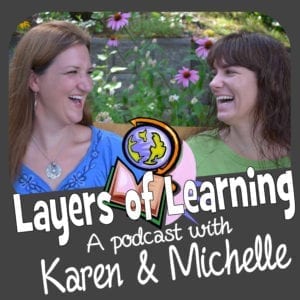 The
Layers of Learning Podcast
with Karen and Michelle is here to help you get your whole family learning together in your homeschool. We are the sisters behind Layers of Learning. We love getting together to chat about homeschooling and this podcast is just a series of our chats. We're inviting you to listen in
on our conversations.
We both have big families, but we teach almost all of our school subjects to everyone at once, and we want to help you find the joy in that too, so we talk a lot about family homeschooling. To see all of our episodes,
visit our Layers of Learning Podcast Page
. Join us as we explore how to have a happy, hands-on, family-style homeschool.
Writer's Workshop
A lot of you have asked about Karen's Writer's Workshop and what that looks like day-to-day in her homeschool. In this episode, Karen and Michelle talk about Writer's Workshop and what it entails. These are some of the topics you'll hear about:
Organizing your year of Writer's Workshop using writing genres (Our Layers of Learning Homeschool Planner includes some Writer's Workshop Printables and Lists.)
How to utilize mini-lessons to teach writing rules and improve your kids' writing
Having your whole family participate
Taking pieces through the writing process
Valuing process over product
Writer's Journals
Helping your kids to enjoy writing more
Grading writing (This is the grading rubric we mention in the podcast.)
Here's a link to our
Writer's Workshop Page
, where you'll find some ideas to get you started if you want to implement Writer's Workshop in your homeschool.
More Questions?
If you have more questions about Writer's Workshop, we'd love to answer them. If you want to ask us a question, shoot us an e-mail at contact@layers-of-learning.com or join our
Layers of Learning Homeschoolers Facebook Group
. We will answer your questions there or on a future podcast.
Click the PLAY button to hear the podcast and SUBSCRIBE below:
Podcast: Play in new window | Download
Subscribe: Google Podcasts | Email | RSS | More
Free Samples
Try family-style homeschooling now with free samples of four Layers of Learning units when you subscribe. You'll get to try family-style history, geography, science, and arts with your children.
You can unsubscribe any time.