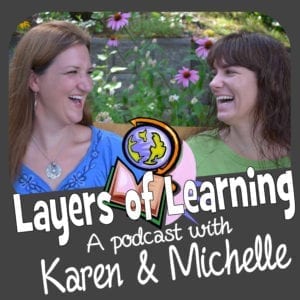 The Layers of Learning Podcast with Karen and Michelle is here to help you get your whole family learning together in your homeschool. We are the sisters behind Layers of Learning. We love getting together to chat about homeschooling and this podcast is just a series of our chats. We're inviting you to listen in on our conversations.
We both have big families, but we teach almost all of our school subjects to everyone at once, and we want to help you find the joy in that too, so we talk a lot about family homeschooling. To see all of our episodes, visit our Layers of Learning Podcast Page. Join us as we explore how to have a happy, hands-on, family-style homeschool.
Blending Learning Styles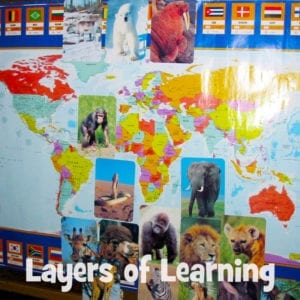 Here are some topics from episode 6 that will help you see how you can have a successful family-school even though your kids have different learning styles. Stop running yourself ragged trying to match your lessons to their learning styles; instead, train your kids in metacognition. Listen in to see what we mean. Here are a few of the topics you'll hear in this podcast:
Mixing learning styles is more beneficial than catering to one specific learning style.
Combining ways of learning will provide a more complete picture of what you are learning.
Learning to adapt our thinking to our preferences is more beneficial than a teacher or parent presenting everything we learn in our style.
All learners can fit into three categories: SEE IT, HEAR IT, DO IT
See it learners can use tools like illustrated note sheets, flashcards, highlighter pens, and color coding.
Hear it learners can use tools like music, rhythm, voice recorders, mnemonic devices, puns, and songs.
Do it learners can use tools like jump ropes, silly putty, balls, beanbags, kits, the outdoors, and their own bodies.
Teach your kids their tools so they can implement them on their own.
Blend the learning styles in a natural way and give kids a chance to adapt as they learn and memorize.
Click the PLAY button to hear the podcast and SUBSCRIBE below:
Podcast: Play in new window | Download
Subscribe: Google Podcasts | Stitcher | Email | RSS | More
Free Samples
Try family-style homeschooling now with free samples of four Layers of Learning units when you subscribe. You'll get to try family-style history, geography, science, and arts with your children.
You can unsubscribe any time.