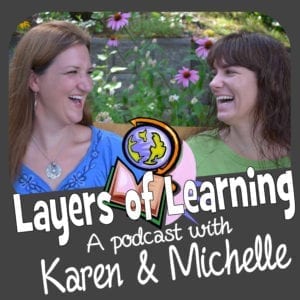 The Layers of Learning Podcast with Karen and Michelle is here to help you get your whole family learning together in your homeschool. We are the sisters behind Layers of Learning. We love getting together to chat about homeschooling and this podcast is just a series of our chats. We're inviting you to listen in on our conversations.
We both have big families, but we teach almost all of our school subjects to everyone at once, and we want to help you find the joy in that too, so we talk a lot about family homeschooling. To see all of our episodes, visit our Layers of Learning Podcast Page. Join us as we explore how to have a happy, hands-on, family-style homeschool.
Bonus Q&A: Answering Your Homeschooling Questions
Every single day we are asked questions from homeschooling families, so we thought it would be fun to answer some of those live on a podcast. Here are the questions we answered on this bonus episode, along with a few notes about some resources we mention during the podcast.
My 7-year-old is just learning to read and still working on handwriting. Where do I start with for language arts?
How do you include all ages (in Writer's Workshop)? I have an 8th grader and a 2nd grader, so wildly different abilities and experiences with reading and writing.
How do you decide what you focus on? Do you just choose a topic at random? Relate it to something you're reading? Use a book of grammar topics? (in Writer's Workshop)
Here's a link to the fun grammar book we mention, The Know-Nonsense Guide To Grammar (affiliate link).
This is the Layers of Learning Planner we mention that includes planning sheets for Writer's Workshop along with many other planner pages for homeschool moms.
How much choice is too much? Not enough? Just right? I know it depends on your or your kid's tolerance, but how do you calibrate to get it just right?
How much time do you allow to "go down the rabbit hole" on a topic?
What are your suggestions on how to maintain records/grades for Middle School and up? (some states require it) I'm struggling with grading, grade books and how to organize a portfolio this year.
Here are some helpful posts:
Do you have other siblings? What were your childhoods like? What do your relatives and friends think of your homeschooling? What do you do for fun for yourselves outside of family time?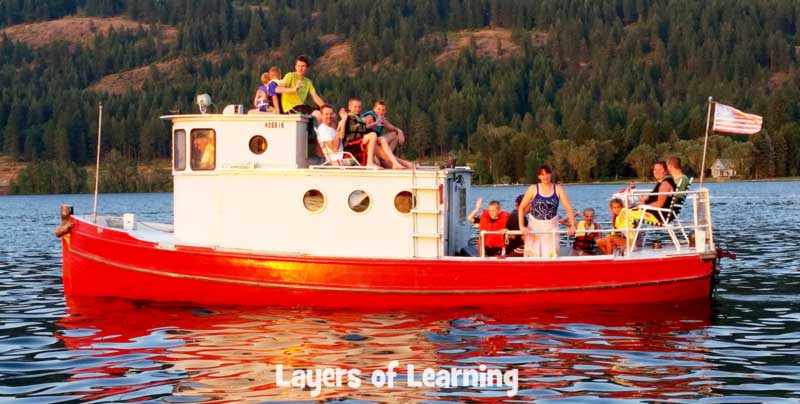 (How do you do) writer's workshop when you still need to scribe for them? It is overwhelming how to add that too…
Teen boys. . . engaging their minds. . . keeping them physically active without team sports. . . helping them use tech as a tool. . .
Here's the Disney Circle that Karen uses to filter and control the internet in her home and on her teens' phones.
What to do with your preschoolers?
Here's the Homer Reading App Michelle mentioned.
I have 3 grandchildren. E. who is 3 1/2 is extremely gifted – and reads independently (and almost constantly). I. is 2 and wants to be like his big brother – just isn't there yet and while very bright is not as gifted as E. (The baby is just that – a baby who isn't even a month old yet and so not a concern per se) E. reads, as I said – just not to his little brother! E also has learned quite a bit of math and is currently working on addition/subtraction – most of which he has figured out by himself. I. while quite bright is overshadowed – and, frankly, not truly verbal as of yet – but responds to cues given through action. I will be homeschooling them this fall and onward and although I had hoped to have I. in the same room (as I said, language skills are needing work and I hoped that I would have the chance to develop and grow his language skills through being in the same room (and, yes, we are having I's hearing tested) I, understandably, wants to be the center of attention – and E. is NOT happy about that. Suggestions?
More Questions?
Thanks so much for your great questions! We'd love to hear even more from you!
Click the PLAY button to hear the podcast and SUBSCRIBE below:
Podcast: Play in new window | Download
Subscribe: Google Podcasts | Email | RSS | More
Free Samples
Try family-style homeschooling now with free samples of four Layers of Learning units when you subscribe. You'll get to try family-style history, geography, science, and arts with your children.
You can unsubscribe any time.