Writer's Workshop is a writing program for your whole family, from emergent writers right up to Mom and Dad. This is a sample exercise about writing newspaper articles. Try it with all your kids.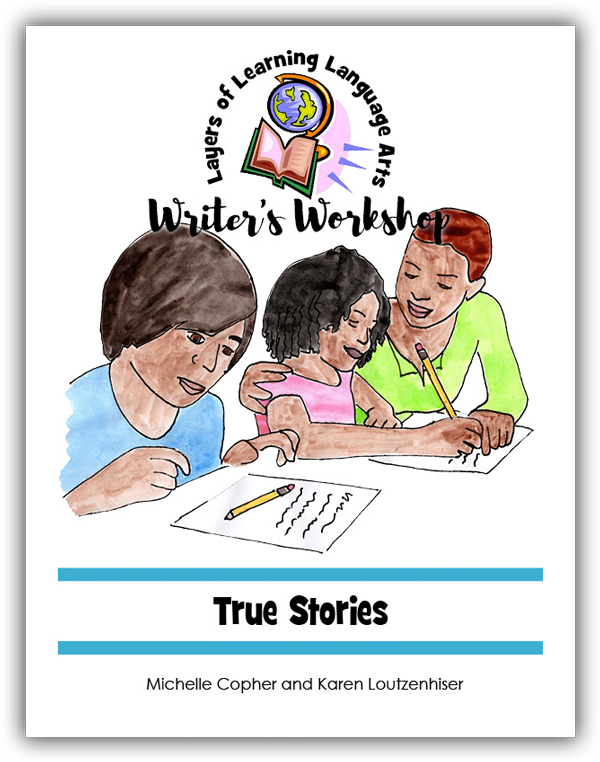 This Writer's Workshop exercise is from Writer's Workshop True Stories, which teaches you to write all kinds of true stories about real people and events. You'll write personal narratives, journals, biographies, autobiographies, newspaper articles, and more. During the unit, you will practice skills in a variety of exercises and then take a piece of writing clear through the writing process to publication. Join us for a family-style writing program in Writer's Workshop.
Teaching kids to write newspaper articles is an important skill. Articles are written in a concise, descriptive way. A lot of information is given with very few words, so the words need to be thoughtful and succinct. We'll teach you how to teach your kids to write a good newspaper article plus we give you a printable newspaper article template for the kids to create a great-looking project.
Step 1 Mini-Lesson
Start each Writer's Workshop lesson off with a 5-10 minute mini-lesson with all of your kids. The sidebars of each Writer's Workshop unit are lined with mini-lesson ideas to choose from. For this lesson, you could do a newspaper article warm-up.
Use a newspaper and separate a photograph from its article. Without reading the article at all, practice writing an article about what you think happened based only on the photograph. Have everyone read the article draft out loud, then read the real article out loud.
Step 2 Exercise: Newspaper Articles
Spend most of your Writer's Workshop time on the exercise.
Newspaper articles typically begin with a single sentence that tells about the big moment, or the overall result of the story. In one line it reveals who, what, where, when, why, and how. Then the author jumps backward and fills in the details from the beginning.
Some Tips
The information should be factual. You may want to note that even in our newspapers today the information is not always factual, but it SHOULD be. You may even find some opinions or misrepresentations while looking through articles.
Articles often start at the end of the story (or the most recent development), then go back and fill in the details. For example, the article may say, "Tom Smithson, 35 years old, was sentenced to life in prison for the murder of his wife, Theresa Smithson, yesterday in Grant County, Washington." After the overview, the article would go back and tell the rest of the story and how things led up to that recent development.
Articles include full names, dates, locations, and other specific details.
They avoid flowery language and use as few words as possible to tell what happened.
They have a professional tone, free from opinions. If someone were writing about the Tom Jones tragedy I previously mentioned the next line would not be. "He deserved it." Even if he did!
Local authorities arrested John Jones after he allegedly robbed the Big Gem Jewelry Store in Big Rock City last night using only a rock. Jones had been spotted casing the store over the past few days. He reportedly broke the front glass windows with the rock and entered the store around 10:30 P.M., loaded a single bag with jewels from a single display case, and then exited within 5 minutes, escaping on foot. Police officers arrived on the scene minutes later and pursued Jones. They captured him almost immediately and placed him under arrest. The rock was found at the scene. The Big Gem Jewelry Company has indicated that they plan to press charges.

Your Own Newspaper Articles
Now it's your turn to practice writing some news stories. Write an article about the event below following the pattern of newspaper articles.

Passersby called the police when they noticed green slime coming out of the second-story windows of the office building.

Once you've practiced on this imaginary story, choose another true story to write an article about. You can get information about current events from the newspaper, internet news, or a television newscast. You could also use a story from your family or from your own community. Use the newspaper writing template to write your story. Add a headline, a picture, your article, and an About the Author section.
This exercise will go into the journal section of the Writer's Notebook if you just made a quick draft, or in the Writing section of your Writer's Notebook if you choose to take it through the writing process. The Writer's Workshop Guidebook walks you through how to use Writer's Notebooks and help guide your family through the writing process.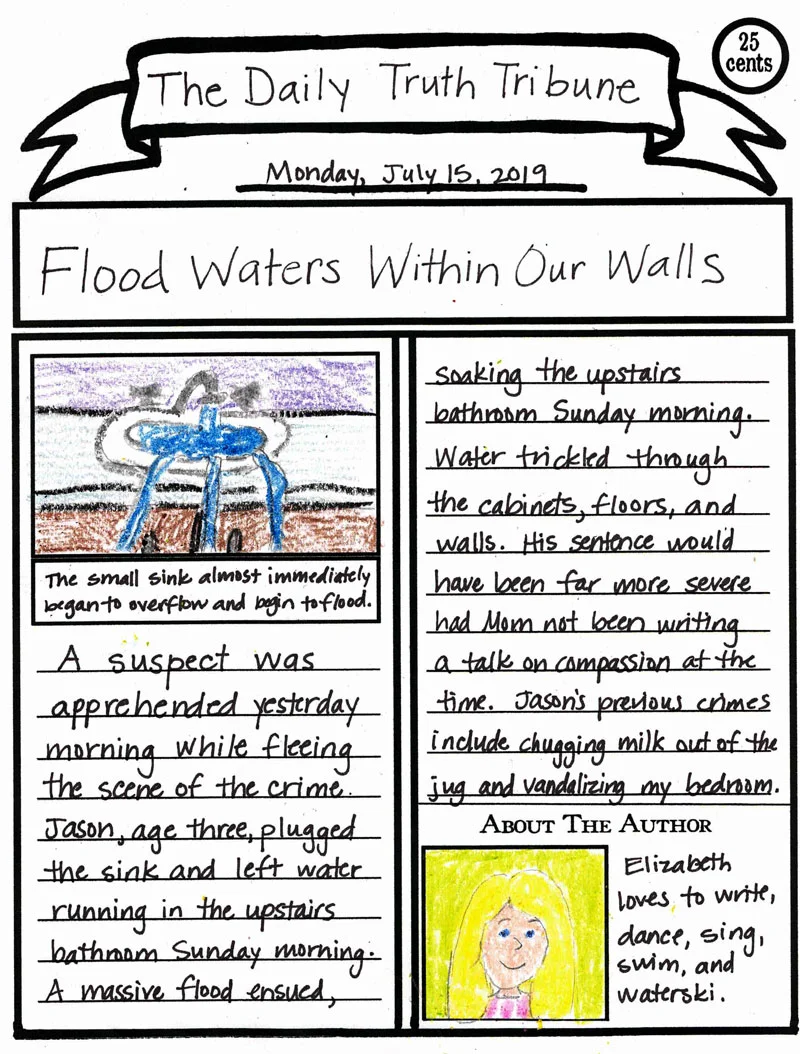 Step 3: Writing Project
Most exercises stay in the Writer's Notebook to be used a reference, inspiration, or to be tossed at a later date. About once a month, one piece of writing should be taken clear through the writing process. This is your writing project.
If I were to guide my child through taking this exercise through the writing process I would encourage him to not only edit and revise the article but also add several more newspaper articles about various subjects. He would add colorful pictures and captions. I may even ask him to add sections to his newspaper – comics, the weather, or classified ads. The project would involve not just a single article that is edited and revised, but rather, a whole newspaper with several pages filled with articles.
You can learn details about the writing process and how to mentor writers in the Writer's Workshop Guidebook.
Step 4: Evaluating Writing
Every piece of writing that makes it to publication needs to be shared with an audience and then evaluated. The audience should cheer for the writer and ask curious and positive questions about the writing when appropriate. Evaluations should be designed to help the writer grow, not just to create a grade. Every Writer's Workshop Unit comes with specific helps for the mentor, including a rubric that is specific to the genre being taught. General writing evaluation criteria and strategies are taught to the parent in the Writer's Workshop Guidebook.
What You'll Find in Every Writer's Workshop Unit
Printables
You'll find printables in every Writer's Workshop unit. They are tools for helping kids learn the writing process, skills, and ways to write in specific genres. They make lessons in a family-school setting a little more manageable for parents too.
Ideas Banks
In each unit, kids will be doing a variety of writing exercises as well as one project. They will learn to take their project through the writing process, incorporating what they've learned during the exercises. Each unit has a big idea bank for kids to choose from so they can find something meaningful they would like to write about.
Rubrics
Every unit also includes a rubric to help parents or mentors know how to give feedback that will help writers grow. Rubrics are tools writers can use to self-check, and mentors can use to know what to look for in each writing genre. We never just slap a grade on writing. Every bit of feedback is a tool to improve and grow.
More Writer's Workshop
Learn more about Writer's Workshop and how it can help you create writers (not just grammar workbook filler-outers!). We invite you to check out the Writer's Workshop Curriculum Guide. Then see how Layers of Learning can change your whole homeschool into a happy, hands-on family school with the Writer's Workshop Guidebook. We believe learning is about exploring! If you like exploring, you'll love the rest of the Layers of Learning program too – history, geography, science, and art, all taught with your whole family exploring together.
Free Samples
Try family-style homeschooling now with free samples of four Layers of Learning units when you subscribe. You'll get to try family-style history, geography, science, and arts with your children.
You can unsubscribe any time.