Plywood sounds so . . . cheap.  But look how our plywood floors turned out!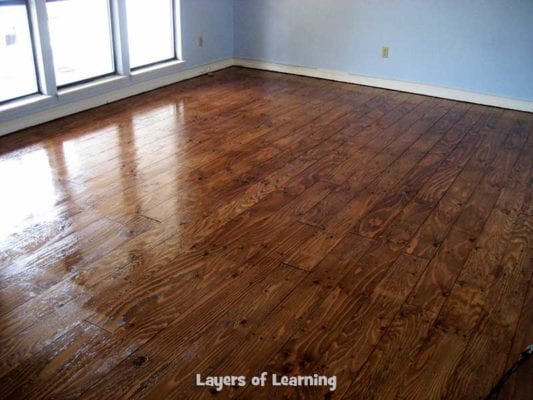 I'm loving it.
The reason we chose to go with plywood floors instead of pre-engineered floors are:
Cost.  This method was MUCH less expensive and we have a whole house to re-do.
We like a more rustic country kind of feel, wide planks, real wood with real grain, not a picture of wood . . . we wanted the real thing, baby.
It may take us awhile to install all our floors.  Like I said, we're re-doing the whole house, one room at a time.  So we could have bought all of the floors for the whole house, except where to store all of that?  And spacing out the purchasing is easier on our wallet, but there is never any guarantee that the product we bought six months ago or a year ago will be there today to finish the project.  I have no desire to spend all the money and time on new floors so they can almost match.  Since we're staining and finishing these ourselves we can be sure of a perfect match.
If part of the floor gets ruined in the future we can rip up just those boards and replace them with an exact match (see #3).
So here's how we did it
Measure your room and buy enough plywood to cover the floor.  There are different grades of plywood.  "A" grade is the nicest, it comes with one very clean and sanded side.  This is not what we went with because, as the guy at Lowe's said, we can sand it ourselves and save big $$$.  A sheet of "A" grade plywood costs about $28 in our market, but a sheet of "C" grade plywood is only about $14.
Cut the plywood into long strips.  We wanted pretty wide boards so we went with 6″ strips.  We have a table saw that we used for this job.  If you don't have one, borrow one or buy one.  The 6″ width did mean we had some waste as the last row of the wood is less than 6″, but we used this extra on the edge by the wall where we needed some narrower pieces.  After the plywood is cut, stack it in the room where you'll be laying it for a couple of days.
Spread "liquid nails", a construction adhesive, on the back of each board.  Then nail the boards down.  We put two nails in each end and three more pairs of nails up the length of the board.  In between boards you need a little space and it's nice if it's uniform so don't just eyeball it.  We used pennies for spacers.  It took two days to lay the boards for our 20×13′ room.
Once all the boards were laid and nailed we set the nails in so they would be below the surface of the wood.  Then we sanded the whole floor with a belt sander, sanding in the direction of the grain.  I'm still sore from that particular step.  It's spankin' hard work.
Then we cleaned up and vacuumed the saw dust up.  Once the floor was clean I spent two hours sliding around on my backside on the floor and staining it.  We went with a medium brown "Early American" from Minwax.  I just used a rag, dipped in the stain, and wiped it on the floor.  Gloves and ventilation are a must.
The next day I started spreading the finish coats.  We decided to use Varathane Polyurethane floor finish.  It's water based, high traffic, no odor (really, no odor) and drys in just two hours.  The directions say to put on at least four coats.  We did six coats . . . boys, you know.  After the final coat you wait three days before you go move the furniture in and start using the room normally so that the finish coat can cure.  This type of floor would look awesome painted as well.
The Cost Breakdown
Our living room is 20'x13′ which equals 260 square feet.
We spent $13.97 each on 9 sheets of 11/32″  "CD" grade plywood = $125.73
The Varathane polyurethane floor finish was $49.98 per gallon and we used 2 gallons to do six coats = $99.96 (If you did only four coats you could get away with just one gallon)
Minwax stain was $20 for a gallon
We also bought an applicator pad for the polyurethane for $10 (you need the applicator, which you attach to any broom handle)
Then the nails were about $20 for 1 1/2″ finishing nails.
The liquid nails were $53.28 for a contractor pack of 24.  We used about half of them, but since we plan to do more floor we just bought the big pack.
Total cost for the living room was $328.97 which works out to $1.27 a square foot for real wood floors. Not bad.
More From Layers of Learning
Layers of Learning is a homeschooling site.  Here are some things you can do with your kids.
Free Samples
Try family-style homeschooling now with free samples of four Layers of Learning units when you subscribe. You'll get to try family-style history, geography, science, and arts with your children.
You can unsubscribe any time.