The Layers of Learning Podcast with Karen and Michelle is here to help you get your whole family learning together in your homeschool. We are the sisters behind Layers of Learning. We love getting together to chat about homeschooling and this podcast is just a series of our chats. We're inviting you to listen in on our conversations.
We both have big families, but we teach almost all of our school subjects to everyone at once. We want to help you find the joy in that too, so we talk a lot about family homeschooling. To see all of our episodes, visit our Layers of Learning Podcast Page. Join us as we explore how to have a happy, hands-on, family-style homeschool.
The Brand new Layers of Learning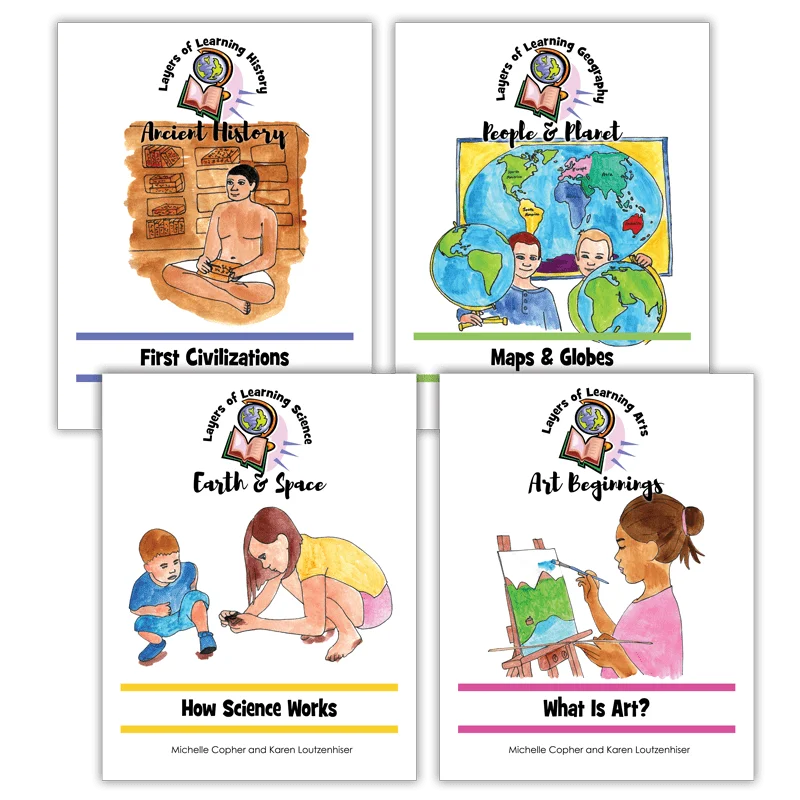 We are excited to announce a brand new version of the Layers of Learning Curriculum! We wrote the classic Layers of Learning over a decade ago and have loved sharing it with homeschooling families. Over the years, we've come up with fun, new ideas, have listened to your requests, and have also learned a lot. All of that has gone into this new version. It's the same family-style hands-on learning you've come to love with even better organization, more flexibility, and lots of fun, new learning ideas. The new Layers of Learning has updated Library Lists, supply lists for each Exploration, and lots of brand new printables. You can see samples of the new curriculum here.
We asked a lot of you to send us your questions, and in this episode of the podcast, we are introducing you to the new curriculum and telling you all about it, comparing it with the classic Layers of Learning, and answering the questions you sent in. We've already put years of work into this new version and have loved the difference it is making in our families and in our homeschools and we are excited to share it with you!
Here Are A Few Topics You'll Hear About In This Podcast
Why we wrote a new version of Layers of Learning
What is changing between the classic Layers of Learning and the new version

Separation of the basic subjects – history, geography, science, arts
A reduction from 20 units per year to 9 units per year (one for each month of the standard school year)
Better organization, supply lists, numbered steps of instructions
Science is now divided into the four branches of science – earth and space, physics, chemistry, biology
Writer's Workshop has been dovetailed and incorporated into the new version throughout the units
Bookworms sidebars with family read-alouds and other fun books are in each unit
Unit Overview with the main topics, key terms, and other important people, places, events, concepts, or artwork.
Subheadings organize the unit so you can more easily find things
The Student Journals are now incorporated into the unit and there are printables that you can incorporate into your journals
There's a new Show What You Know section with assessment ideas for each unit, with narration and coloring sheets, writing ideas, trivia questions, final project ideas, and a Big Book of Knowledge page.

What is staying the same across both versions?

The 4-year cycle is still the same, and you still repeat the books over and over again
The topics still coordinate with each other across subjects if you choose to use the units in the suggested order
The units are still being offered as individual PDFs. (The paperbacks will only be sold as courses per subject, not as individual units.)
There will still be discounted bundles, and we will also offer pre-orders of the first year in all four subjects, so you can purchase them at a discount
There are still fun sidebars and updated Library Lists
It is still full of hands-on learning and family-style lessons
YouTube playlists will still exist for each unit
Colored smilies still direct you to each age group
Still full-color, photos of projects,
The Units At A Glance shows the scope and sequence of the program
There are still web links for unit resources (there is now a resource page where you can find them)

A few more answers to your questions…

"Is there more information I can read about the changes?" – Yes! In the Curriculum Guide.
"I like how it already is and now I'm worried." – The new version will feel familiar but has even more resources. You can also continue to use the classic Layers of Learning too. The downloads for your units will continue to be there for you too.
"For someone new to the curriculum, what do you recommend for starting out?" – You'll want to start with the new version. There are lots more resources and a lot more help and support for families just coming out.
"How do you transition to the new units?" – That will be a personal decision for each family. You can keep using the classic until we catch up with the new releases, or you can begin again right now, because you will find lots of new things in the new units.
"Is the Guidebook for the mentor separate from the unit?" – When we released Writer's Workshop, we wrote a Guidebook to help people know how to teach it effectively, and a lot of people thanked us for the extra help. We decided to create a Guidebook for each of the subjects in a similar vein. If you are experienced in teaching your family with Layers of Learning, you probably don't need them. If you're new or are looking for fresh enthusiasm or a fresh take, you may enjoy the help from the Guidebooks.
"How will pricing work?" – The individual units will be $5.99. The pdf bundles will be discounted to $44.99. We also have frequent sales. We'll announce the paperback book pricing at a later date.
"Will Year 2 be available by this fall?" – Nope, we're hoping they will be by next summer though.
"Will the old Student Journals work with the new units?" – Sadly, no, because of the new organization, the Student Journals had to be reworked to match the new order of the units.
"If I already bought the classic Layers of Learning, is there a deal for getting the new ones?" – No, you can sell the original version if you have the paperback books. We will offer sales from time to time and also plan to bundle the products at a discounted rate.
Podcast: Play in new window | Download
Subscribe: Google Podcasts | Stitcher | Email | RSS | More
Free Samples
Try family-style homeschooling now with free samples of four Layers of Learning units when you subscribe. You'll get to try family-style history, geography, science, and arts with your children.
You can unsubscribe any time.