Writer's Workshop is a writing program for your whole family, from emergent writers right up to Mom and Dad. This is a sample exercise about narrations. Try it with your kids.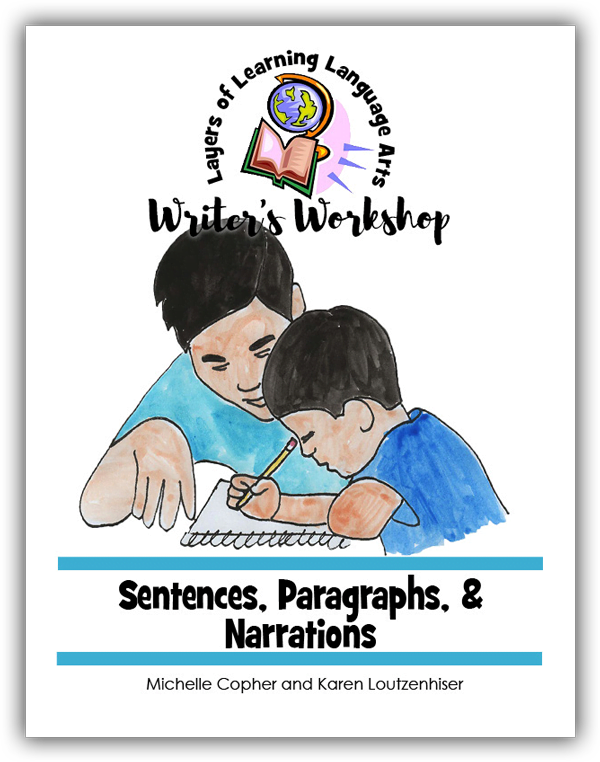 Narrations are a component of the Sentences, Paragraphs, and Narrations unit. Within it, you'll find lots of ideas and helps for writing narrations about any topic you're learning about. Layers of Learning's Writer's Workshop has exercises, projects, and prompts for all ages in every unit of this family-friendly curriculum. Learn more about Writer's Workshop in the Writer's Workshop Guidebook.
Writing is a key component of learning. We often talk about learning to write, but today the focus is on writing to learn.
We'll walk through what narrations are and how you can help your kids start writing them. We'll share some free printable narration pages that you can use to write about anything you're learning.
Step 1 Mini-Lesson
Start each Writer's Workshop lesson off with a 5-10 minute mini-lesson with all of your kids. The sidebars of each Writer's Workshop unit are lined with mini-lesson ideas to choose from.
For today's mini-lesson, practice inserting commas between the items on a list. Don't place a comma before the first item, but do place one between each item and between the last two items just prior to the word "and."
I learned about mummies, pyramids, the Nile River, pharoahs, and scarab seals.
Step 2 Exercise: Narrations
Spend most of your Writer's Workshop time on the exercise, which should last as long or as short as you need it to each day.
To write a narration, you'll need paper and pencils. We also provide printable narration sheets for kids who prefer to have printed templates to work from.
Narration is a wonderful way to solidify knowledge. At its simplest, narration is just telling what you've learned. Written narration is writing down those ideas. It can be the most important step to real learning because it provides an opportunity for kids to pair their own ideas and experiences with the new information they have learned. Written ideas, articulated, can stay with us.
Written narration prompts us to think deeply and then contribute our own ideas to the topic. It causes us to explore ideas more deeply within our own minds. Writing should be a natural extension of learning rather than just an assignment during writing class, so here are some tips for getting your kids writing about all of the fun things they are learning about.
Write At The End Of Each Unit
At the end of each Layers of Learning unit, decide on a way to show what you learned in writing. In schools, this is traditionally a test. In homeschool, you have the freedom to show what you learned in many, many ways. Choose from these ways:
a test or quiz
narration
oral presentation (include a written component in oral presentations)
You don't need to do all three. If you try to do everything all of the time you'll get burned out. Instead, choose one written assignment at the end of your unit. Then add your writing into a notebook that your kids keep so you will have a record of what you've learned together and can also go back over and review it.
Focus On Ideas
First, take some pressure off by encouraging kids to focus first on ideas. The spelling and mechanics can be fixed later. In content writing, it is the ideas we are focused on!
In particular, if you can have kids write about the topics they are learning in history, geography, science, and art, they can use their new knowledge to generate ideas at the same time they master and commit to memory their exploration of those topics. As kids become engaged in the conversations and ideas of the world, they expand their own minds and experiences.
Begin With A Picture
Many kids who are intimidated to write aren't worried in the least about drawing. Drawing pictures helps generate ideas and starts their pencils moving. Rather than lined paper, kids often do better when they begin with plain white drawing paper or story paper. Here are some free printable narration sheets you can use. My kids also like to use plain white cardstock without any lines.
Get Them Talking
There's nothing scarier than staring at a blank page. Before you set kids to the task of writing, get them talking. Ideas can be generated more freely if you take the big task of writing out of the equation. Ask questions like:
What were the big ideas that you learned about ____________________?
What was the most impressive thing to you?
Were there any important people that stood out to you?
Does anything about ___________________________ relate to you and your life?
My favorite part about ______________________ was ___________________. What was yours?
Was there anything that surprised you?
Once kids have said their ideas out loud, they can begin to write. Now, instead of a blank page, they have big ideas. It's even better if they are convinced their ideas are worth writing down, so make sure to point out the impressive or insightful things they said. Help them organize their thoughts into a logical order. Talking through ideas helps kids feel more empowered to get their thoughts down on paper.
Writing Prompts For Narrations
Some kids will naturally write about all kinds of things they've learned after a simple conversation, but many kids prefer a writing prompt or a creative format to spark ideas for sharing what they've learned. If you're tired of writing plain paragraphs, infuse a little life into the lesson with creative narration prompts to use as you write history, geography, science, and art narrations. You'll find a printable Narration Writing Prompts Idea Bank within the Sentences, Paragraphs, and Narrations unit, as well as lots of other helpful printables.
A Few Prompts To Get You Started:
Write a journal entry about something that fascinated you. (The most interesting thing I learned…. I didn't know that…. I wonder…. The thing that really surprised me…)
Write a top ten list of ten things you learned.
Create a chart of things like tallest buildings, population changes, your favorite facts, neat places, or significant inventions. Include captions and labels.
Create a Venn diagram that compares two units, two sets of people, two paintings or schools of art, or two science topics, like mammals and birds.
Keep a bullet journal learning log and record as many things as you can that you have learned.
Create a quote log. Write down quotes from your reading in one column and your thoughts or ideas about them in the next.
Create a "Write All Around It." You begin by making a simple outline drawing and then you write what you know about it all around the border.
Answer all the question words – Who? What? Where? Why? How? Write down each question word and then fill in your answers as they apply to your topic.
Make a storyboard.
Compare the time period to your own modern life.
Create a word cloud. Write your topic in the center then surround it with as many related words and phrases as you can come up with.
Describe a problem and how it was solved or could have been solved.
Show a picture or painting from the unit. Describe as many details as you can about the picture.
Does this topic remind you of another story or topic you have studied or read about?
Write a quiz, complete with an answer key.
What kind of worldview was presented? Contrast two ways to look at an issue within the topic.
Draw a diagram and label or describe it.
Sketch your own map with descriptions of important events written on it.
Create a drawing and description of a theme park that is based on your topic.
Step 3: Publishing
When you are done, add your narrations to your Layers of Learning notebook if your narration was about something from one of the units or in your Writer's Journal if it wasn't.
Here's an example of a completed exercise.
Step 3: Writing Project
Most exercises stay in your Writer's Notebook to be used a reference, for inspiration, or to be tossed at a later date, but about once a month, one piece of writing should be taken clear through the writing process. This is your writing project.
You can learn details about the writing process and how to mentor writers in the Writer's Workshop Guidebook.
Step 4: Evaluating Writing
Every piece of writing that makes it to publication needs to be shared before an audience and then evaluated. Take turns and share what you wrote. Celebrate the new knowledge! Applaud! Discuss! Ask questions! It's a time for celebrating all that you learned together.
Evaluations should be designed to help the writer grow, not just to create a grade. Every Writer's Workshop Unit comes with specific helps for the evaluator including a rubric that is specific to the genre being taught. General writing evaluation criteria and strategies are taught to the parent in the Writer's Workshop Guidebook.
What You'll Find in Every Writer's Workshop Unit
Printables
You'll find printables in every Writer's Workshop unit. They are tools for helping kids learn the writing process, skills, and ways to write in specific genres. They make lessons in a family school setting a little more manageable for parents too.
Ideas Banks
In each unit, kids will be doing a variety of writing exercises as well as one project. They will learn to take their project through the writing process, incorporating what they've learned during the exercises. Each unit has a big idea bank for kids to choose from so they can find something meaningful to write about.
Rubrics
Every unit also includes a rubric to help parents or mentors know how to give feedback that will help writers grow. Rubrics are tools writers can use to self-check, and mentors can use to know what to look for in each writing genre. We never just slap a grade on writing. Every bit of feedback is a tool to improve and grow.
More Writer's Workshop
Learn more about Writer's Workshop and how it can help you create writers (not just grammar workbook filler-outers!). We invite you to check out the Writer's Workshop Curriculum Guide. Then see how Layers of Learning can change your whole homeschool into a happy, hands-on family school with the Writer's Workshop Guidebook. We believe learning is about exploring! If you like exploring, you'll love the rest of the Layers of Learning program too – history, geography, science, and art, all taught with your whole family exploring together.
Free Samples
Try family-style homeschooling now with free samples of four Layers of Learning units when you subscribe. You'll get to try family-style history, geography, science, and arts with your children.
You can unsubscribe any time.