The Layers of Learning Podcast with Karen and Michelle is here to help you get your whole family learning together in your homeschool. We are the sisters behind Layers of Learning. We love getting together to chat about homeschooling and this podcast is just a series of our chats. We're inviting you to listen in on our conversations.
We both have big families, but we teach almost all of our school subjects to everyone at once, and we want to help you find the joy in that too, so we talk a lot about family homeschooling. To see all of our episodes, visit our Layers of Learning Podcast Page. Join us as we explore how to have a happy, hands-on, family-style homeschool.
Being Passionately Curious
As homeschoolers, we aren't really trying to teach our kids a list of facts; we are teaching them HOW to learn. One of the best ways is if you can teach them to be passionately curious. Kids who wonder, ask questions, and want to learn will be lifelong learners. Plus, they are also a lot easier and more fun to teach.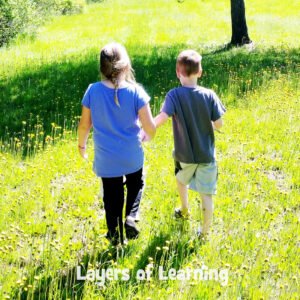 Here are a few of the topics you'll hear about in this podcast:
Passion can feel like an intimidating word, but it doesn't have to be! Don't pack meaning into a word that doesn't need to be there. Passion shouldn't evoke pressure. Passion is simply enough enthusiasm about something to create a desire to pursue it.
Kids should be given time to pursue their interests, even if it's not a competitive or academic pursuit.
Curiosity is simply a desire to learn about something.
Our brains have unlimited capacity. Isn't that amazing?
You can promote curiosity by engaging in resources made by people who are passionate about any topic. Their passion and curiosity is infectious!
Go out and find a local or online class about something that interests you.
Travel – whether its a staycation or field trip in your own town or a far-off destination, going out and experiencing the world will ignite curiosity. Live the things you learn about!
Notice the world around you. Question what you see. Don't accept that the mundane parts of the world around you don't have anything interesting to offer.
Take advantage of the curiosities that arise in your kids during your school day. Never let your plans or your schedule stand in the way of passionate curiosity.
Click the PLAY button to hear the podcast and SUBSCRIBE below:
Podcast: Play in new window | Download
Subscribe: Google Podcasts | Stitcher | Email | RSS | More
Free Samples
Try family-style homeschooling now with free samples of four Layers of Learning units when you subscribe. You'll get to try family-style history, geography, science, and arts with your children.
You can unsubscribe any time.