<
The Layers of Learning Podcast with Karen and Michelle is here to help you get your whole family learning together in your homeschool. We are the sisters behind Layers of Learning. We love getting together to chat about homeschooling and this podcast is just a series of our chats. We're inviting you to listen in on our conversations.
We both have big families, but we teach almost all of our school subjects to everyone at once, and we want to help you find the joy in that too, so we talk a lot about family homeschooling. To see all of our episodes, visit our Layers of Learning Podcast Page. Join us as we explore how to have a happy, hands-on, family-style homeschool.
Layers of Learning Sidebars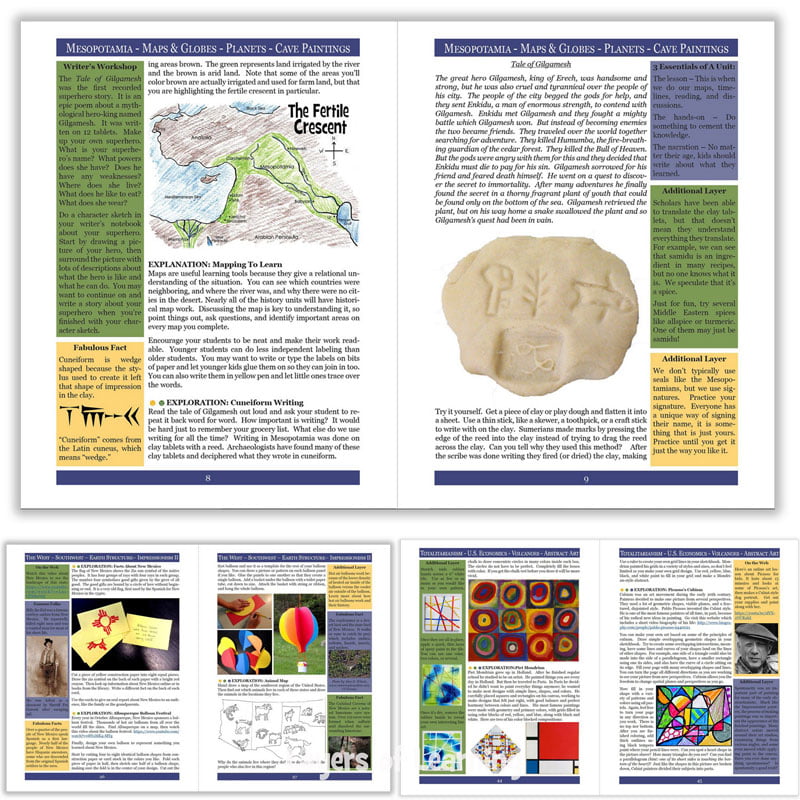 Michelle and Karen chat all about the colorful sidebars that line the pages of the Layers of Learning unit booklets. They not only discuss what you'll find there, but also how to use them effectively, what the purpose of the sidebars is, and why the sidebar format was chosen. Most of all, you'll hear ideas for how to utilize the sidebars of the curriculum to personalize it to your family and your homeschool. Understanding this organizational component of the curriculum will help you in your role as learners and explorers.
Layers of Learning is like a grand outline for learning and the sidebars become a springboard for you to explore famous folks, memorization, fabulous facts, additional layers, places on the web, and more. You'll also find Writer's Workshop ideas and teaching tips from the personal experiences Karen and Michelle have had over their many years of homeschooling with their families. Family schooling can be quite different than the brick and mortar experience you likely grew up with.
We hope this podcast will provide inspiration on how to create a richer, more meaningful Layers of Learning homeschool by using the sidebars within the unit booklets. Understanding the organization of Layers of Learning will help you explore and dig even deeper into what you are learning about as a family and truly come to appreciate this big world we live in and the wealth of knowledge it has to offer.
Here Are A Few Topics You'll Hear About In This Podcast:
How to use the sidebars effectively and the role that each type plays
What and when to read them aloud with your kids
Teaching Tips
Famous Folks
Memorization Station
Deep Thoughts
Writer's Workshop
Fabulous Facts
Additional Layers
Click the Play button to hear the podcast, then subscribe below!
Podcast: Play in new window | Download
Subscribe: Google Podcasts | Email | RSS | More
Free Samples
Try family-style homeschooling now with free samples of four Layers of Learning units when you subscribe. You'll get to try family-style history, geography, science, and arts with your children.
You can unsubscribe any time.