The Layers of Learning Podcast with Karen and Michelle is here to help you get your whole family learning together in your homeschool. We are the sisters behind Layers of Learning. We love getting together to chat about homeschooling and this podcast is just a series of our chats. We're inviting you to listen in on our conversations.
We both have big families, but we teach almost all of our school subjects to everyone at once. We want to help you find the joy in that too, so we talk a lot about family homeschooling. To see all of our episodes, visit our Layers of Learning Podcast Page. Join us as we explore how to have a happy, hands-on, family-style homeschool.
Our Daily Routines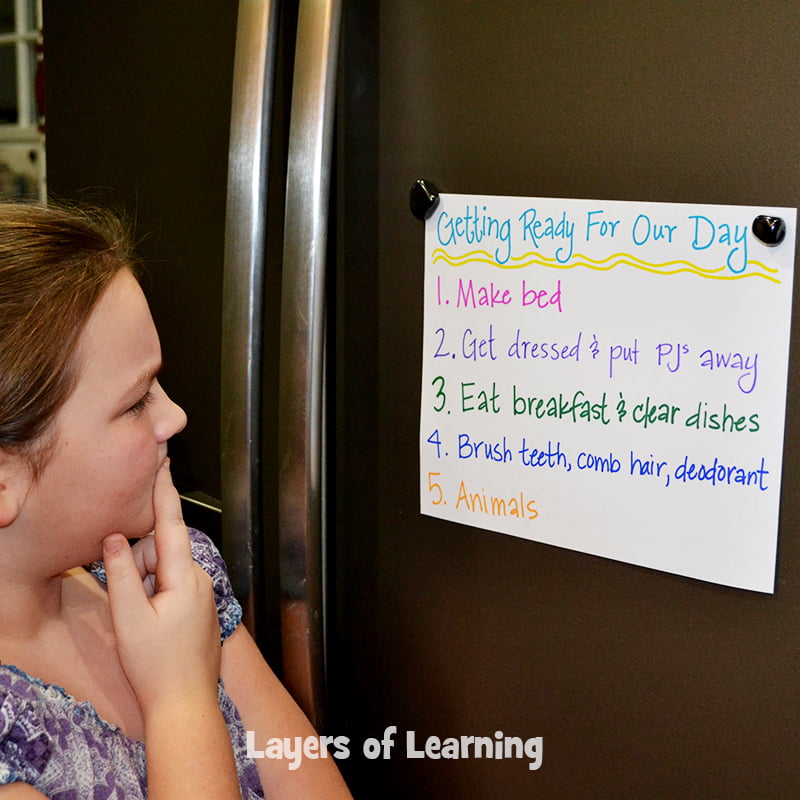 Daily routines keep families in a steady rhythm. They create a relaxing environment in what can easily become a chaotic homeschooling life.
When you are with your kids 24/7, it helps to train them in solid daily routines so you don't have to be constantly telling everyone what to do. It helps with your everyday family life and it definitely helps your homeschool to run more smoothly. In this episode, the Layers of Learning sisters walk through their everyday routines after over a decade of homeschooling.
Here Are A Few Topics You'll Hear About in this Podcast:
What a homeschool day looks like in Michelle's home and in Karen's home
What the rest of the day looks like, from meals and chores to play time
How to manage extracurricular activities
How to use daily routines instead of schedules for a balance of structure and flexibility
What a school year looks like as a whole
How you schedule your days, weeks, and years will change and evolve with your family's needs
Click the Play button to hear the podcast, then subscribe below!
Podcast: Play in new window | Download
Subscribe: Google Podcasts | Email | RSS | More
Free Samples
Try family-style homeschooling now with free samples of four Layers of Learning units when you subscribe. You'll get to try family-style history, geography, science, and arts with your children.
You can unsubscribe any time.