The Layers of Learning Podcast with Karen and Michelle is here to help you get your whole family learning together in your homeschool. We are the sisters behind Layers of Learning. We love getting together to chat about homeschooling and this podcast is just a series of our chats. We're inviting you to listen in on our conversations.
We both have big families, but we teach almost all of our school subjects to everyone at once. We want to help you find the joy in that too, so we talk a lot about family homeschooling. To see all of our episodes, visit our Layers of Learning Podcast Page. Join us as we explore how to have a happy, hands-on, family-style homeschool.
Focus on Learning Skills, Not Content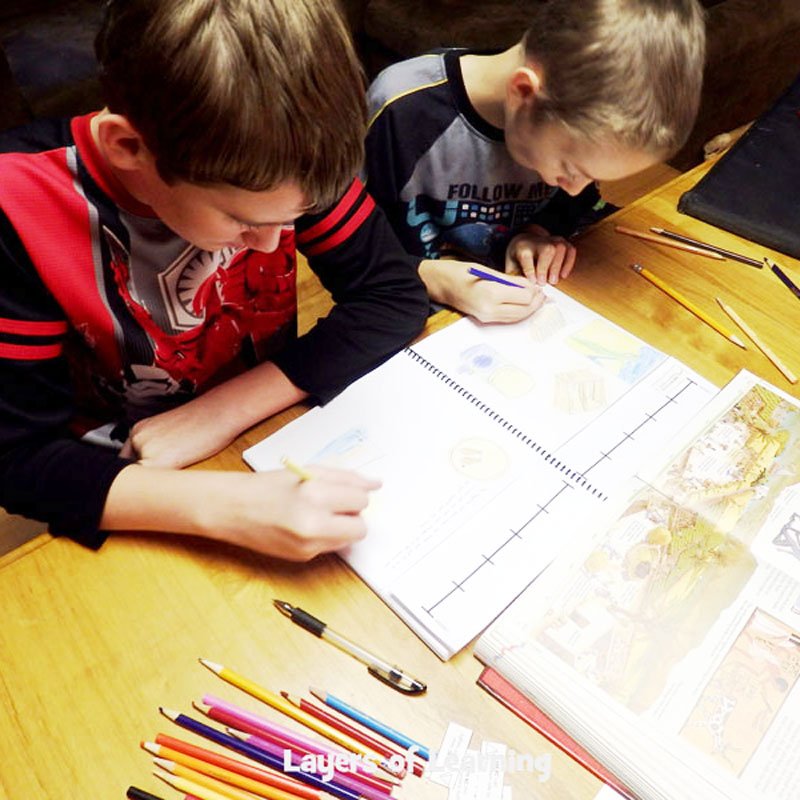 A lot of homeschool parents ask what they need to teach in their homeschools. They want a list of everything that should be taught at every age. They worry incessantly about missing something when they are teaching their families. We know. We were there once. The overwhelm of homeschool parenting can feel heavy on your shoulders. A part of you is pretty sure you're going to mess this gig up. If you've felt that pressure, rest assured, we've all been there, but you don't need to stay in that uncomfortable cesspool of worry.
The public school mindset causes us to question ourselves unnecessarily. The truth is, you don't need a list of content knowledge. Content knowledge is infinite and always changing. Even if you taught your kids everything on "the list," you would be missing things. Our knowledge is always growing and changing. No one, not even the experts, know everything about every subject. Instead of content knowledge, focus on learning skills. Once your kids have mastered the skills of reading, writing, processing information, communicating, speaking, forming arguments, researching, and evaluating, they can master any content knowledge that is out there. You will practice these skills again and again as they grow and develop. Those mastered skills will be more valuable than any list of memorized content knowledge could ever be.
Here Are A Few Topics You'll Hear About in this Podcast:
How Layers of Learning can serve as an outline for learning instead of a checklist of content knowledge.

How Common Core requirements fit into skills-based learning.
Use Layers of Learning to develop learning skills by learning a broad spectrum of facts and knowledge.
Your focus as a homeschool family isn't memorizing facts; it is learning how to learn.
Some of the learning skills you should focus on are study endurance, reading critically and with comprehension, evaluating and discussing, communicating orally and in writing, researching, and memorizing,
How pet topics get chosen and why they get so much focus.
How to teach kids to learn and research.
How to teach kids to both present and to be a good audience.
How lifelong learning, organization, and study skills will make a bigger difference than any specific topic you could teach your kids.
How to use Layers of Learning as a grand outline and a learning tool, not a boundary or set of requirements.
Click the Play button to hear the podcast, then subscribe below!
Podcast: Play in new window | Download
Subscribe: Google Podcasts | Stitcher | Email | RSS | More
Free Samples
Try family-style homeschooling now with free samples of four Layers of Learning units when you subscribe. You'll get to try family-style history, geography, science, and arts with your children.
You can unsubscribe any time.