The Layers of Learning Podcast with Karen and Michelle is here to help you get your whole family learning together in your homeschool. We are the sisters behind Layers of Learning. We love getting together to chat about homeschooling and this podcast is just a series of our chats. We're inviting you to listen in on our conversations.
We both have big families, but we teach almost all of our school subjects to everyone at once. We want to help you find the joy in that too, so we talk a lot about family homeschooling. To see all of our episodes, visit our Layers of Learning Podcast Page. Join us as we explore how to have a happy, hands-on, family-style homeschool.
layers of learning 101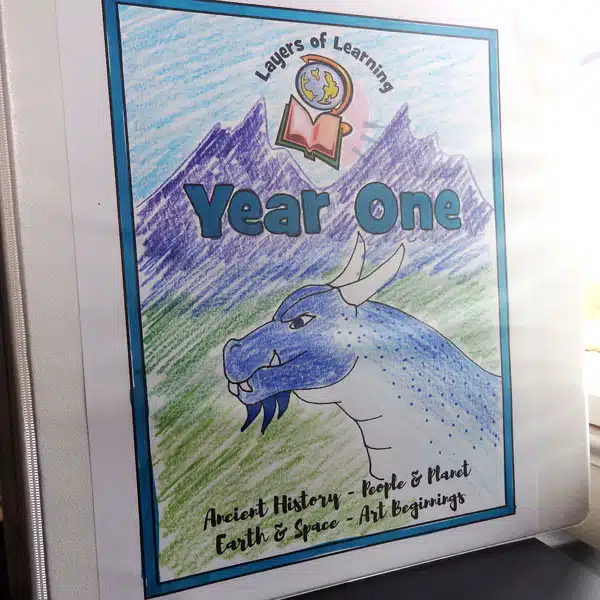 This episode is an overview of Layers of Learning. Whether you're brand new or a veteran, we hope you'll learn something new as we chat about the overview of the program and how it is intended to be used. Layers of Learning is a unique program, where families all learn together and parents become mentors who learn with their kids rather than teachers. The mentor is modeling how to learn. Because of the huge variety of project types and learning styles that are included, Layers of Learning involves a bit more planning than a textbook-type curriculum, but it pays off! Once you get into the rhythm of learning together, it becomes easy and your kids learn how to learn. Rote memorization becomes a thing of the past as dynamic learning begins to happen in your homeschool. You'll use the four-year cycle, going through the entire program together for four years, then going back and repeating the cycle again. Each time, you choose new activities and learning the subjects on a deeper level now that your kids are older.
Here Are A Few Topics You'll Hear About In This Podcast
Homeschool parents become mentors who are modeling learning in their families.
We present things from many viewpoints and ask you to think critically and decide what and how to present it to your families.
We include books, videos, hands-on activities, printables, and lots of memorable activities to include to keep learning interesting and memorable instead of monotonous.
Layers of Learning is built around a 4-year cycle. After 4 years, you'll go around and do it again with your family, choosing new activities to do together on subsequent rotations.
If you use the recommended order, you'll find that the subjects dovetail together in many places. For example, while you learn about Ancient Greece you'll also be studying Greek art and mythology.
Explorations within the program are like individual lesson plans. You choose which Explorations you will do, do them with your kids, and then have them record what they are learning in Student Journals while you record what you learned in the Big Book of Knowledge. The Big Book of Knowledge becomes a review/quiz/test bank for you to use with your kids.
We hope you'll take this grand outline of learning and adapt it to fit your family's needs to create the homeschool of your dreams.
Podcast: Play in new window | Download
Subscribe: Google Podcasts | Email | RSS | More
Free Samples
Try family-style homeschooling now with free samples of four Layers of Learning units when you subscribe. You'll get to try family-style history, geography, science, and arts with your children.
You can unsubscribe any time.