Writer's Workshop is a writing program your whole family, from emergent writers right up to Mom and Dad can explore together. This is a sample exercise about writing five-paragraph essays. Try it with all your kids.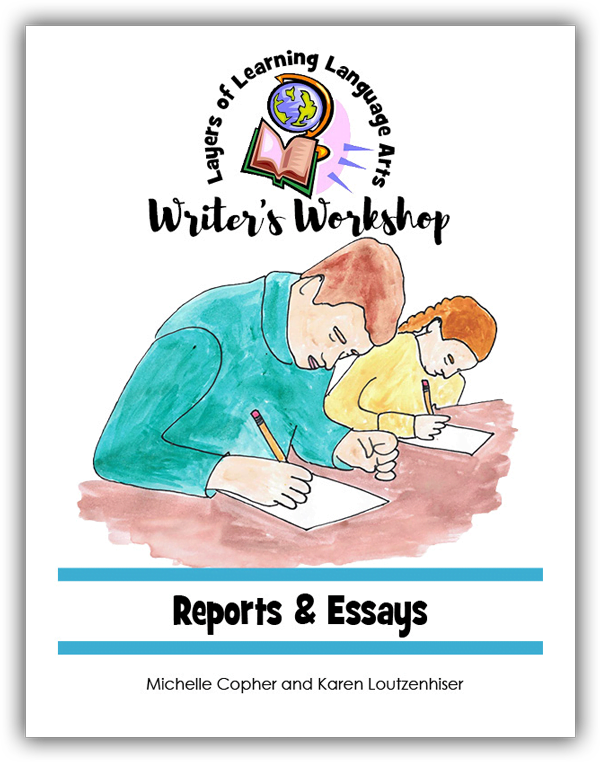 This Writer's Workshop exercise is from Writer's Workshop Reports and Essays, In Writer's Workshop Reports and Essays, you will learn skills to help you write everything from a simple book report to a college-ready five-paragraph essay. You'll take your writing clear through the writing process to publication. Join us for a family-style writing program in Writer's Workshop.
There's nothing magical about five-paragraph essays, either in the length or in the exact structure, but they provide the backbone for writing essays and papers of any length and any structure.
Before embarking on five-paragraph essays, you'll want to practice writing shorter reports like book reports, animal reports, one-paragraph summaries, and short fact-based papers. You'll find exercises to walk you through all of these (plus lots more!) in Reports & Essays. Once you've practiced with those, you're ready for five-paragraph essays.
Step 1 Mini-Lesson
Start each Writer's Workshop lesson off with a 5-10 minute mini -lesson with all of your kids. The sidebars of each Writer's Workshop unit are lined with mini-lesson ideas to choose between. For this lesson, find the errors in this sentence and correct them together.
mrs brown seen her cow over in the neigbors feeld and she ran after it all daye long
Answer Key: Mrs. Brown saw her cow over in the neighbor's field, and she ran after it all day long.
Step 2 Exercise: Five-Paragraph Essay
Spend most of your Writer's Workshop time on the exercise. You'll finish some exercises in a day while others can spread over several days of your Writer's Workshop time. The activities are all flexible and can be tailored to your family.
Before kids begin writing, they can outline their ideas as a prewrite for the essay. Your kids can fill in this simple form to help create an outline. Click here to get this printable.
Structure of A Five-Paragraph Essay
Five-paragraph essays are arguably the most important essays for kids to learn for high school and college. Once this format is mastered, writers can apply these skills to essays and reports of any length and varying formats.
Early on, kids learn to write sentences. Related sentences are then joined together to form paragraphs. Eventually, related paragraphs are joined together to form essays. The most important skills for writing essays include being able to organize and tie related ideas together into one meaningful essay.
The Importance of Five-Paragraph Essays
The reason five paragraph essays are so terrific for developing writers is because of the high level of structure. Writers are told exactly what goes where and in which order to put it. As a student just beginning, that structure is so helpful! It is true that before you can break the rules you have to understand them well and that is what the five-paragraph essay does – it gives a great foundation for the rules so that students become comfortable with essays and feel confident in their writing.
Basically, there are five paragraphs and each paragraph has four to five sentences. When you first start, give a defined subject, perhaps something you are studying in history or science or something that they are interested in outside of their studies. Then make an outline together, following the structure below.
Five-Paragraph Essay Structure
The structure of a five paragraph essay is:
I. Introduction
A. The main theme of the paper
B. Point one
C. Point two
D. Point three
E. Transition sentence
II. Point one
A. Supporting point
B. Supporting point
C. Supporting point
D. Transition sentence
III. Point Two
A. Supporting point
B. Supporting point
C. Supporting point
D. Transition sentence
IV. Point three
A. Supporting point
B. Supporting point
C. Supporting point
D. Transition sentence
V. Conclusion
A. Why your ideas about the subject are correct
B. What you proved in the previous paragraphs
C. A summary of your conclusions that ties back to your introduction.
A 12-year-old's First Five Paragraph Essay
My son's first five-paragraph essay was on "Mistakes My Parents Make That I Will Not." We purposely kept it light and fun since this was an intimidating writing project to begin with.
I helped him brainstorm and come up with the ideas for each supporting point of his paper. We wrote out the outline together and then he turned each part of the outline into a complete sentence, keeping it in the order of the outline. The ideas and writing are all his, with guidance from me.
Mistakes My Parents Make That I Will Not
My parents make a lot of mistakes that I will not. Parents leave their kids to make dinner, make them write five-paragraph essays, and make kids wait until they are sixteen to drive a car. If your parents don't make you do any of that, you do not have to keep reading.
Parents should not leave their kids to make dinner because they cannot always handle it. Sometimes kids don't know what they are doing. Sometimes the dinner does not turn out good. Usually, the kids give up, or the parents take over anyway.

Parents should not make kids write five paragraph essays. Most of the time kids are sulky and drag it out. Also, parents keep bugging them and make them sulkier. Five paragraph essays are useless anyway and cause contention for no reason.

Parents should not make their kids wait until they are sixteen to drive a car. Most kids want to drive sooner. Some kids are capable of driving sooner. Parents would not have to drive their kids everywhere.

I know I will not make these mistakes when I grow up. My kids will have dinner served to them every night or maybe they will help with dinner, but they won't have to do it all. My kids will not have to do very much writing at all unless they want to. I will let my kids drive as soon as they can reach the pedals and see over the steering wheel. The world will be nicer if parents would just let kids do what they want.
This exercise will go into the Journal section of the Writer's Notebook.
Step 3: Writing Project
Most exercises stay in the Writer's Notebook to be used as a reference, for inspiration, or to be tossed at a later date. About once a month, one piece of writing should be taken clear through the writing process. In Writer's Workshop, this one piece is your writing project. It is the only assignment during the month that is graded, while the others merely help to develop skills.
If I were to guide my child through taking this exercise through the writing process I would encourage him to explore some of the topics he discussed further. We would address logic gaps and work on expanding his ideas more fully. We would also learn how to add smoother transitions as he moved through his ideas. He would revise and edit his essay, creating a polished copy to share and add to the Writing section of his Writer's Notebook.
You can learn details about the writing process and how to mentor writers in the Writer's Workshop Guidebook.
Step 4: Evaluating Writing
Every piece of writing that makes it to publication needs to be shared before an audience and then evaluated. The audience should cheer for the writer and ask curious and positive questions about the writing when appropriate. Evaluations are designed to help the writer grow, not just to create a grade. Every Writer's Workshop unit comes with specific helps for the mentor, including a rubric that is specific to the genre being taught. General writing evaluation criteria and strategies are taught to the parent or mentor in the Writer's Workshop Guidebook.
What You'll Find in Every Writer's Workshop Unit
Printables
You'll find printables in every Writer's Workshop unit. They are tools for helping kids learn the writing process, skills, and ways to write in specific genres. They make lessons in a family-school setting a little more manageable for parents too.
Ideas Banks
In each unit, kids will be doing a variety of writing exercises as well as one project. They will learn to take their project through the writing process, incorporating what they've learned during the exercises in the unit. Each unit has a big idea bank for kids to choose from so they can find something meaningful to choose for their project.
Rubrics
Every unit also includes a rubric to help parents or mentors know how to give feedback that will help writers grow. Rubrics are tools writers can use to self-check, and mentors can use to know what to look for in each writing genre. We never just slap a grade on writing. Every bit of feedback is a tool to improve and grow.
More Writer's Workshop
Learn more about Writer's Workshop and how it can help you create writers (not just grammar workbook filler-outers!). We invite you to check out the Writer's Workshop Curriculum Guide. Then see how Layers of Learning can change your whole homeschool into a happy, hands-on family school with the Writer's Workshop Guidebook. We believe learning is about exploring! If you like exploring, you'll love the rest of the Layers of Learning program too – history, geography, science, and art, all taught with your whole family exploring together.
Free Samples
Try family-style homeschooling now with free samples of four Layers of Learning units when you subscribe. You'll get to try family-style history, geography, science, and arts with your children.
You can unsubscribe any time.