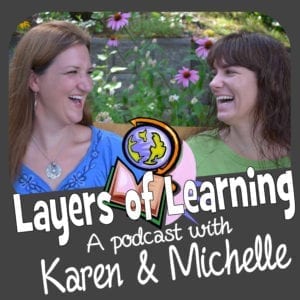 The Layers of Learning Podcast with Karen and Michelle is here to help you get your whole family learning together in your homeschool. We are the sisters behind Layers of Learning. We love getting together to chat about homeschooling and this podcast is just a series of our chats. We're inviting you to listen in on our conversations.
We both have big families, but we teach almost all of our school subjects to everyone at once, and we want to help you find the joy in that too, so we talk a lot about family homeschooling. To see all of our episodes, visit our Layers of Learning Podcast Page. Join us as we explore how to have a happy, hands-on, family-style homeschool.
Homeschooling Is A Piece of Cake
Here are some topics from episode 4 that will help you understand more fully how to create meaningful layers, like the layers of a cake, in your homeschool:
Find out how Layers of Learning got its name.
Much like a cake is built in layers, learning happens in "layers." Following the popular 4-year cycle utilized in homeschooling, we can think of a kid's education in 3 layers: learning facts and being curious, making connections, and then joining the Great Conversation.
Learn enough to maintain interest and then move on to new and interesting topics.
"Additional Layers" within Layers of Learning are designed to take you off on tangents and plunging down interesting rabbit trails.
Allow kids to follow their own interests.
Spend as long on a unit as it takes! Follow the lead of your kids.
Find connections as you learn.
Help your kids develop their own worldview as they dig deeper into their interests and curiosities.
Look at the "cake" of your kids' education as a whole and build a meaningful framework for what they will learn. You, the parent, will provide the structure that makes the "cake" stand strong as they build themselves over the course of their education.
A homeschool mom's job – to ask questions and point your kids in the right direction to answer those questions.
Learning should be rich and sweet, like cake!
Click the PLAY button to hear the podcast and SUBSCRIBE below:
Podcast: Play in new window | Download
Subscribe: Google Podcasts | Stitcher | Email | RSS | More