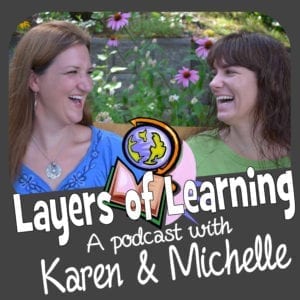 The Layers of Learning Podcast with Karen and Michelle is here to help you get your whole family learning together in your homeschool. We are the sisters behind Layers of Learning. We love getting together to chat about homeschooling and this podcast is just a series of our chats. We're inviting you to listen in on our conversations.
We both have big families, but we teach almost all of our school subjects to everyone at once, and we want to help you find the joy in that too, so we talk a lot about family homeschooling. To see all of our episodes, visit our Layers of Learning Podcast Page. Join us as we explore how to have a happy, hands-on, family-style homeschool.
Having A Realistic Homeschool Vision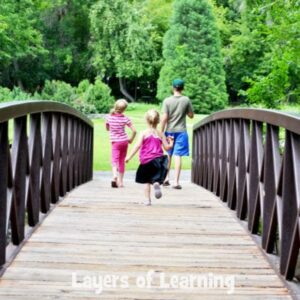 In Episode 9 Karen and Michelle help you create your very own homeschool vision. . . and also talk about how to adjust that vision so it's realistic and doable on a day-to-day basis. Going into any important pursuit with a vision of what you want to accomplish helps you focus on what is most important. A vision gives you perspective, especially when the task at hand feels bigger than your ability to accomplish it. It also gives you a course to set goals and direction for focusing on the most important things to you. Be mindful as you create your vision – mindful of your kids' individuality and of your needs too! A homeschool vision should bring you peace, not self-doubt, so create yours with care and introspection. Less guilt! More peace of mind!
Here are a few of the topics you'll hear in this podcast:
How to create your perfect homeschool vision by picturing it in your mind and examining what makes it feel perfect to you.
Writing down your vision and your reasons for homeschooling using this printable guide.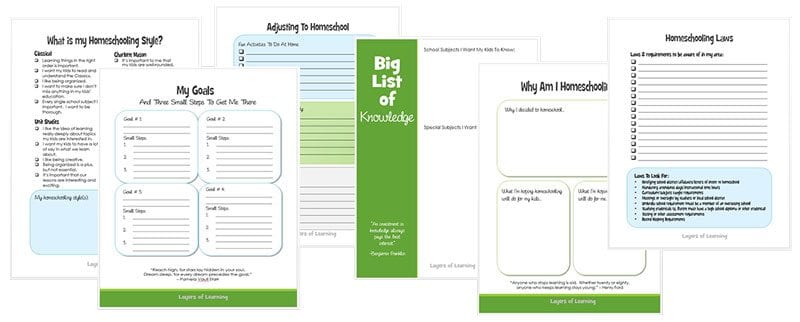 Examine what you've written. Make sure each piece is centered on you and what things you can control.
Set goals for yourself, not others.
Scale your vision down to a place that won't exhaust you and your family.
Be careful not to try to create a "checklist for a perfect child."
Leave room in your vision to cope with the ups and downs of life.
Be prepared for your homeschool vision to change as you grow and your needs change. Recognize your growth and embrace change as you refine your vision.
Realize it isn't possible to teach your kids everything. Don't get overwhelmed with worries about covering everything or checking off lists of knowledge your kids must master.
Simplify your homeschool life and be deliberate with your time and your priorities.
Make your homeschool space match your homeschool vision.
Utilize metacognition to come to know who you are as a homeschool mom. Be intentional about your choices so you can reach a place of peace and happiness as a homeschool parent.
Click the PLAY button to hear the podcast and SUBSCRIBE below:
Podcast: Play in new window | Download
Subscribe: Google Podcasts | Stitcher | Email | RSS | More