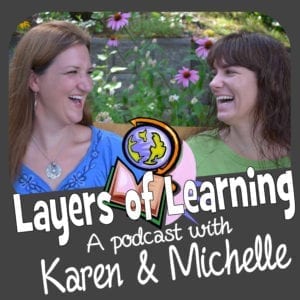 The Layers of Learning Podcast with Karen and Michelle is here to help you get your whole family learning together in your homeschool. We are the sisters behind Layers of Learning. We love getting together to chat about homeschooling and this podcast is just a series of our chats. We're inviting you to listen in on our conversations.
We both have big families, but we teach almost all of our school subjects to everyone at once, and we want to help you find the joy in that too, so we talk a lot about family homeschooling. To see all of our episodes, visit our Layers of Learning Podcast Page. Join us as we explore how to have a happy, hands-on, family-style homeschool.
Avoiding Layers of Learning Pitfalls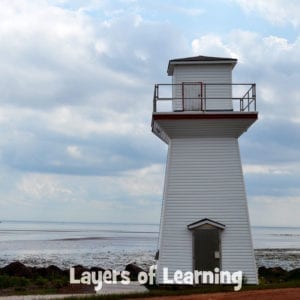 In Episode 10 Michelle and Karen talk about some of the common pitfalls Layers of Learning families have when they first start using the program. We're gifting you the combined 16 years of experience we have using Layers of Learning and offering tips on how to make it the best part of your homeschool day. All too often there are traps we fall into as we begin any new curriculum. Like a lighthouse warns sailors about the rocks, we'll show you how to avoid trouble spots and steer you away from pesky pitfalls. Take our hands and come along.
Here are a few of the topics you'll hear about in this podcast:
Pitfall #1: Overplanning. Planning for more time than you actually learn defeats the purpose of a family-style school. You'll hear some tips for streamlining your lesson planning so you can get down to the real business of learning. Here's a link to our planners and a complete planning tutorial for beginners. That will give you an overall start, but once you've got the hang of it, streamline! Here's a link to using a tablet with Layers of Learning as Michelle describes.
Pitfall #2: Doing Every Single Exploration. You don't have to do every single project to cover the topic. Learning happens in a variety of ways and projects are just one ingredient in that learning process. You will burn out if you try to do all of the projects!
Pitfall #3: Thinking There's A Right Way To Do Layers of Learning. Make your homeschool your own. You will never imitate someone else as well as you can be yourself. Build YOUR homeschool around YOUR likes, YOUR schedule, and YOUR needs. Other people may inspire you, but they will never be you as well as you can be you. YOU are the boss of your curriculum.
Pitfall #4: Being Worried About Covering Everything. No curriculum covers all of the knowledge of the world and no homeschool parent does either. Let go of the notion that you need to cover everything. It isn't possible anyway. Instead, focus on teaching your kids to learn and then supporting them as they follow their interests. Remember, you are raising LEARNERS, not encyclopedias.
Pitfall #5: Feeling Like You Have To Be An Expert. You are modeling learning, so don't be afraid to admit that you don't know it all. Instead, be a guide who shows your kids where they can get information and how they can learn something.
Pitfall #6: Talking More Than You're Listening. Ask open-ended questions and have discussions.
Pitfall #7: Fearing Other Viewpoints. Be teachable and think critically. Use sources that show a variety of viewpoints and then discuss and examine them. Help them to develop their own internal voice and set of values.
Pitfall #8: Dating Your Planner. Life happens. Don't make specific, dated plans. Homeschool SHOULD be flexible. Don't take away that advantage by restricting yourself to specific dates and schedules.
Pitfall #9: Getting Stuck in TOO Much of a Routine. Routines provide structure and consistency, but too much routine can become monotonous. Make joyful variety and flexibility a hallmark of your homeschool.
Podcast: Play in new window | Download
Subscribe: Google Podcasts | Stitcher | Email | RSS | More
Free Samples
Try family-style homeschooling now with free samples of four Layers of Learning units when you subscribe. You'll get to try family-style history, geography, science, and arts with your children.
You can unsubscribe any time.