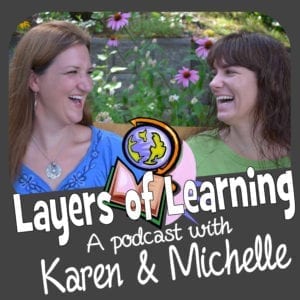 The Layers of Learning Podcast with Karen and Michelle is here to help you get your whole family learning together in your homeschool. We are the sisters behind Layers of Learning. We love getting together to chat about homeschooling and this podcast is just a series of our chats. We're inviting you to listen in on our conversations.
We both have big families, but we teach almost all of our school subjects to everyone at once, and we want to help you find the joy in that too, so we talk a lot about family homeschooling. To see all of our episodes, visit our Layers of Learning Podcast Page. Join us as we explore how to have a happy, hands-on, family-style homeschool.
Hands-on is Minds-on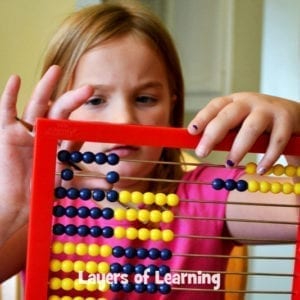 In Episode 11 Michelle and Karen explain how hands-on learning engages kids in a way that helps them retain information and think creatively, as well as developing life skills that they will take with them. First, we discuss the many benefits of having a hands-on homeschool. The engaging lessons and variety will create true thinkers who can communicate, solve problems, and be creative. Too often we believe learning comes down to searching out reading passages and then answering questions based on the reading, but this is little more than regurgitating the thoughts of others. Real thinking, real learning, is so much more. We'll also share some ways you can create a true hands-on homeschool in your home and get all of the benefits of it for you and for your kids.
Here are a few of the topics you'll hear about in this podcast:
Hands-on projects engage more parts of the brain and create an environment that allows people to retain information.
Kids with all learning styles can benefit from it.
Variety is one of the keys to a happy homeschool and learning because novelty helps us focus and pay attention.
Open-ended learning and problem-solving are superior to merely reading, doing worksheets, and taking tests over and over again because it engages the learner instead of just training kids as test-takers.
Researching, thinking through, communicating, and finding things out on our own is valuable.
Working as a family can make learning more relevant to your everyday life.
Lifelong learning can begin in your home. A love of learning stems from our experiences.
Hands-on projects are memorable.
You can go well-beyond a textbook level of knowledge when you engage in learning as a family.
Engaging in projects enhances creativity.
There are keys to having a successful hands-on homeschool. Embrace messes and mistakes. Let go of perfection and let your kids do their own work.
Make three simultaneous changes in your homeschool today: curriculum, instruction, and assessments. (Here's the link that we mentioned to our article: How To Assess Layers of Learning Assignments)
Listen to the podcast below:
Podcast: Play in new window | Download
Subscribe: Google Podcasts | Email | RSS | More
Free Samples
Try family-style homeschooling now with free samples of four Layers of Learning units when you subscribe. You'll get to try family-style history, geography, science, and arts with your children.
You can unsubscribe any time.