Writer's Workshop is a writing program for your whole family, from emergent writers right up to Mom and Dad. This is a sample exercise about persuasive essays. Try it with all your kids.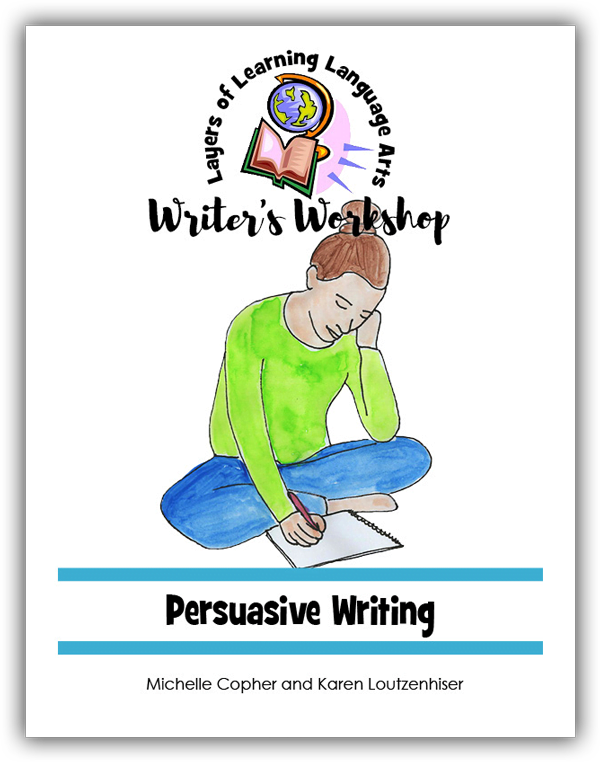 This Writer's Workshop exercise is from Writer's Workshop Persuasive Writing. In Persuasive Writing, you'll learn how to persuade your audience in all kinds of formats, from writing your own television commercial to creating a complete persuasive essay. There are exercises for emergent writers all of the way up to kids who are preparing for the more formal writing of college. Join us for a family-style writing program in Writer's Workshop.
Persuasive writing can seem a little intimidating at first, but if you understand some basics of what to include, it can be really fun for kids to try. Simply stated, it's any writing that is trying to convince someone of something. We use persuasion all the time every day – when you're convincing Mom to let you have that cookie, or when you want your sister to go for a bike ride with you, or when you don't think that punishment is fair and you want to negotiate a new one. The question is – can you convince me in writing?
Step 1 Mini-Lesson
Start each Writer's Workshop lesson off with a 5-10 minute mini-lesson with all of your kids. The sidebars of each Writer's Workshop unit are lined with mini-lesson ideas to choose from. For this lesson, you could learn about creating bulleted lists.
Bullet points are used by writers to create lists. They are commonly found in presentations, on websites, and in documents that show steps or procedures. They can also be used to emphasize or outline important points in an essay. As you are outlining the arguments you want to include to persuade your audience, you can create a bulleted list as a prewriting activity. Each of those bullet points could then be turned into paragraphs within your persuasive essay.
There are several reasons pets should be allowed on the beach:
It's a family beach and many pets are considered members of the family.
Pets like to run and swim just like people do.
There are pet waste bags and garbage cans already available near the tables, benches, and walkways of the beach.
Pets have a healing and soothing effect on many pet owners.
Practice making your own bulleted list that includes points within a topic you could persuade someone of.
Step 2 Exercise: Persuasive Essay
Spend most of your Writer's Workshop time on the exercise, which should last as long or as short as you need it to each day.
You can think of persuasion like fishing. You have to hook your reader, then reel him or her in steadily with your arguments, and finally pull him or her right into the boat with you, hopefully sharing your viewpoint by the end.
To write a persuasive essay, you need to decide on a topic you have an opinion about. You will be convincing your readers of your opinion, so make it something you care about. Here are a few super simple topics you can choose from:
Should we have pizza for dinner?
Do you believe school should be held year-round?
Cell phones and kids – do they mix?
Should you get an allowance?
What do you think about doctor's offices giving out candy?
Some people believe there should be hefty fines for littering. What are your thoughts?
Should there be bike and walking paths along all streets?
Exercise has definite benefits. Should it be a requirement of school days?
Should kids be limited on how much TV they watch?
There are three basic parts to persuasive writing:
1. An introduction with a great hook and a clear statement of your point
2. A body that includes your arguments
3. A conclusion that restates your arguments clearly and brings home your point.
This printable Persuasive Essay planner can help you organize your ideas before you begin writing.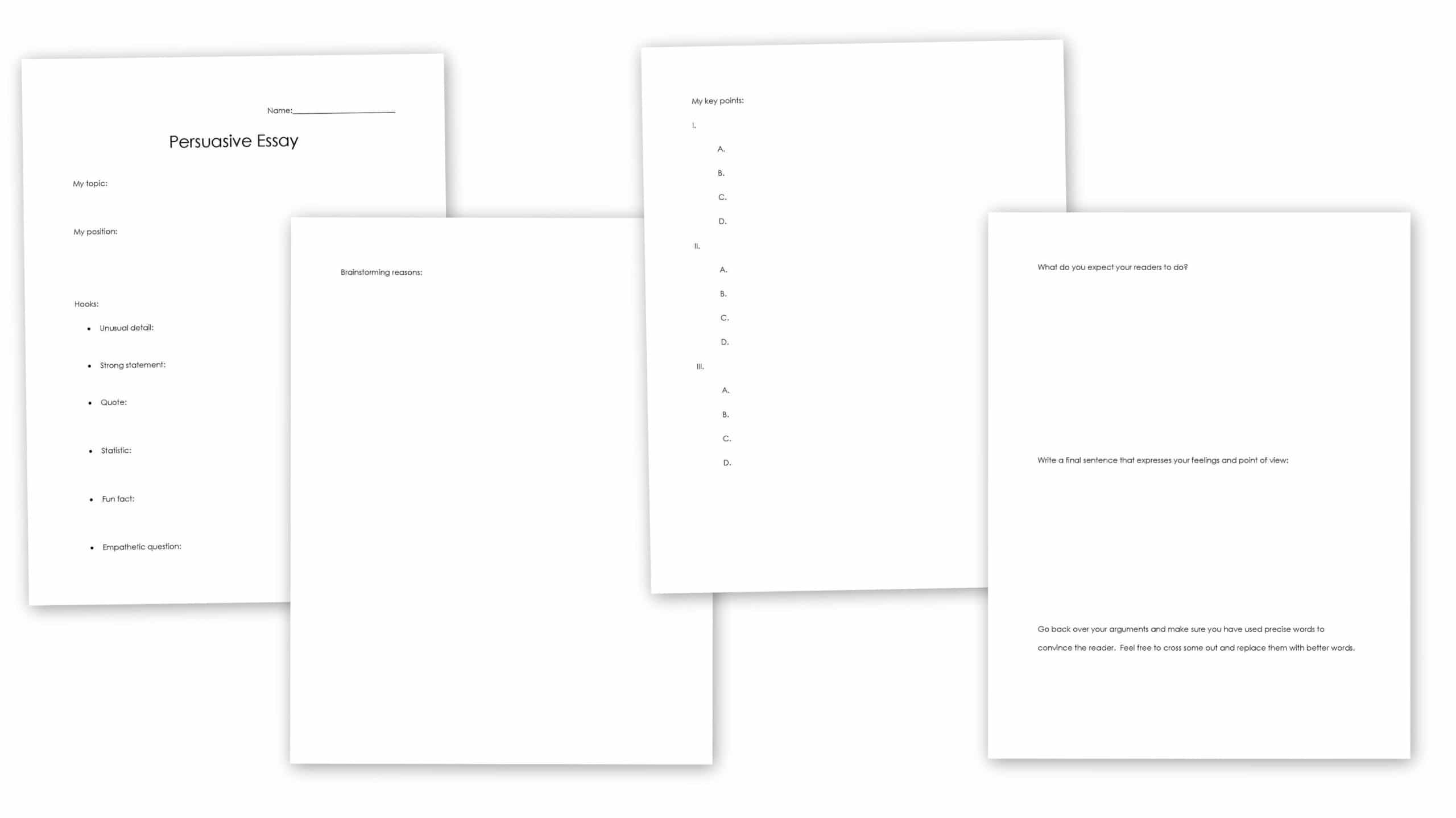 Hook & Introduction
A good hook is an attention-grabber. It is the very first sentence of your persuasive essay and should be used to hook your reader and keep him or her reading. Here are a few ideas for hooks you can use at the beginning of your persuasive essay.
Unusual detail
Strong statement
Quote
Statistic
Fun fact
Empathetic question
After the hook, you'll continue to present your position to your reader, with your main argument being the last sentence in your introduction.
Body Paragraphs
Each body paragraph will highlight one of your arguments. Every single one should tie directly back to your main argument. Your opinions are valuable, but if you can add facts, statistics, anecdotes, and examples you will be even more likely to convince your reader. This is how you reel your reader in. Be clear and direct; this is your chance to actually change someone's mind.
Conclusion
As you conclude in your final paragraph, make sure to quickly restate your main points, and call your readers to action. Ask your readers to join you in your point of view. They are now in the same boat as you.
Here's an example of a completed exercise. A younger child would have a much shorter version.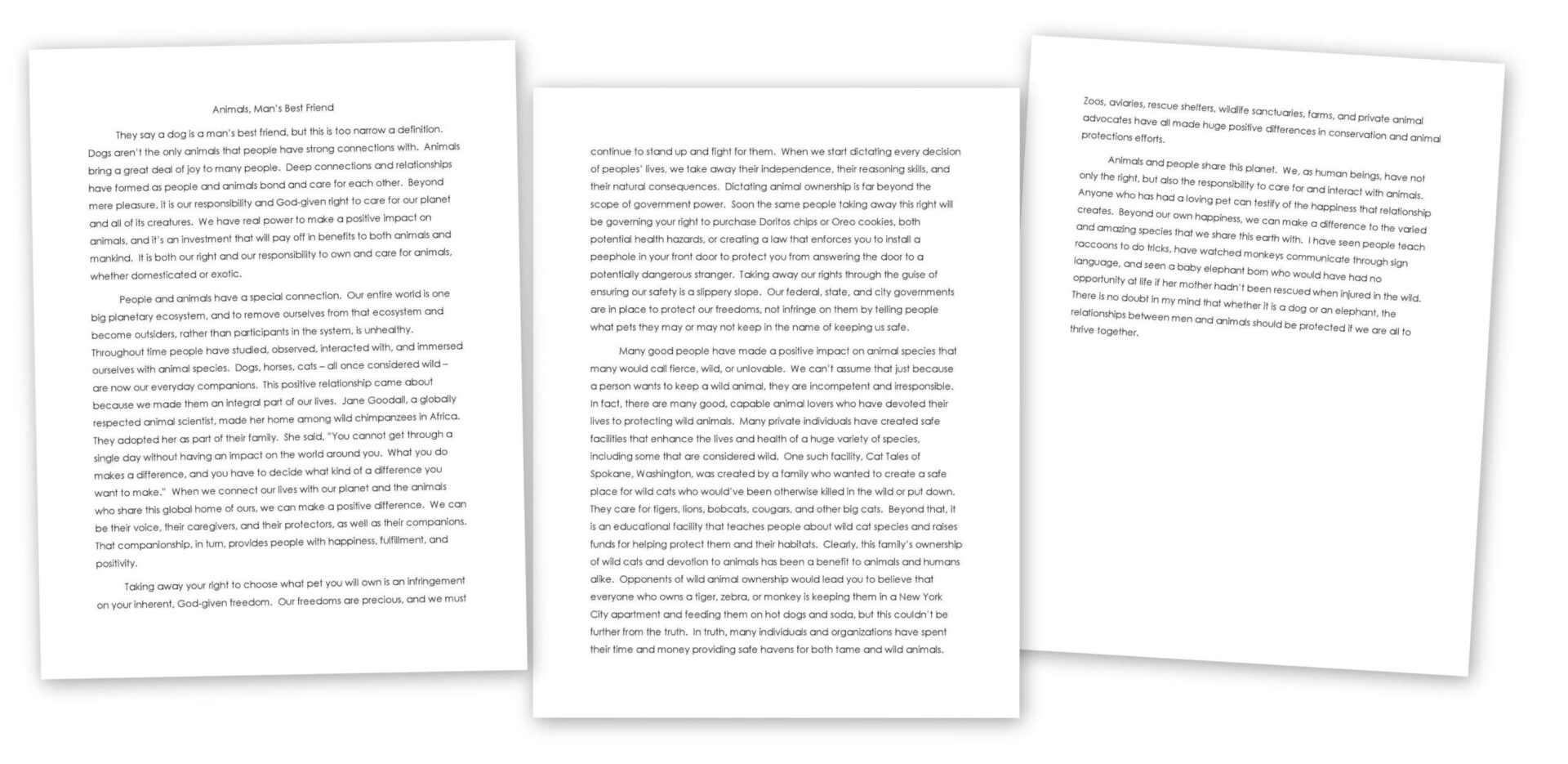 This exercise will go into the Journal section of the Writer's Notebook or in the Writing section if you decide to take it through the writing process and turn it into your writing project for the month.
Adapting for All Ages
To adapt this exercise for all ages of kids, you will adjust the length and expectations. A young child may begin with a one-paragraph essay. The topic sentence would be the hook and statement. The body sentences would include arguments. The concluding sentence would be the call to action.
Kids who are a little older can write three-paragraph persuasive essays. The first and final paragraphs would be the introduction and conclusion. The middle paragraph would contain all of the persuasive points and evidence.
Finally, by middle and high school, most kids are able to write five-paragraph (or longer) persuasive essays.
Step 3: Writing Project
Most exercises stay in your Writer's Notebook to be used as a reference, for inspiration, or to be tossed at a later date. About once a month, one piece of writing should be taken clear through the writing process. This is your writing project.
To guide my child through the writing process, I would have him read it to several people and ask if they were convinced. Next, have a discussion about what evidence was presented and whether or not it was organized, thoughtful, and sufficient. We would take notes right on the essay draft and then type it with revisions. Third, we would do a final edit, fixing any errors. Finally, he would be given an opportunity to publish the essay and share it aloud. By all means, if my kiddo successfully argued for pizza for dinner, you can bet I would make it happen that night!
You can learn details about the writing process and how to mentor writers in the Writer's Workshop Guidebook.
Step 4: Evaluating Writing
Every piece of writing that makes it to publication needs to be shared before an audience and then evaluated. The audience should cheer for the writer and ask curious and positive questions about the writing when appropriate. Evaluations should be designed to help the writer grow, not just to create a grade. Every Writer's Workshop unit comes with specific helps for the mentor, including a rubric that is specific to the genre being taught. General writing evaluation criteria and strategies are taught to the parent in the Writer's Workshop Guidebook.
What You'll Find in Every Writer's Workshop Unit
Printables
You'll find printables in every Writer's Workshop unit. They are tools for helping kids learn the writing process, skills, and ways to write in specific genres. They make lessons in a family-school setting a little more manageable for parents too.
Ideas Banks
In each unit, kids will be doing a variety of writing exercises as well as one project. They will learn to take their project through the writing process, incorporating what they've learned during the exercises. Each unit has a big idea bank for kids to choose from so they can find something personally meaningful to write about.
Rubrics
Every unit also includes a rubric to help parents or mentors know how to give feedback that will help writers grow. Rubrics are tools writers can use to self-check and mentors can use to know what to look for in each writing genre. We never just slap a grade on writing. Every bit of feedback is a tool to improve and grow.
More Writer's Workshop
Learn more about Writer's Workshop and how it can help you create writers (not just grammar workbook filler-outers!). We invite you to check out the Writer's Workshop Curriculum Guide. Then see how Layers of Learning can change your whole homeschool into a happy, hands-on family school with the Writer's Workshop Guidebook. We believe learning is about exploring! If you like exploring, you'll love the rest of the Layers of Learning program too – history, geography, science, and art, all taught with your whole family exploring together.
Free Samples
Try family-style homeschooling now with free samples of four Layers of Learning units when you subscribe. You'll get to try family-style history, geography, science, and arts with your children.
You can unsubscribe any time.