This exploration is for all ages, as the colored smilies show. You can make and try foods from all around the world with your whole family together at your very own Around the World Feast!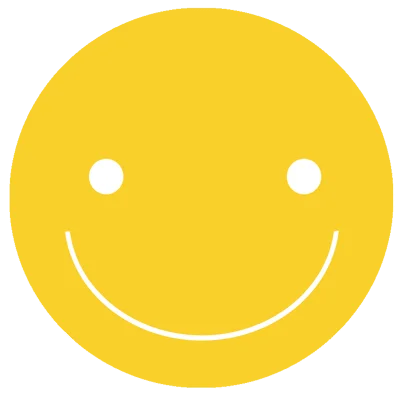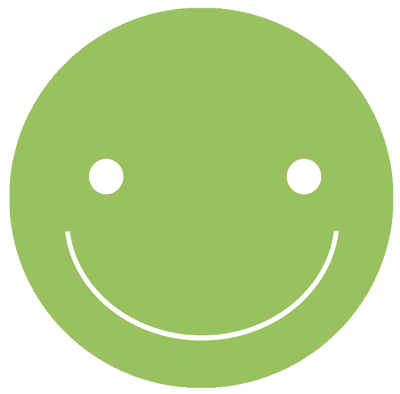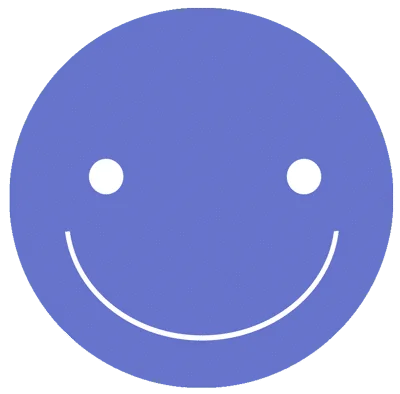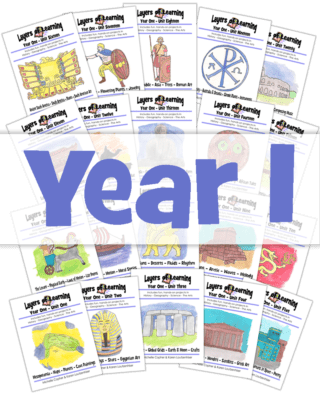 Many of the Layers of Learning geography units include recipes to try from around the world. Getting to know the world through food is one of our favorite homeschool lessons! Layers of Learning has hands-on explorations in every unit of this family-friendly curriculum. Learn more about Layers of Learning.
Food is a defining part of culture. The values we have tend to be tied closely to the foods we traditionally eat. For example, harmony is an important Chinese value and is reflected in their cuisine. Every flavor (sweet, sour, salty, spicy, and bitter) is used in balance within Chinese dishes, none outshining the rest. The foods of the United States are the most eclectic mix of anywhere in the world because of the rich history of immigration of that nation. Americans value diversity and it shows through in their food. Family is an integral part of Italian culture, and much of their food is served family-style because of this. You can also see the influence of the sea in the cuisine of many coastal peoples. As we come to understand the foods of each culture we study, we can come to know the people and what they value more completely.
Year One of Layers of Learning explores each of the seven continents and we spent much of our school year learning about those. I decided to end our school year with an Around the World Feast for my family to celebrate and remember what we had learned in our world geography studies from the year. My plan was to try foods from each of the seven continents and play some geography games too.
Step 1: Library Research
Before you begin exploring, read a book or two about foods from around the world. Here are some suggestions, but if you can't find these, look for cookbooks at your library or search for books on world cuisine or ethnic recipes. The colored smilies above each book tell you what age level they're recommended for.
As Amazon affiliates, the recommended books and products below kick back a tiny percentage of your purchase to us. It doesn't affect your cost and it helps us run our website. We thank you!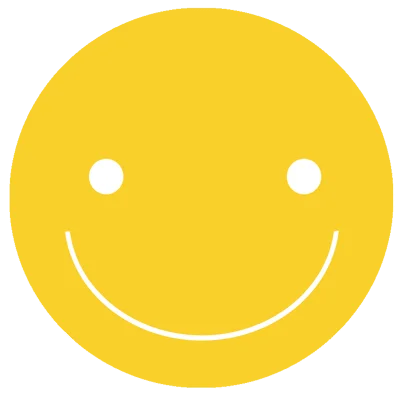 Cooking Class Global Feast
by Deanna F. Cook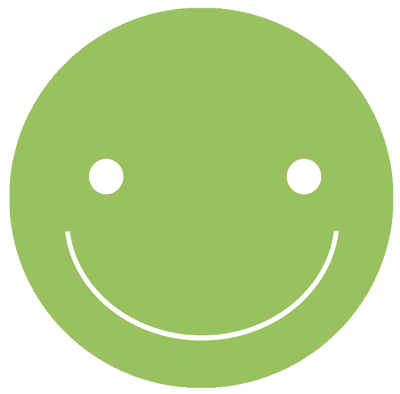 Around the World Cookbook
by Williams Sonoma
Step 2: Around the World Feast
You'll need to choose recipes from around the world for your feast and gather the ingredients for those. Along with that, I gathered the world map and the globe we use in our school room, and a few simple decorations and games.
The Set-Up
The decor was easy! I just grabbed our giant world map off of our school room wall to place over the table. Our globe became our centerpiece. I used blue and green plates and napkins to go with the "world" colors. The only thing I had to buy was a set of small flags. We had several vases of flags sitting around, and I also put a flag at each place setting.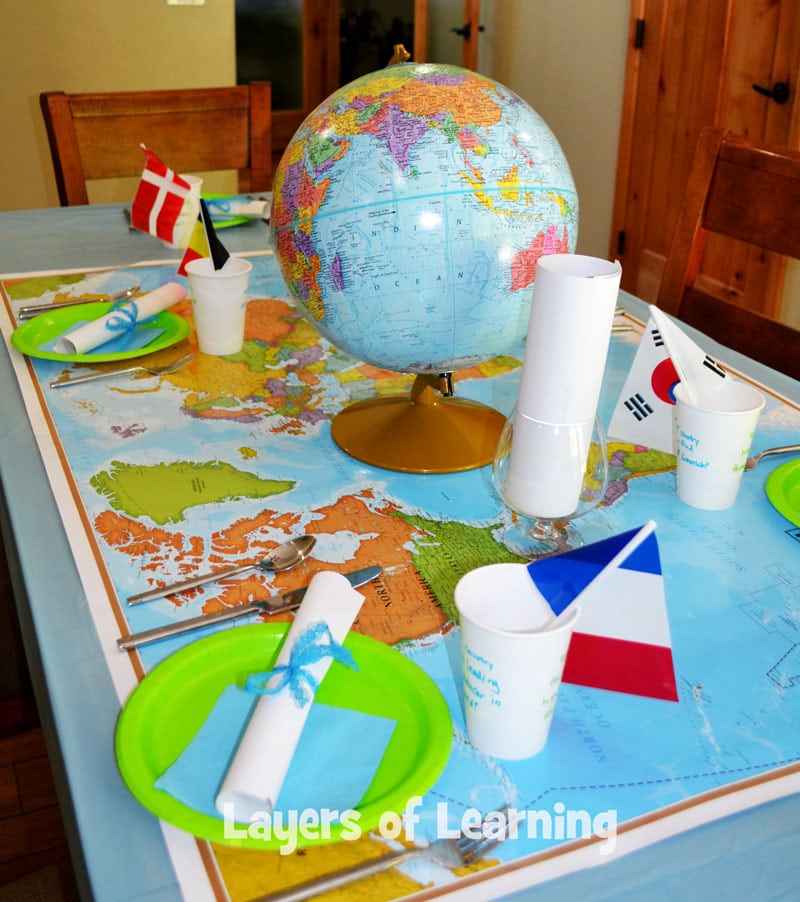 I knew this feast would provide its biggest challenge in the cooking. Cooking seven dishes, one from each of the seven continents, is tough, but making sure all seven things are hot and ready at the same time is even tougher. I made sure to have all of the decorations and games in place first. Then I prepared our buffet line with all of the empty dishes ready to be loaded with food. I set out everything that didn't need to be cooked first, chopping up the fruit and setting out little goodies I bought. Then I made a cooking zone with stations:
The crockpot had been cooking South American pork and black beans
The griddle was set up for North American pancakes and South American arepas
The stove had European ravioli and sauce along with Asian dumplings and the Asian sauces
The fryer was set up by the cutting board for fried plantains
The blender had my "Antarctic Icee"
And both ovens were full too – of Australian pavlova, mini tacos, and orange chicken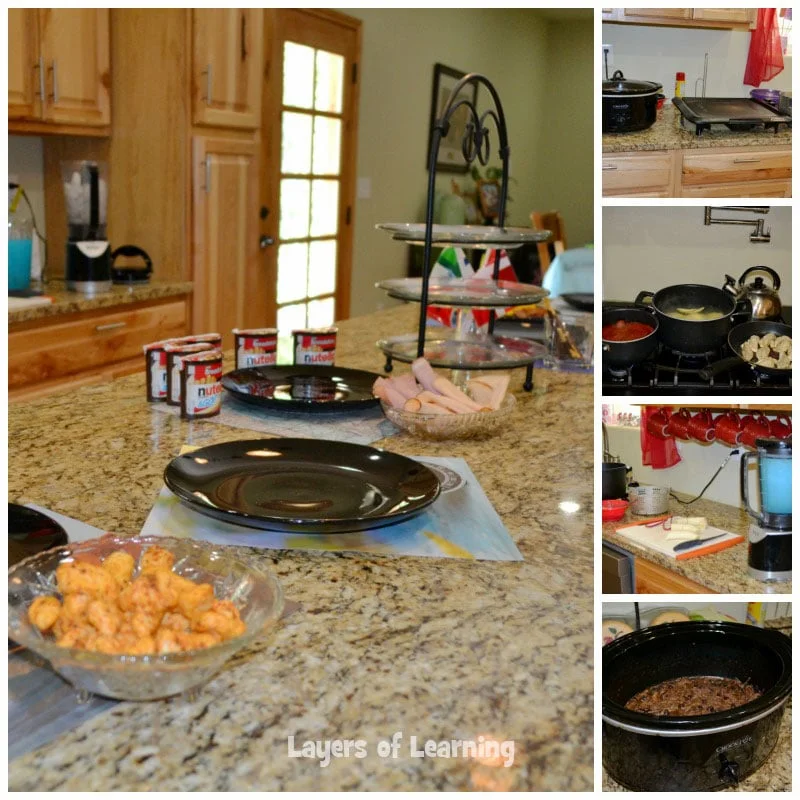 Everything had to be ready at once, so I spent a lot of time prepping and making sure all of the batters were mixed and everything was set. I made several things the day before so I could just heat them up for the feast. The pavlova had to bake for about an hour, so once I put it in the oven, I started cooking everything else. With all of the prep work, everything went off without a hitch. It was all ready at the same time just as my little feasters arrived. Phew!
I made a section of the buffet line for each continent, and then my family had to guess which foods were from which continents before they could eat. They unrolled the scrolls on their plates to reveal the menu and check their answers.
Around The World Feast Menu
Here's a little tour of what we tasted from each continent. This was what was inside their scrolls on their plates: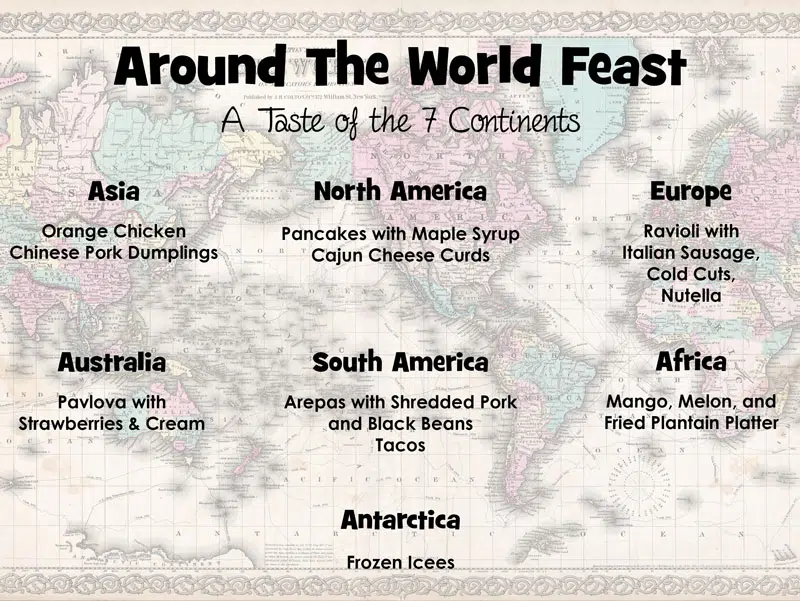 North America
I made mini pancakes with maple syrup to represent North America. (In order to be able to taste it all, I tried to make miniature versions of the foods! We got awfully full anyway though . . . so much food!) I also picked up some cajun cheese curds so they could try a North American flavor they've never had before. They were a hit, and now my kids think I should buy them all the time.
South America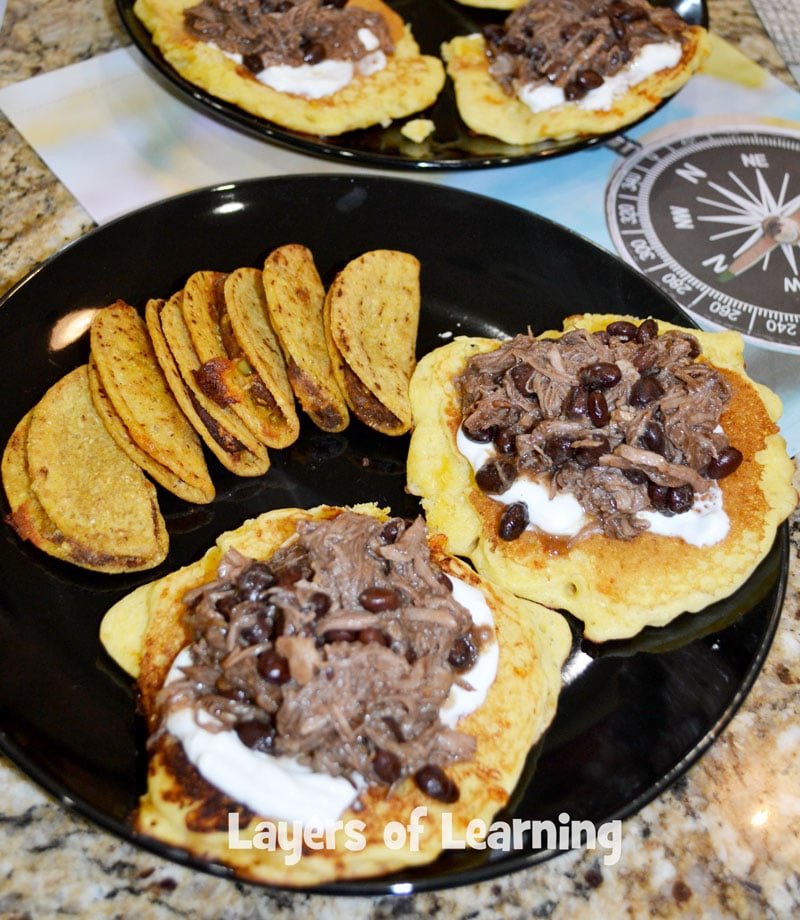 I tried something I've never made before from South America – arepas. They are kind of like little corn flour pancakes that you top with meat. Often people actually fill them, sandwich style, but I was trying to make small portions, so I left the tops off. Mine were not pretty, but they were sure tasty! We had Pork and Black Beans on top that I cooked in the crock pot all day long. I added the black beans straight into the crock pot too, so it would all cook together and be ready without me having to do anything extra. The white sauce is just crema. And each person got a mini taco too – because I wasn't sure how the arepas would turn out! They were actually wonderful though, and my whole family begged me to make them again.
Europe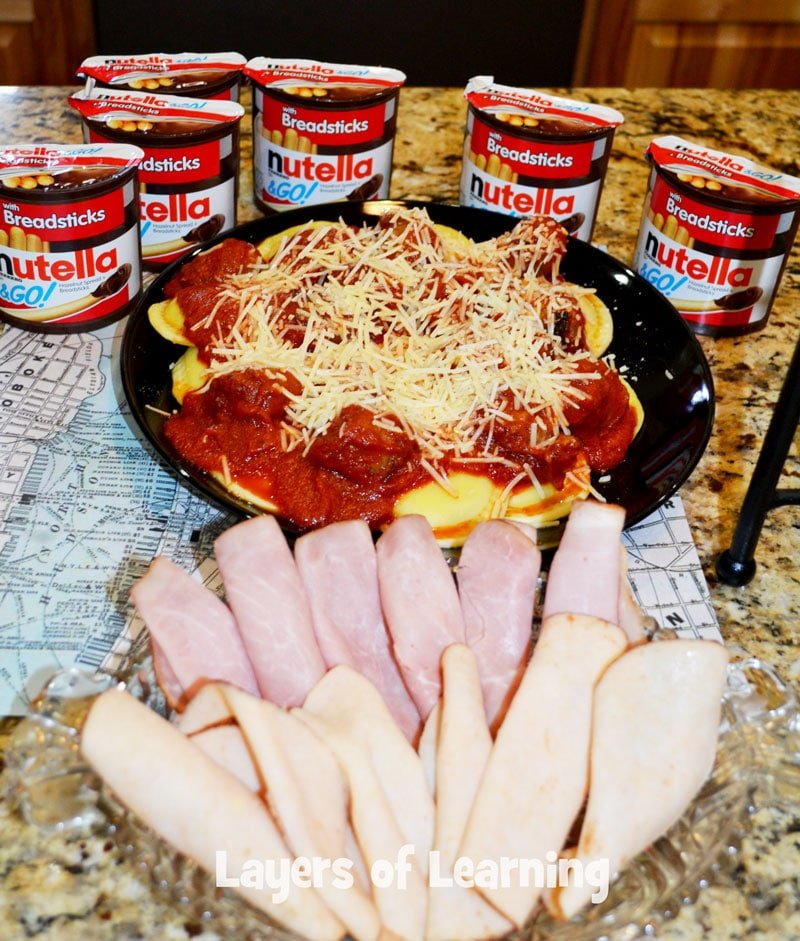 We traveled to Europe as a family this year, visiting several countries. Everywhere we went, we saw Nutella and were served cold cuts to be eaten with a fork, not on a sandwich. We ate so many helpings of cold cuts and Nutella on that trip that I knew I had to pay homage to it!
I also made ravioli with meat sauce (I added Italian sausage to the sauce and topped it with lots of fresh parmesan cheese).
Asia
To represent Asia, we had orange chicken and Chinese dumplings.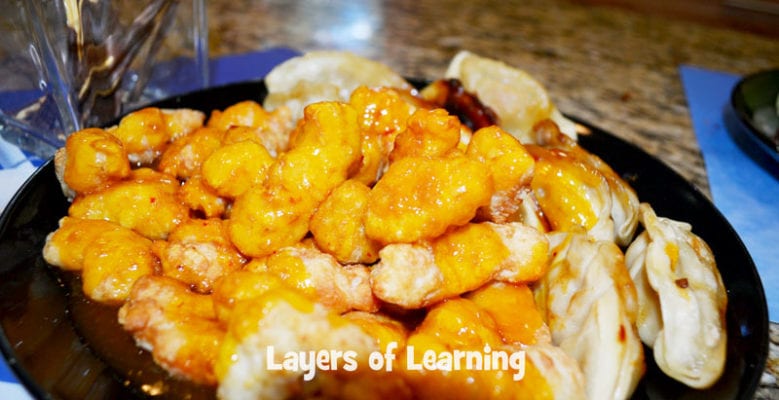 My parents lived in China for a few years and learned to make delicious dumplings while they lived there. Yummo. These can be made ahead and then reheated, so that's what I did. The day before I breaded and fried the chicken and made the dumplings, then just heated them up and waited until the end to add the sauces.
Africa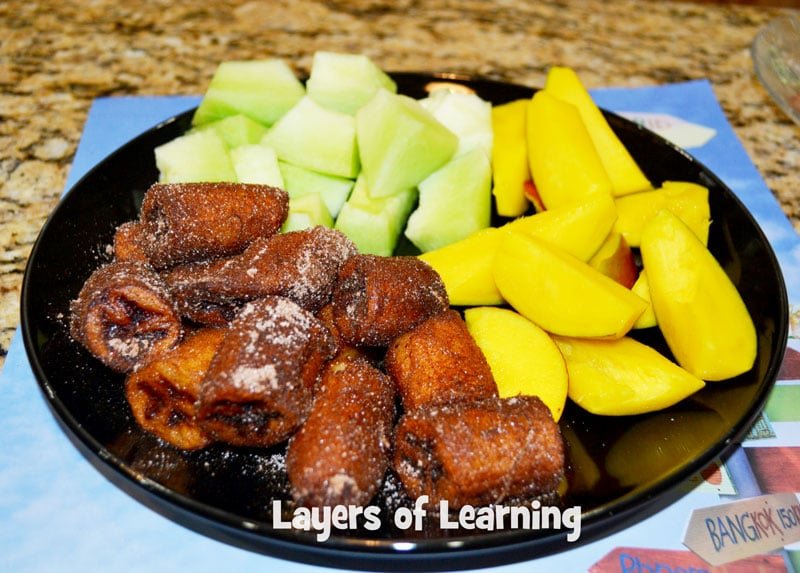 From Africa, we had fruit! I served mango (which was new for my kids), melon, and fried plantains (also new). The plantains were amazing. I dusted them with cinnamon sugar to make the sweet plantains version.
Australia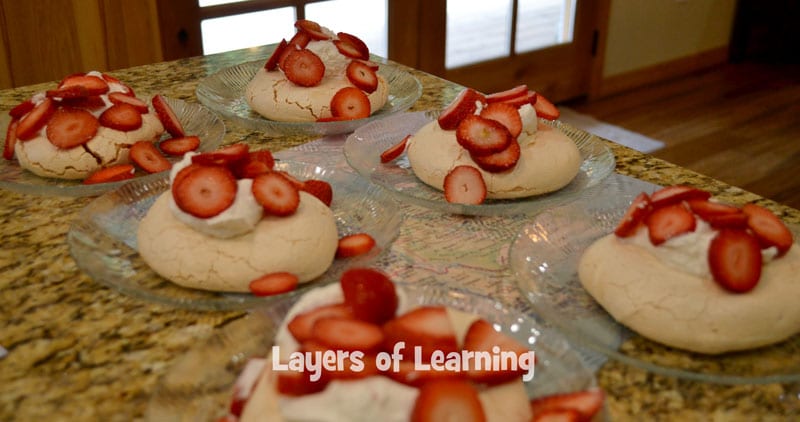 Australia's offering was the number one absolute favorite. Some of the ladies from Australia in our Layers of Learning Homeschoolers Facebook group told me to make pavlova to represent Australia. I feel like I've been missing out my entire life! It's right up there with cheesecake in my book! SO good. I made small, personal-sized ones, and they still turned out bigger than I expected. They really grow in the oven! We topped ours with whipped cream and strawberries. Every bite was just light and fluffy heaven in my mouth.
Antarctica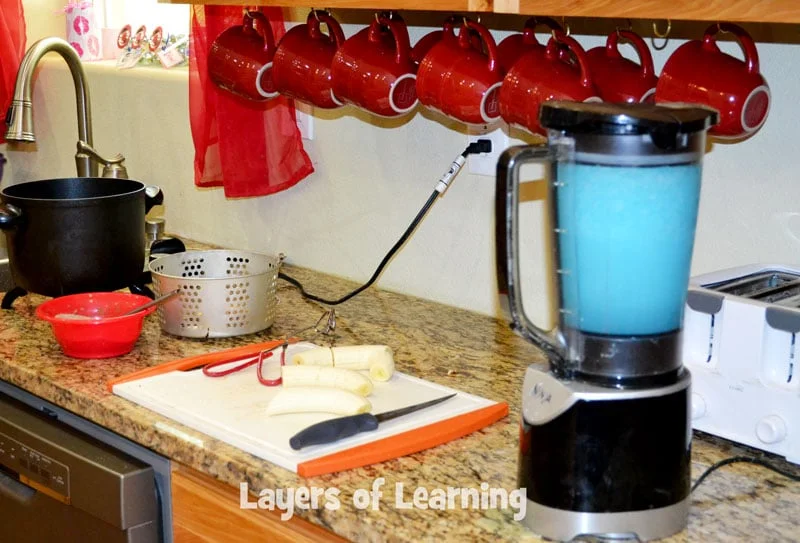 Antarctica has no native population nor culture, so you won't find actual recipes from this continent. To represent Antarctica I used my blender to make a concoction of Blue Raspberry Punch and lots of ice that I crushed until very fine. It made an Icee creation. Here is it in the blender near the read-to-be-fried plantains.
Step 3: Show What You Know
Since we had studied all seven continents throughour the school year, I used our games as a review. As everyone came in they had to find their flag at their place setting and identify the country it belonged to. They used a little flag chart we have and found each person's flag. Knowing the country was their "admission" to the feast.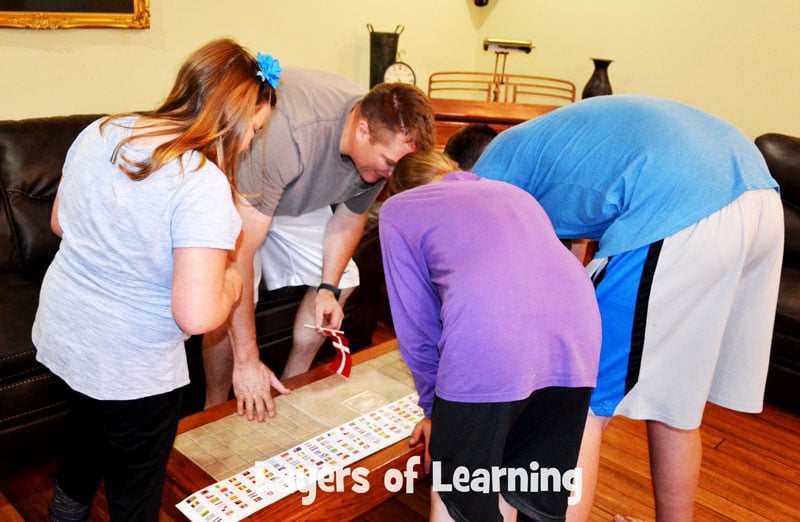 The second game was during dinner. Each person's cup had two geography quiz questions from topics we had learned during the year – one green question and one blue. They asked the questions out loud and everyone tried to guess the answer. I put the answers on the bottoms of the cups so they could check to see who was right.

The third game actually came just after we ate.  We played Around the World Animal Hedbanzs (affiliate link). Each person had 3 animals cards under their plate.  Without looking, they put the cards, one at a time, into their headbands and had to try to guess their animal by asking only yes-or-no questions.  

And our last game was Geography Scattergories. It wrapped up our feast celebration. Here's the printable game if you'd like to give it a try.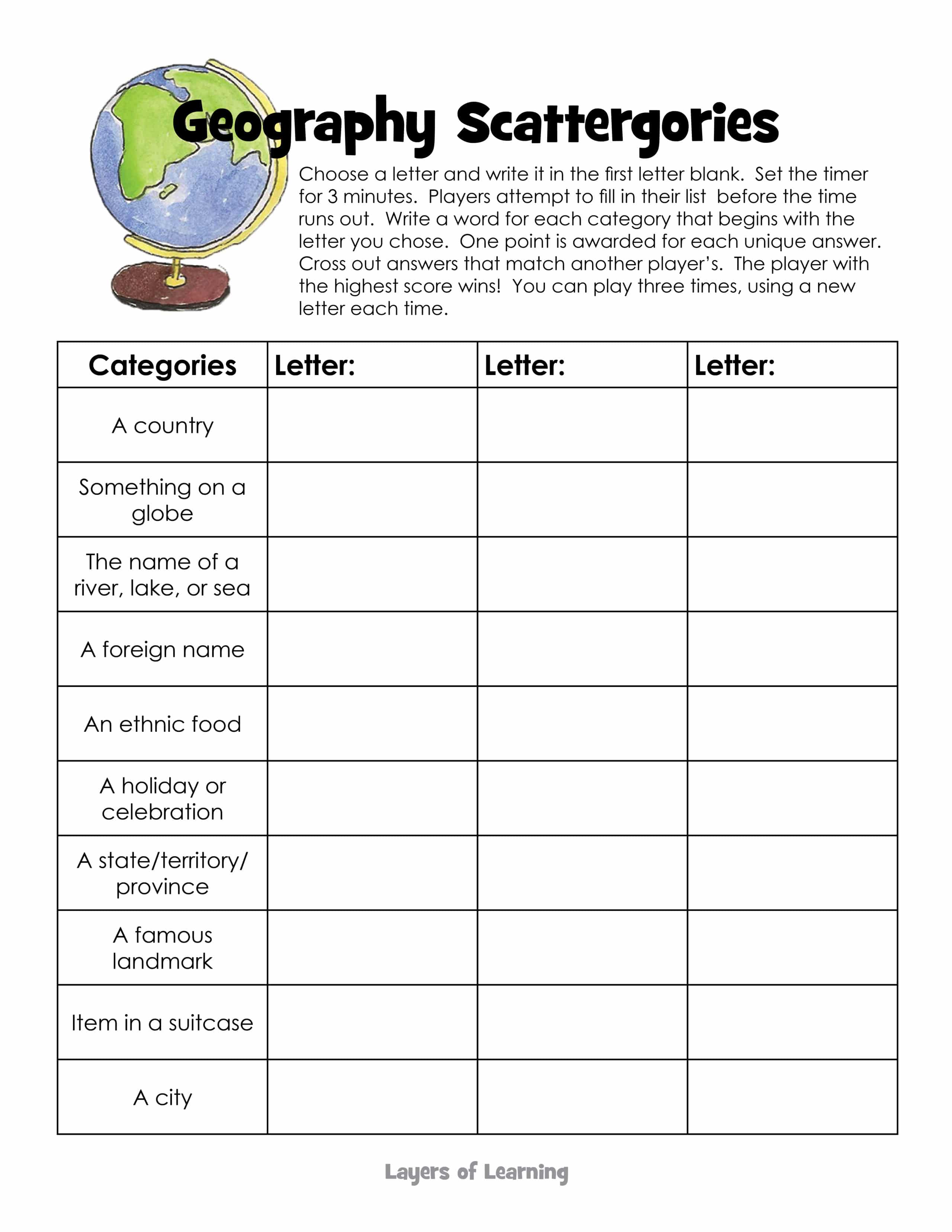 Additional Layers
Additional Layers are extra activities you can do or tangents you can take off on. You will find them in the sidebars of each Layers of Learning unit. They are optional, so just choose what interests you.
Writer's Workshop
Write down one of the recipes from the feast and then write something that the food tells about the people, culture, or land it comes from.
What is revealed about the belief system or values of the people from each of the continents?
Additional Layer
Talk about the idea that food also reflects the economy of a nation or people. The majority of citizens of wealthy countries spend little time thinking about where their food comes from. Poorer peoples usually grow more of their own foods and have to think about food on a daily basis. Try growing something you can eat!
Memorization Station
Memorize the seven continents and learn the ASL signs that go with each at the same time. We love combining movement and memorization!
Free Samples
Try family-style homeschooling now with free samples of four Layers of Learning units when you subscribe. You'll get to try family-style history, geography, science, and arts with your children.
You can unsubscribe any time.