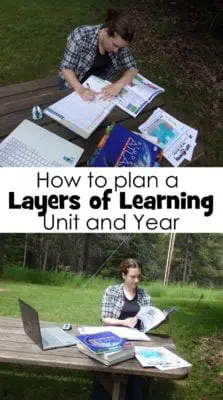 Layers of Learning is a little different from a typical curriculum because we give you the freedom to pick and choose books and activities within the curriculum.  You have to think of it more like a huge guided outline of learning.  Here's how to plan a Layers of Learning unit and year, so we're going to walk through that process now.
As you gain more experience with homeschool and with using our curriculum you will probably deviate from this process and start doing it your own way, and that's totally okay. In fact, Layers of Learning is all about doing education your own way.
The process I'm about to describe is completed using pages from the Layers of Learning Mentor Planner. It's sold as a download (as well as a spiral bound paperback) so you can go grab it now.
Before you print the PDF planner, there are several places you can edit in the pdf so you don't have to write in things like your daily work.
Two Steps
There are two steps to planning a unit and a year of Layers of Learning.
Fill out a pacing guide for the entire year
Plan each individual unit in detail and write it in your weekly planner
Step 1: Pacing Guide
The first step is to fill out a pacing guide. The pacing guide is just a series of boxes, one column for each week of your school year. Within each week is a box for each of the Layers of Learning subjects: history, geography, science, and the arts.
Decide on how many weeks of school you'll do during the year. A typical school year is 36 weeks.
Fill in Your Pacing Guide
Next, in pencil, write down the units you will be doing each week inside the box.  This will help you see how many weeks you will spend on each unit.  
When we are planning, we use our Units At A Glance to help us fill in our own pacing guides.  All you need at this stage is the topics. You will plan specific explorations and books later.
As you fill in your pacing guide you may realize that things need to be adjusted. That's why you used pencil. Go back in and erase and rewrite as needed.
Step 2: Plan Each Individual Unit
The next step is to plan your units. This can be done all at once in the summer (or when you have a big chunk of time), or it can be done week by week. This is definitely the most time intensive part of the planning, but secretly, also our personal favorite. Planning is so much fun.
Weekly Planner
For this step you use the weekly planner.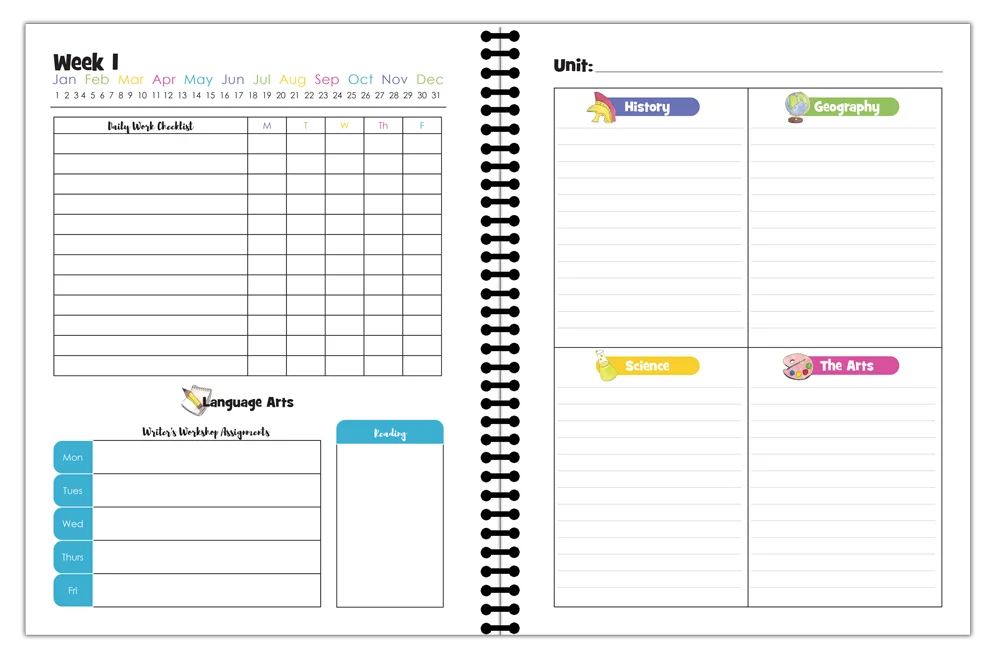 Now you get out the unit you are planning for. Glance through it a bit and think about what topics/information/concepts you really want your kids at their stage of learning to "get."
Explorations
Explorations and experiments are the activities portion of the curriculum, the bulk of what makes up the book.  Choose from among these explorations and add them to your planner.
There is space for History, Geography, Science, Arts and Writer's Workshop as well as the reading for the week.
You will be be tempted to think that in order to learn about the structure of government (for example) you must do the exploration about the structure of government. You do not. Remember that you can learn these concepts from your reading or from having a short discussion, or from watching a short video as well. You do not have time to do every single activity in these books.
As you are planning your activities, write down the supplies you need to gather (things you already own) and make a list of supplies you need to purchase. It is during this planning stage that I also make all the printables that I want to use. I store the printables in a basket labeled by week. Here you can see how I organize my printables for a whole year.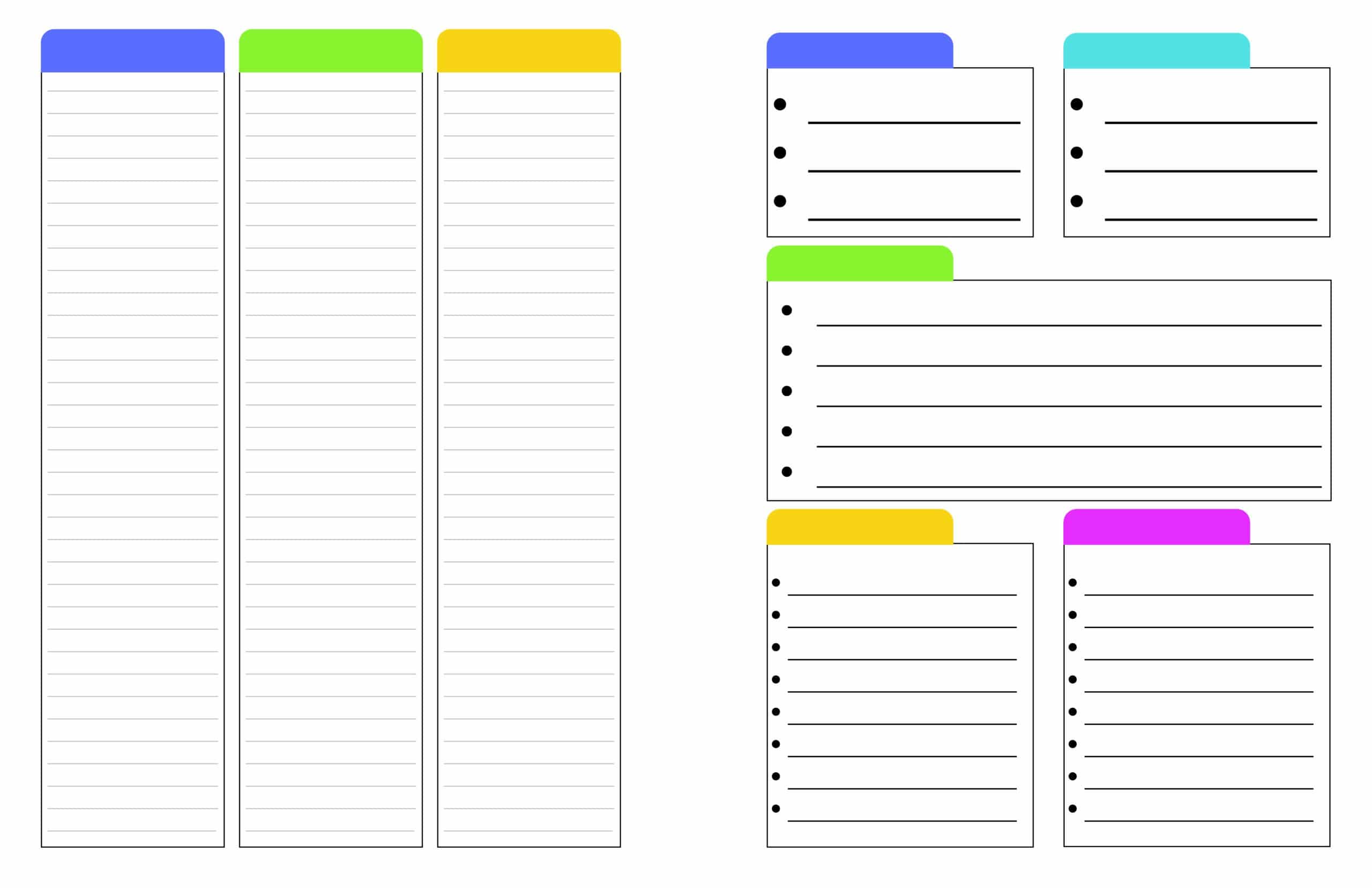 Library List
Next, open to the library list in your unit and start choosing books.  I also have my local library's catalog open so I can search to see what is available right here for free.  If there is a book I really want that my library doesn't have, I put it on a list to purchase.
You certainly should not be trying to read everything on the library lists.  Remember – the purpose is to love learning, so choose a few engaging books that meet your learning goals for the unit.  Pass on the rest.  You can come back to them the next time you go through the Layers of Learning cycle.
Date The Planner Later
Don't date the weekly planner until you are on the week in question. This way when you get behind, you just pick up where you left off and commence dating again.
As you complete assignments in your Weekly Lesson Planner, highlight them. This will help you see if you have missed something. It also gives you a sense of accomplishment, like a checklist.
If you have missed something because you ran out of time or someone had a meltdown, you can pick it up on another day . . . or just decide to let it go. The highlights quickly let you see what you'd still like to accomplish in the week, even if it isn't on the exact day you planned it for. (Because, you know, when you planned in the summertime you had no idea you'd be taking 3 kids to the dentist this Tuesday!)
How to Plan A Layers of Learning Unit and Year Re-cap
So that's it. Figure out your pacing and write details all down in your weekly planner. Take the time to plan during the summer (or your school break) and then all through the year school will go smoothly with very little prep time needed.
You might like reading more Layers of Learning how-tos.
Free Samples
Try family-style homeschooling now with free samples of four Layers of Learning units when you subscribe. You'll get to try family-style history, geography, science, and arts with your children.
You can unsubscribe any time.