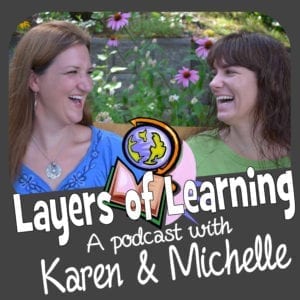 Many of you asked for it, and at long last, the Layers of Learning Podcast is finally here! Here is Episode 1: Meet Karen & Michelle.
The Layers of Learning Podcast is here to help you get your whole family learning together in your homeschool. We both have big families, but we teach almost all of our school subjects to everyone at once, and we want to help you find the joy in that too. To see all of our episodes, visit our Layers of Learning Podcast Page.
We're excited to walk you through how to have a happy, hands-on, family-style homeschool throughout many of our podcasts, but before we get in too deep, we wanted to spend an episode introducing ourselves!
Meet Karen & Michelle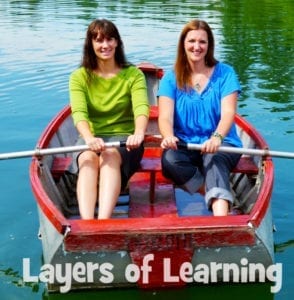 In Episode 1:
You'll get to meet us, Karen & Michelle
Find out a bit about our families
Discover why we jumped into our own homeschool journeys all those years ago
Hear about our early homeschooling experiences
Learn what gets us excited when it comes to homeschool curricula
Hear us chat about how this whole Layers of Learning program and website started
See how Layers of Learning came about as a unique combination of the strengths and talents of each of the LoL sisters.
Click the PLAY button below to hear the podcast:
Podcast: Play in new window | Download
Subscribe: Google Podcasts | Stitcher | Email | RSS | More
Free Samples
Try family-style homeschooling now with free samples of four Layers of Learning units when you subscribe. You'll get to try family-style history, geography, science, and arts with your children.
You can unsubscribe any time.