Pre-Order Info
This is a pre-order. If you purchase now, any released units will appear immediately on your receipt.  As new units are released they will be added to your account at Layers of Learning. Please sign in or create an account when you purchase this. Customers will be notified of new releases through the newsletter, Facebook group, and Instagram.
The units are being released at approximately one per month, beginning in January of 2023. We estimate that the entire course will be released by September of 2023.
Course Overview
Biology is an activity-based science program. It covers all of the major topics taught in biology through high school. Students learn scientific principles while doing hands on activities, crafts, and experiments. The best part is the family-style design that allows you to teach all ages at once.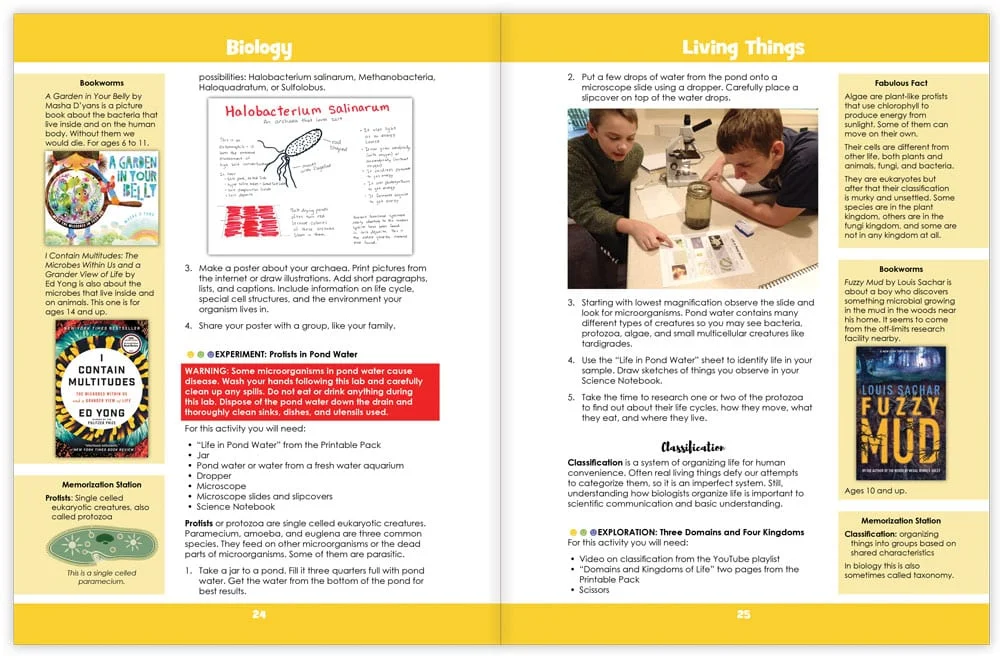 Learn more about how Layers of Learning works.
What's In This PDF Set?
Biology includes nine individual month-long units including:
Living Things – This unit is about cells, microorganisms, and the way life is classified. But it begins with an orientation on biology and the scientific method as well as lab safety.
Biodiversity – In this unit learn about genetics, DNA, genes, natural selection, transposition, speciation, and other ways that life  finds to survive, and adapt with the constantly changing environment on Earth.
Plants – A botany course that includes photosynthesis, transportation, simple plants, conifers, flowering plants, and fungi (even though they are not plants).
Invertebrates – This is a zoology (study of animals) focused on things without a backbone like worms, clams, octopuses, starfish, snails, and insects. You will learn about the body plans, physiology, and life cycles of these animals.
Cold-Blooded Vertebrates – A zoology course about fish, reptiles, and amphibians including their life cycles, body plans, and unique features.
Warm-Blooded Vertebrates – A zoology course about birds and mammals. You will explore life cycles, behaviors, and body plans.
Ecology – This unit teaches the principles of ecology such as succession, food webs, biomes, ecosystems, pollution, extinction, and biodiversity.
Human Body – In this unit you will learn about organ systems and their anatomy and physiology.
Health – This unit covers hygiene, nutrition, the immune system and disease, and the reproductive system and human reproduction, including sexually transmitted infections.
Microscopes and Dissections
Microscope work and dissections are included in this program, but are optional and alternatives are given if you do not own a microscope or do not want to do dissections.
We do recommend a microscope for high school. If you decide to purchase a microscope, look for one that plugs into the wall and has three levels of magnification. Do not buy a cordless microscope; it won't have enough power for good light. Do not buy a "kids" or "beginner" microscope; it will be too cheap to be useful. You will need to spend around $130 to $170 for a high school quality microscope. But look for used ones online or at garage sales if that is out of your budget.
Besides the microscope, you will also need a set of glass slides and covers and a biology slide set of prepared slides.
For dissections we recommend you purchase dissection kits, which come with the dissection tray, tools, and instructions.
A Layers of Learning Science Lesson
Each Exploration or Experiment in the units is written as a complete lesson plan. It will direct you to books to read, videos to watch, projects to craft, experiments to perform, and discussions to have. The units are clear full of Explorations to choose from, and you won't have time for them all. This is a pick-and-choose curriculum.
Besides the science lesson for the day, the units are lined with sidebars that direct you to discussions, books, famous people, interesting facts, writing ideas, and more.
You will also see a Library List at the beginning and a Show What You Know section at the end that will help you create assessments or tests based on your individual learning.
Reusable and for All Ages
These units books are for the mentor, not to hand to the student. They are supposed to be used repeatedly. Since this is a pick-and-choose curriculum, you do some of the experiments and explorations and save others for later on. If you follow the four-year cycle, you will progress through Earth & Space, Biology, Chemistry, and finally Physics over the course of four years. Then you will cycle back to Earth & Space in the fifth year when your kids are older and learning at a higher level. In all, you may use this book three times with your child.
The Biology units contain lessons ranging from model cells made of jello to fetal pig dissections. There are plenty of concepts for little kids and plenty to challenge high schoolers. Most lessons are meant to be taught to many ages, from 6-year-olds clear up to seniors in high school.  Each age group gets the same Exploration or Experiment and principles, but they learn on the level they are ready for. Books from your library and video from the YouTube playlists customize the learning for each age.
Extra Resources
YouTube playlists and links to helpful websites are all assembled and ready for you to access on the Biology Resources page.
If you are buying the PDF course, you may want a printable Biology PDF Cover for your binder.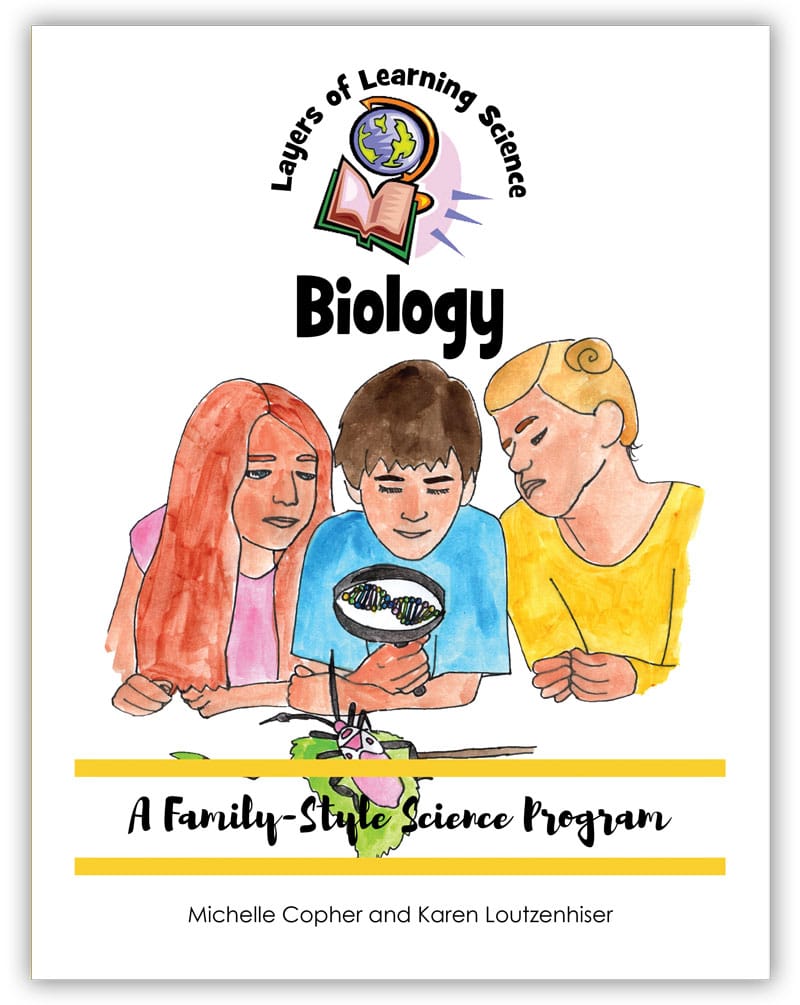 Printable Packs
Biology also includes printables for every unit. These are worksheets or paper crafts for the students. The Printable Packs are available as a digital PDF download and come with your purchase on your receipt.
Also Sold As Individual PDFs
The Biology course also comes as individual PDF units you can purchase one-by-one as you go. The individual PDFs are exactly the same content as the units that are included within the paperback or PDF Biology book. It's like buying the course chapter by chapter in a digital format.