Draw pictures, sketch diagrams, write captions, paragraphs, and labels, and paste in foldables and "stickers" as you study science with Layers of Learning.  The Science Sketch Pad shows off what you learn and want to remember about the natural and physical world.  You choose which scientific principles to highlight, which experiments to record, and which famous scientists to feature in your own personalized Science Sketch Pad.
What's Inside?
Each two page spread comes with a title that corresponds to a Layers of Learning unit.  As you read, watch videos, and experiment you can take notes and design each page.  The Science Sketch Pad includes printables such as:
"Stickers" to color, cut out, and paste wherever you like to embellish your pages
Accordion foldables about famous scientists
Cycle foldables for showing things like a life cycle, the nitrogen cycle, or the cycle stars go through
Graph paper and T chart cut outs for recording scientific data
Various flap book cut outs for vocabulary definitions, steps in a process, or anything else you like
Flip book foldables for organizing information about a topic
Tabbed booklets for vocabulary definitions, things that come in a series, or related topics
Questions card flaps to paste on any page when a question pops into your mind.  Write your question under the flap, then research or experiment to find the answer.
A series of pages to assemble for an experiment write up
Plus more
The Science Sketch Pad can be a collaborative family project or each child can build his or her own.
Special Topics
Besides the Layers of Learning topics heading each two page spread there are several special pages to give you extra room to delve deeper into important topics.  These special pages have titles in ALL CAPS and include these topics:
Scientific Method
Periodic Table of the Elements
Reproduction
Bacteria & Viruses
Inventors
Origins of Life
Classification
How Old Is Earth?
Dinosaurs
Like the other pages in the Science Sketch Pad the special topic pages are blank, with a title only, ready for you to draw, write, and paste in foldables.
Example Pages
Here are some examples of completed pages for a bit of inspiration.
The page below includes an experiment sheet from the printable pack that has been pasted in.  It also shows some illustrations with captions and explanations.  To the side is a highlighted box of something to remember: a mnemonic to help remember the order of the planets.  You can also see some planet stickers (not included with the Science Sketch Pad) which show how you can add in your elements from things you have purchased on your own.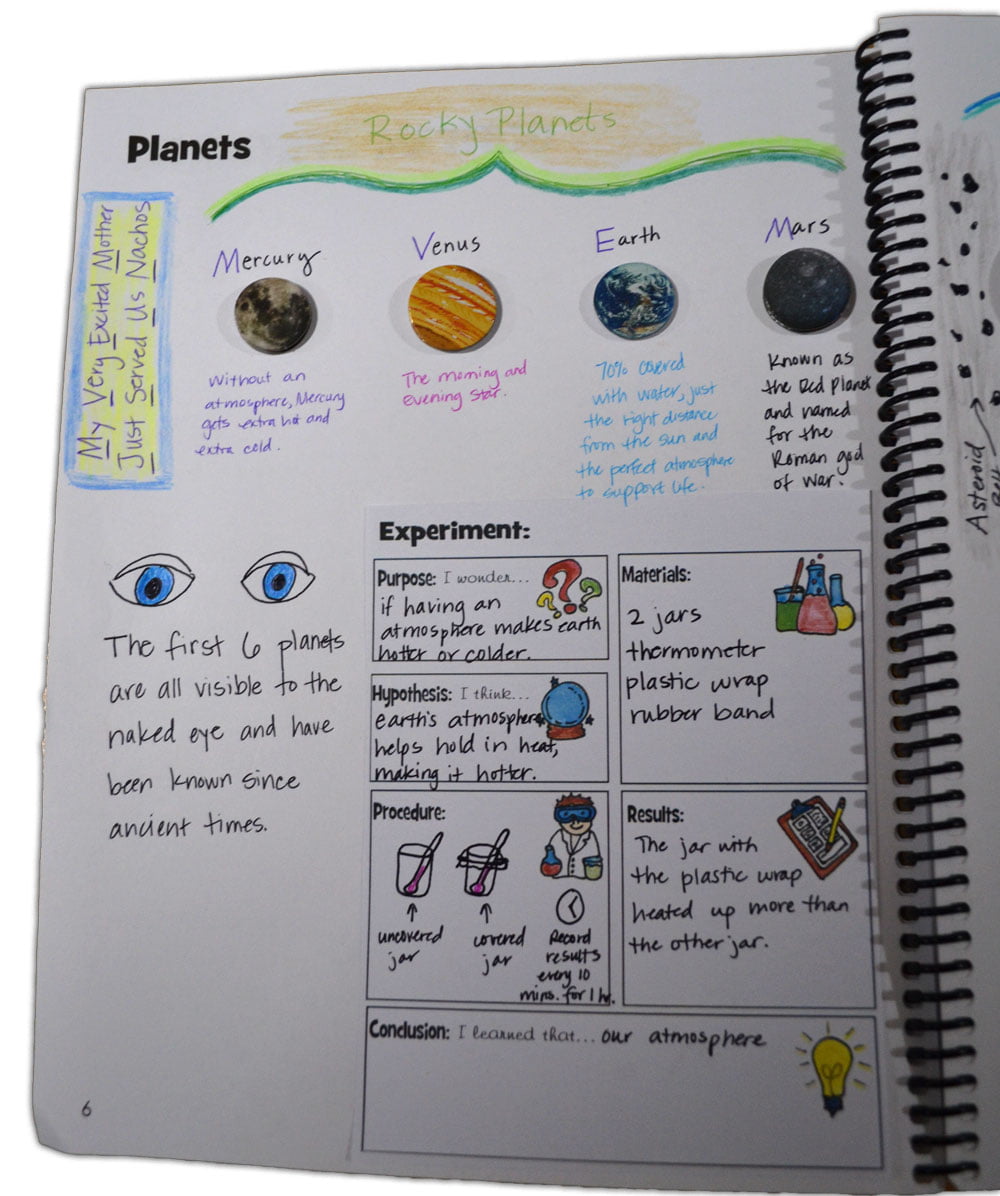 This page is the second half of the spread begun just above. It includes a printable accordion book where we highlighted a famous scientist.  The accordion book is one of the printables from the printable pack.  The information included in the 2-page spread comes from things you have watched or read about, in this case, the planets.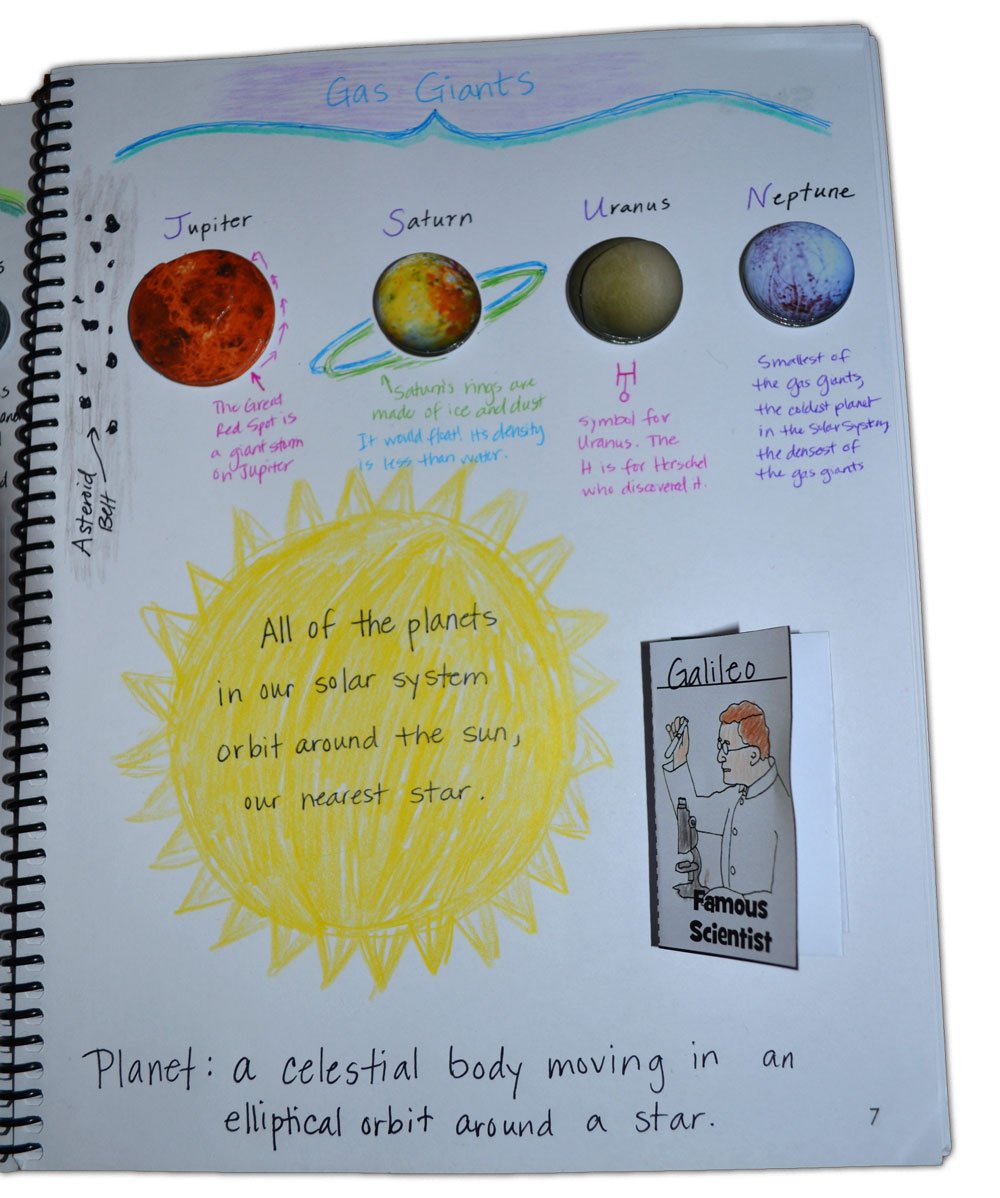 In the next example spread, we used a triangle foldable to highlight the 3 Laws of Motion.  The yellow sections of the triangle lift to read the definitions below.  We used a "how to draw Isaac Newton" tutorial from the internet to draw our own famous scientist on this page.  Then, instead of using a whole experiment write-up printable we opted to use a "sticker" that signals an experiment section of the page.