Mentors, including homeschool parents, teachers, or co-op class leaders, should read this mentor Geography Guidebook before teaching Layers of Learning Geography. It will teach you the philosophy behind the Layers of Learning approach to geography, why geography is so vital for education, and how to use the Layers of Learning Geography units for best effect. You will learn how to plan a year of geography, a unit, and a day's lesson. In addition you will learn about:
Library Lists and how to use them
Teaching multiple ages at once
Utilizing the sidebars to add writing, discussions, and extra learning
Planning assessments for your students based on what your customized learning during the unit
Have confidence that you can teach geography, even if you haven't the faintest idea of the location of Kathmandu.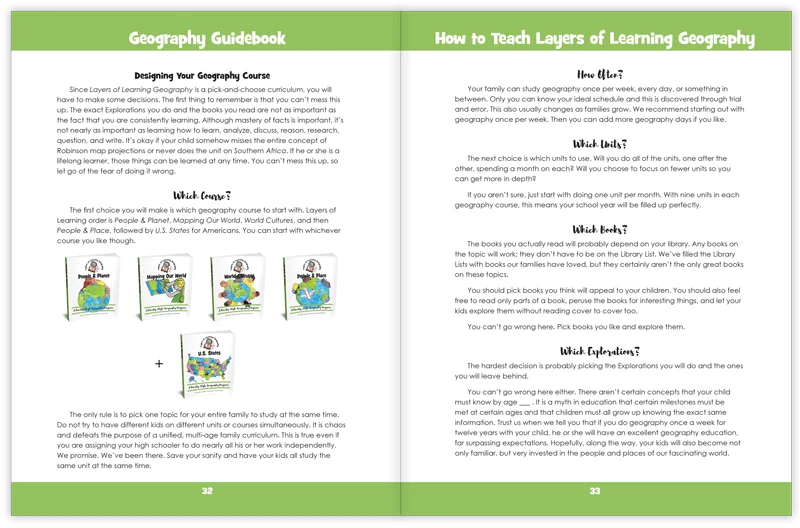 Layers of Learning Geography is a complete geography curriculum for kids from age 6 to 18 and can be used at home with families, in co-op classes, or in schools. It includes hands-on projects, varied and interesting literature choices, and lots of maps. It also covers geography across the whole world, including every country. Students will learn about principles of geography including physical features of earth like landmarks and water sources, mapping skills like latitude and longitude and map scale, human cultural aspects like religion and foods, and human relationships like country borders and government.
Learn more about the Layers of Learning approach and get a copy of  the Units at a Glance, a PDF document that shows all the Layers of Learning titles and subheadings in the Curriculum Guide.