Rocks is the fourth unit in the Earth & Space Science course. In this unit you will learn about gems, minerals, igneous rocks, sedimentary rocks, metamorphic rocks, the rock cycle, and soil. This unit contains sections on:
Minerals
Igneous
Sedimentary
Metamorphic
Weathering & Erosion
Some of the activities included in this unit:
Rock collecting expeditions
Cooking your own "rocks" from kitchen ingredients, each representing a mineral
Crystal growing
Color and complete a rock cycle printable
Make your own "magma" to explore viscosity
Do an experiment to see glass, anaphanitic, and phanitic textures of rocks
Make your own sedimentary rock from gravel and sand
Learn to classify sedimentary rocks from your collection
Make a metamorphic candy bar model
Plus many more choices!
Each Layers of Learning Science unit includes library lists of books, a family read-aloud suggestion, hands-on activities, printables and paper crafts, sidebars for extra learning, and tools to help you assess student's progress and mastery. You can learn more about how Layers of Learning works in the Curriculum Guide. You may also want to purchase the Science Guidebook for even more information on how to teach and learn with Layers of Learning Science.
See Inside
Here is a two-page spread from Rocks: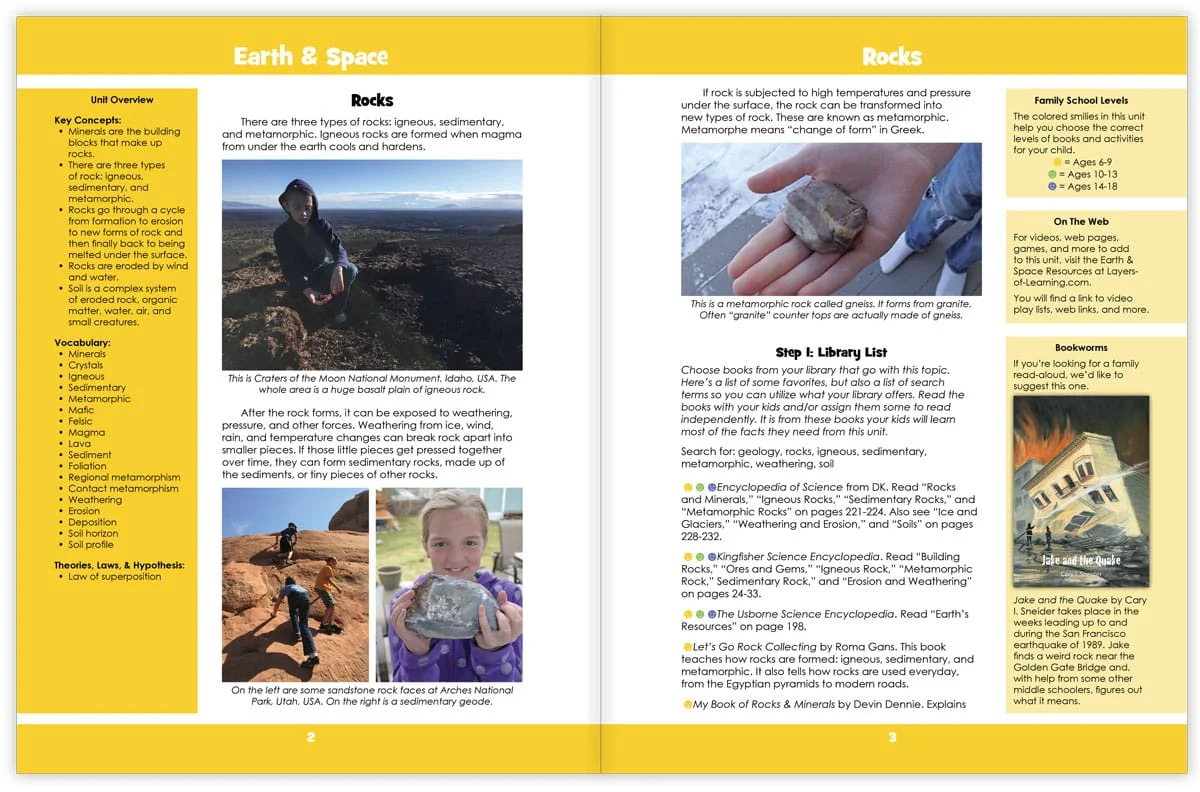 On the sample pages above you see an introduction followed by a Library List. The books are suggestions of great titles, but you can use any books on the topic of rocks during this unit.
The Library List section is followed by the Explore section, where you do experiments and activities that teach principles to learn about rocks. Like the Library List, this is a pick-and-choose set of activities. You do just the ones you want to use to create mental hooks for your kids while you also learn about rocks from your reading.
The final section of each book is the Show What You Know at the end that has helpful methods to assess your children to see how well they have retained the information from the unit.
Every page is lined with sidebars to take your learning even further with writing ideas, extra rabbit trails, more books to read, deep discussion questions, and famous people.
Flexibility
This unit was written to be used for a month but contains plenty of content for many more weeks of learning if you choose. This is a pick-and-choose curriculum, meant to be cycled back to in the future when your child is older. As such, it intentionally includes far more material than you can possibly cover in a month.
Rocks is also part of the overall Earth & Space course, the first Year of the four year Layers of Learning Science cycle. If you use the program in order, it will take you though the four branches of science from Earth & Space to Biology to Chemistry to Physics in a logical progression where skills are learned and then practiced and used. However, each unit stands alone and can be used independently of any other unit.
Printable Pack
This unit comes with a downloadable Printable Pack that includes all the student worksheets. The printables can be copied as many times as needed for your family or class.
You can download the Printable Pack from your receipt or from your account at Layers of Learning.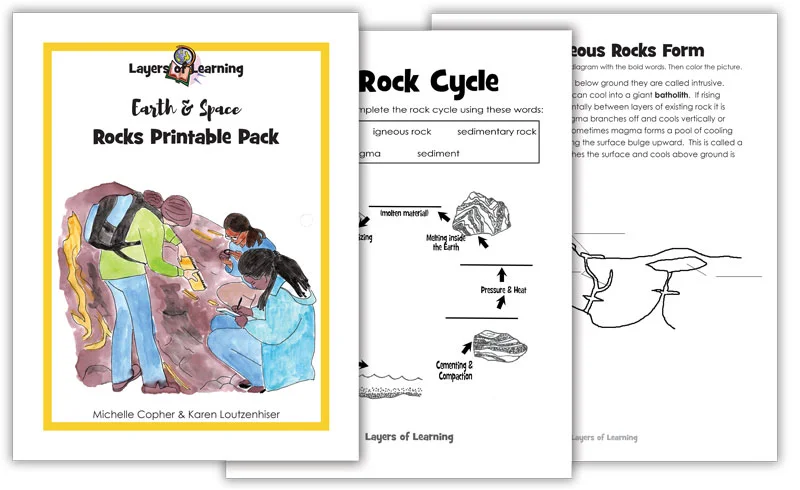 Extra Resources
This unit comes with extra weblinks and a YouTube video playlist on the Earth & Space Resources page.