This is the third unit in the Layers of Learning Ancient History course. In this unit, you will learn about the ancient China and its neighbors. This unit contains sections on:
Kingdoms
The Empire
China's Neighbors
Some of the activities in this unit include:
Making a Chinese Dragon craft as you learn about the Jade Emperor
Examining Oracle Bones as a primary resource
Having a fancy philosophical tea party with Confucius
Building armor like the terra cotta warriors
Making a paper model of the Great Wall of China
Pouring your own money with a mold and plaster
Coloring a big map of the Silk Road
Sculpting a Jomon style pot from ancient Japan
Plus much more!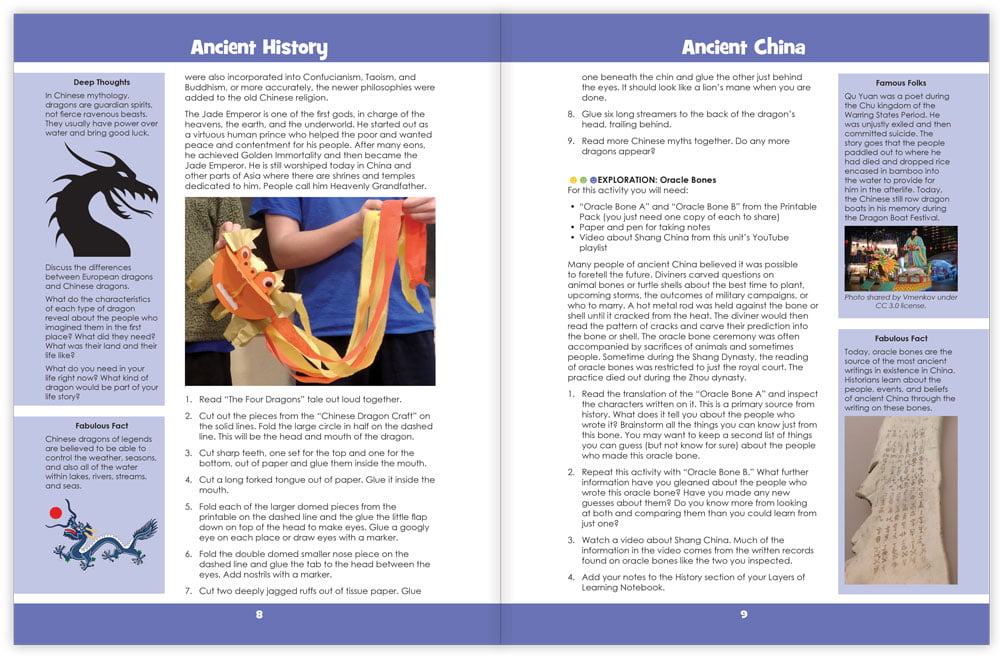 Each Layers of Learning History unit includes library lists of books, a family read-aloud suggestion, hands-on activities, printables and paper crafts, sidebars for extra learning, and tools to help you assess student's progress and mastery.
Flexibility
This unit was written to be used for a month but contains plenty of content for many more weeks of learning if you choose. This is a pick-and-choose curriculum, meant to be cycled back to in the future when your child is older. As such, it intentionally includes far more material than you can possibly cover in a month.
Ancient China is also part of the overall Ancient History course, the first Year of the four year Layers of Learning History cycle. If you use the program in order, it will take you though the history of the world from ancient times through the 21st century. However, each unit stands alone and can be used independently of any other unit.
Printable Pack
This unit comes with a downloadable Printable Pack that includes all the student worksheets. The printables can be copied as many times as needed for your family or class.
This is the Printable Pack cover. You can download the Printable Pack from your receipt or from your account at Layers of Learning.

Extra Resources
This unit comes with extra weblinks and a YouTube video playlist on the Ancient History Resources page.