Ancient Greece is the eighth unit in the Ancient History course. In this unit you will learn about the ancient Greeks from the classical period through Alexander the Great. You will study the Greek city-states and their systems of government, Greek wars, Greek culture, and Greek myths.
This book is for adult mentors to use as a resource, not a text book for students.
This unit has sections on:
Classical Greece
Greek Mythology
Alexander the Great
Layers of Learning is activity-based and this unit guide includes many hands-on ways to learn about Ancient Greece. Here are a few things you will find to do inside this unit:
Design and compete in your own Olympic games
Sculpt a charioteer out of clay
Reenact the Battle of Marathon
Have a lively discussion on the pros and cons of joining the Delian League
Notebook a lift-the-flap page about the Big Three Greek philosophers
Discuss Aristotle's Ethics while reclining on a couch and eating grapes
Craft a Medusa hat and read her legend
And much more!
Layers of Learning History units include Library Lists of books on the topic, a family read-aloud suggestion, hands-on activities, printables and paper crafts, sidebars for extra learning, and tools to help you assess your student's progress and mastery. Learn more about how Layers of Learning works.
See Inside
This is a view of a two page spread from Ancient Greece.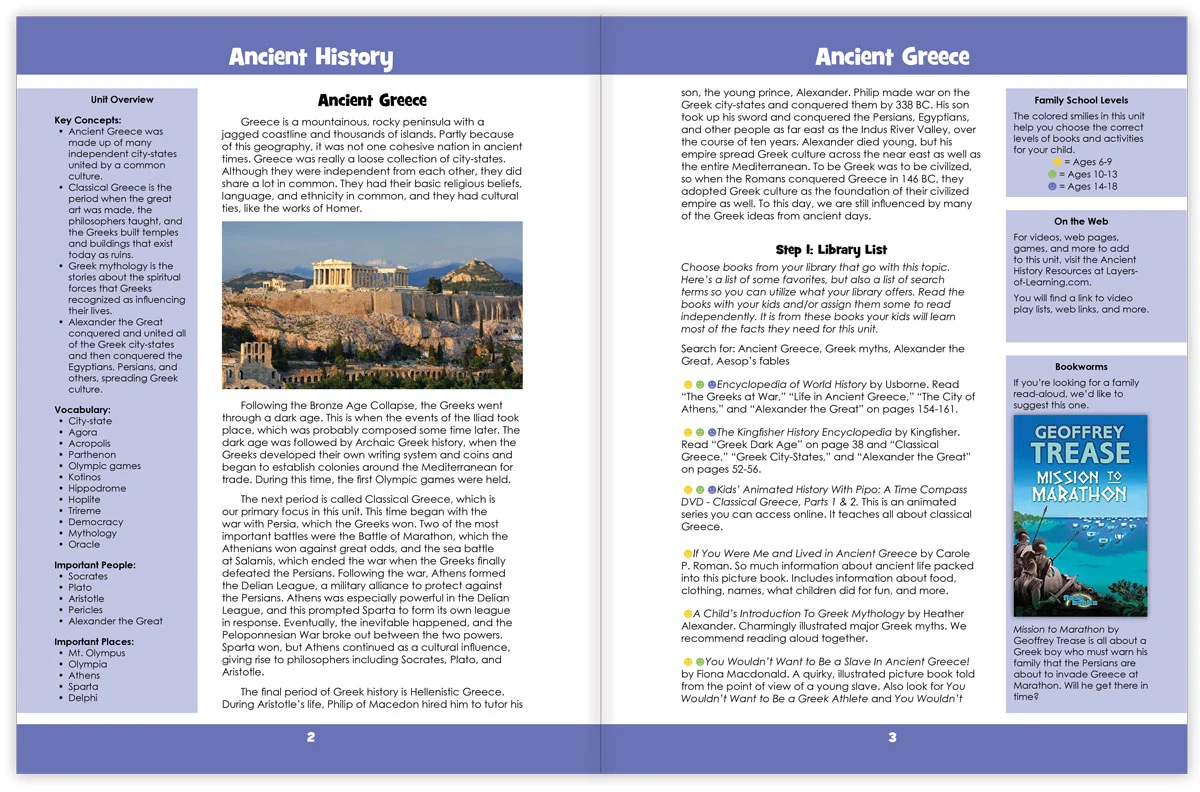 Here you see the first two pages with the introduction, which you can read to your children if you wish, and the start of the Library List from which you will choose books that interest you. You can also see the first bookworms selection on the lower right side of the two page spread. This is a suggestion for a read-aloud for the whole family during this month.
The sidebars all through the book add extra facts, famous people to learn about, extra tangents to take off on, books to read, discussions to have together, and writing ideas. Use these during morning meeting, for a lesson you create yourself, or as read-loud tidbits while kids are working.
Flexibility
This unit was written to be used for a month but contains plenty of content for many more weeks of learning if you choose. This is a pick-and-choose curriculum, meant to be cycled back to in the future when your child is older. As such, it intentionally includes far more material than you can possibly cover in a month.
Ancient Greece is also part of the overall Ancient History course, the first Year of the four year Layers of Learning History cycle. If you use the program in order, it will take you through the history of the world from ancient times through the 21st century. However, each unit stands alone and can be used independently of any other unit.
Printable Pack
This unit comes with a downloadable Printable Pack that includes all the student worksheets. The printables can be copied as many times as needed for your family or class.
You can download the Printable Pack from your receipt or from your account at Layers of Learning.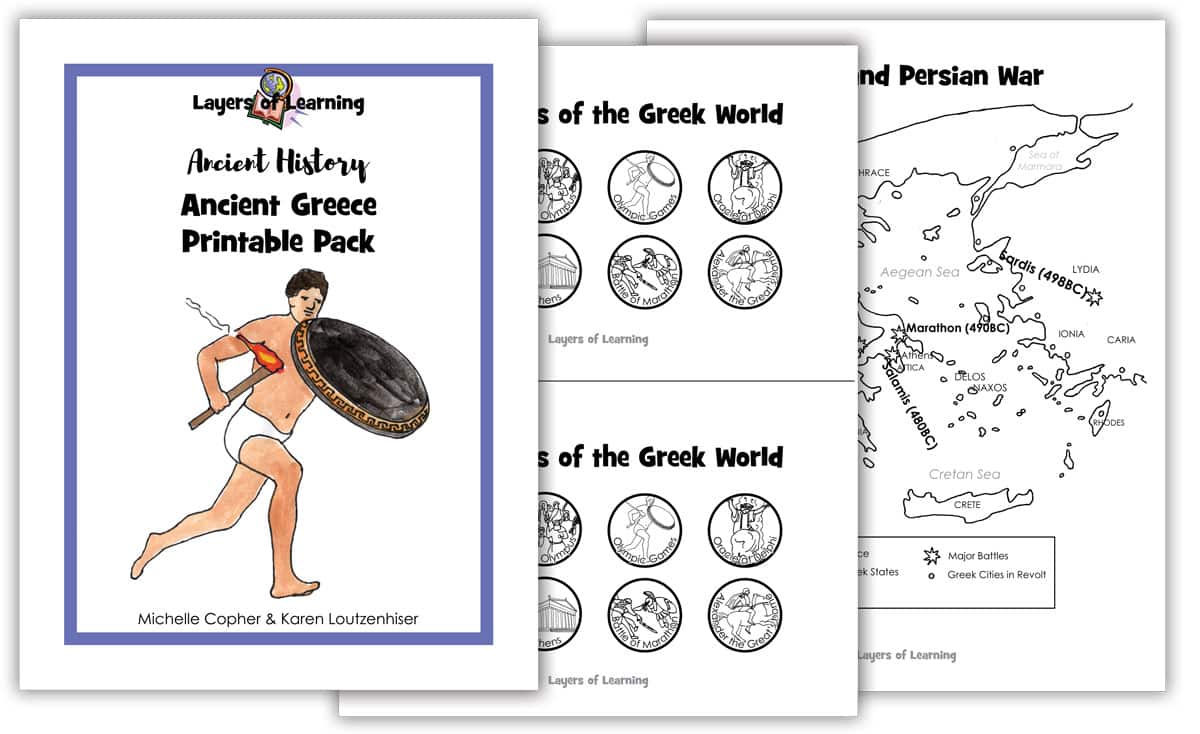 Extra Resources
This unit comes with extra weblinks and a YouTube video playlist on the Ancient History Resources page.