South America is the fourth unit in the People & Planet Geography course. In this unit you will learn about the rocks and soil that lie under our feet and how that affects countries and people and the continent of South America. This unit contains sections on:
Rock & Soil
South American Landscapes
People of South America
Some of the activities in this unit include:
Building a continent with cratons, igneous orogenesis of mountains, and sedimentary basins
Experimenting with soil fertility and why the type of soil is important
Experimenting with soap and erosion about the importance of mining to humans
Crafting a fabric map of the geology and biomes of South America
Designing a paper plate diorama of the Atacama desert
Making an Amazon River roller box
Play a "South American Animals Memory" game
Cook homemade tortillas
Sew an Andes style poncho
Sew a Curupira forest guardian doll
And so much more!
See inside
This is a double page spread from inside the South America unit: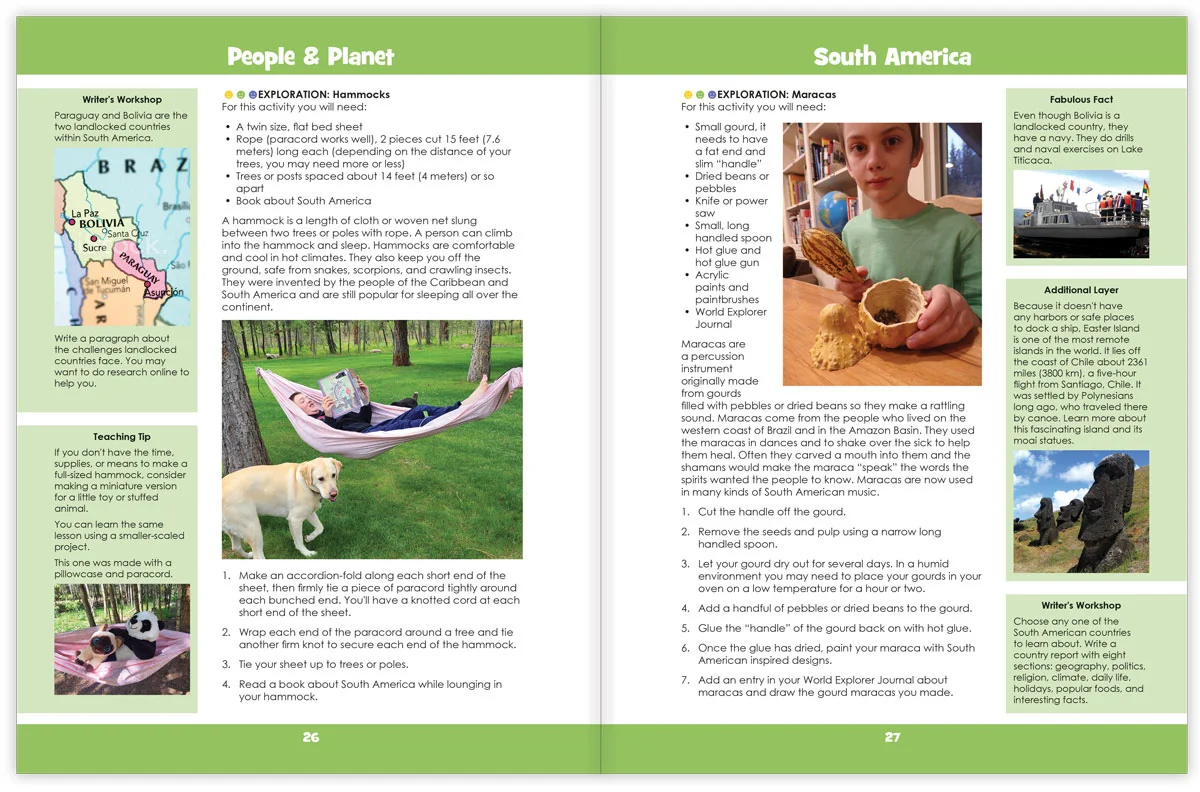 You are looking at the "Explore" section of the book where you will find dozens of activities that will help create mental hooks and solidify the information for your kids. You get to choose between all of these activities.
In addition to the activities you will be learning by reading books and watching videos about South America.
Also on the pages above, you can see sidebars are lining the pages. These are varied information and extra activities that can take you off on tangents or give you further ways to connect your learning to writing, science, history, or art classes.
Each Layers of Learning Geography unit includes library lists of books, a family read-aloud suggestion, hands-on activities, printables and paper crafts, sidebars for extra learning, and tools to help you assess student's progress and mastery.
Flexibility
This unit was written to be used for a month but contains plenty of content for many more weeks of learning if you choose. This is a pick-and-choose curriculum, meant to be cycled back to in the future when your child is older. As such, it intentionally includes far more material than you can possibly cover in a month.
South America is also part of the overall People & Planet, the first Year of the four-year Layers of Learning Geography cycle. If you use the program in order, it will take you though the geography of the world from continents and the physical planet in Year One, to mapping skills in Year Two, then to cultures in Year Three, and finally, to government and society in Year Four.  Every year is also a tour of the whole planet, making stops on every continent. However, each unit stands alone and can be used independently of any other unit.
Printable Pack
This unit comes with a downloadable Printable Pack that includes all the student worksheets. The printables can be copied as many times as needed for your family or class.
You can download the Printable Pack from your receipt or from your account at Layers of Learning.
Extra Resources
This unit comes with extra weblinks and a YouTube video playlist on the People & Planet Resources page.