Ancient India is the sixth unit in the Ancient History course. This unit is about India from the Indo-Aryan invasion in about 1500 BC to the Delhi Sultanate and the arrival of the Europeans in AD 1498. In this unit you will learn how the different religions and ethnicities of India arrived on the subcontinent and how the people suffered under tyrannical rulers and thrived under enlightened ones.
This book is for adult mentors to use as a resource, not a text book for students.
This unit has sections on:
The First Kingdoms
Gupta Empire
Delhi Sultanate
Layers of Learning is activity-based and this unit guide includes many hands-on ways to learn about Ancient India. Here are a few things you will find inside this unit:
Learn about Hinduism as you try vegetarian chapatis and curry from India
Write your own booklet about the life of the Buddha
Craft a treasure to hide your "gold" in like the last Nanda king
Play elephant tag after coloring a map of the Mauryan Empire
Play chess, a game invented in India
Drink chai, a tea preparation from India while reading stories from the Panchatantra
Make a slave chains to crown craft for Aibak, the first king of the Delhi Sultanate
Plus much more!
Layers of Learning History units include Library Lists of books on the topic, a family read-aloud suggestion, hands-on activities, printables and paper crafts, sidebars for extra learning, and tools to help you assess your student's progress and mastery. Learn more about how Layers of Learning works.
See Inside
This is a view of a two page spread from Ancient India.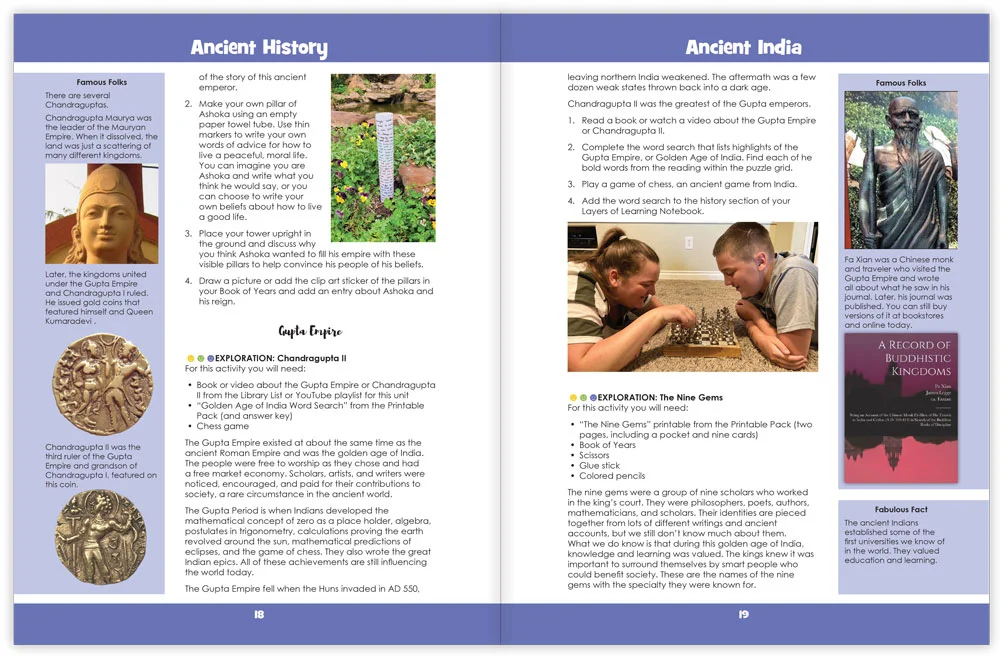 The center section includes crafts, paper notebooking, games, recipes, and other hands-on activities to create mental hooks and make learning fun. You will choose from among the many options.
The sidebars all through the book add extra facts, famous people to learn about, extra tangents to take off on, books to read, discussions to have together, and writing ideas. Use these during morning meeting, for a lesson you create yourself, or as read-loud tidbits while kids are working.
Flexibility
This unit was written to be used for a month but contains plenty of content for many more weeks of learning if you choose. This is a pick-and-choose curriculum, meant to be cycled back to in the future when your child is older. As such, it intentionally includes far more material than you can possibly cover in a month.
Ancient India is also part of the overall Ancient History course, the first Year of the four year Layers of Learning History cycle. If you use the program in order, it will take you through the history of the world from ancient times through the 21st century. However, each unit stands alone and can be used independently of any other unit.
Printable Pack
This unit comes with a downloadable Printable Pack that includes all the student worksheets. The printables can be copied as many times as needed for your family or class.
You can download the Printable Pack from your receipt or from your account at Layers of Learning.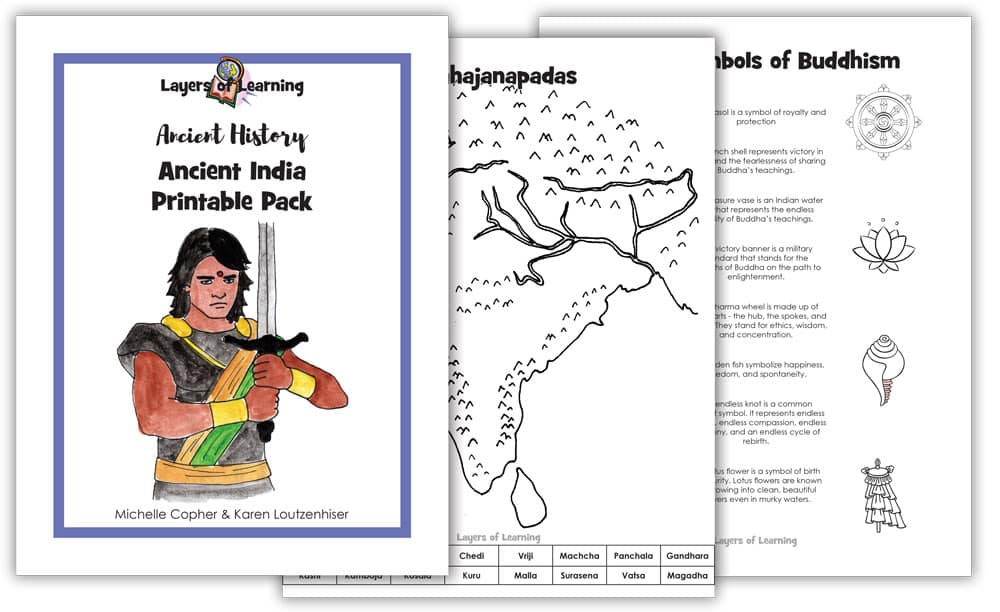 Extra Resources
This unit comes with extra weblinks and a YouTube video playlist on the Ancient History Resources page.