Bronze Age Near East is the fourth unit in the Ancient History course. It covers the history of the people who lived on the eastern end of the Mediterranean Sea and Mesopotamia from approximately 3200 BC until approximately 1200 BC when the Bronze Age Collapse brought a major shift to the region. In this unit you will learn what the Bronze Age was and how historians divide history into three "ages": Stone, Bronze, and Iron, based on the material tools were made from during each period. You will also learn about Elam, the Canaanite cities on the Mediterranean coast, Assyria, Babylon, the Hittites, the Myceneans and Minoans, and the Bronze Age Collapse. This unit includes sections on:
Mesopotamia
The Levant
Minoans & Myceneans
Some of the activities in this unit include:
Make an interactive map with cut outs to show each of the civilizations from this time and place
Make a goat craft and play a game when learning about how the ancient people of Elam performed animal sacrifices
Craft a paper Assyrian Lamassu guardian
Play an ancient game called Twenty Squares from Ur in ancient Babylon
Color and cut a foldable about the ancient Babylonian gods and goddesses
Paint a Hittite lion on a rock
Make a 3D "Cedars of Lebanon" forest with paper
Act out the story of Theseus and the Minotaur in your living room
Plus so much more to choose from
Each Layers of Learning History unit includes Library Lists of books, a family read-aloud suggestion, hands-on activities, printables and paper crafts, sidebars for extra learning, and tools to help your assess student's progress and mastery. Learn more how Layers of Learning works.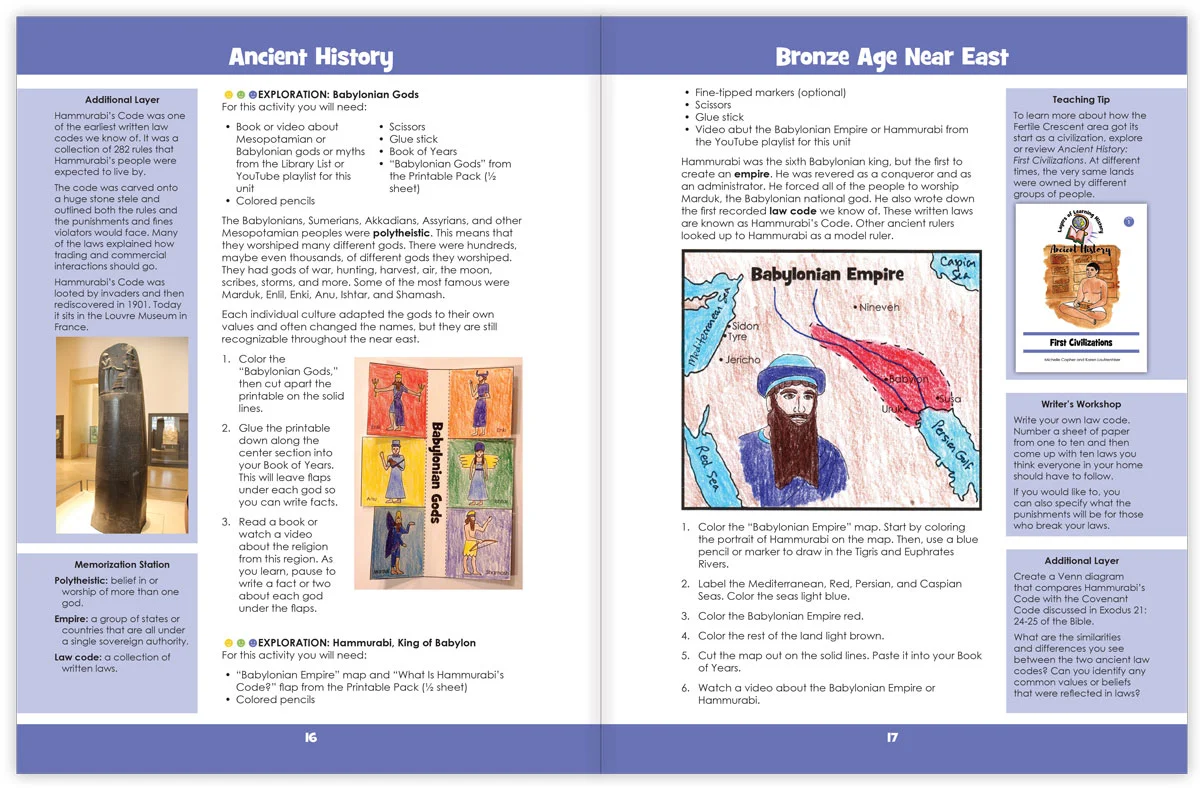 Flexibility
This unit was written to be used for a month but contains plenty of content for many more weeks of learning if you choose. This is a pick-and-choose curriculum, meant to be cycled back to in the future when your child is older. As such, it intentionally includes far more material than you can possibly cover in a month.
Bronze Age Near East is also part of the overall Ancient History course, the first Year of the four year Layers of Learning History cycle. If you use the program in order, it will take you through the history of the world from ancient times through the 21st century. However, each unit stands alone and can be used independently of any other unit.
Printable Pack
This unit comes with a downloadable Printable Pack that includes all the student worksheets. The printables can be copied as many times as needed for your family or class.
You can download the Printable Pack from your receipt or from your account at Layers of Learning.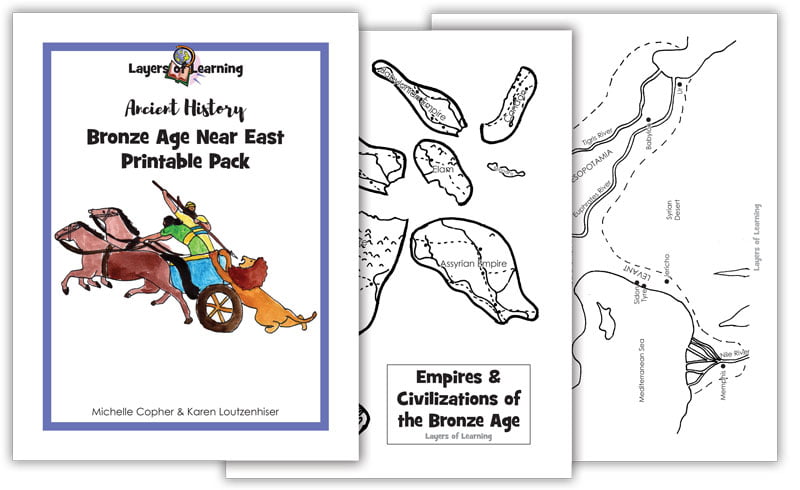 Extra Resources
This unit comes with extra weblinks and a YouTube video playlist on the Ancient History Resources page.