Writer's Workshop engages young writers with high-interest writing prompts and projects. The Writer's Workshop method creates a happy environment where kids are coached incrementally towards improved writing skills. The program prioritizes the growth of the writer over tests and grades.
This book is a parent guide to help the adult plan daily writing lessons. It can be used to teach all ages from 6 to 18 years old and can be used simultaneously with different ages or abilities, family-style.
What's In This PDF Book?
Writer's Workshop includes nine individual month-long units including:
Writer's Workshop Jump Start – to break free of old writing patterns, learn to have fun writing, and learn the writing process.
Sentences, Paragraphs, & Narrations – to teach well-crafted, powerful sentences and paragraphs plus how to retell information in your own words.
Descriptions & Instructions – to paint a picture in your reader's mind with vivid language plus write clear instructions.
Fanciful Stories – to write setting, characters, plot, and dialogue for fictional stories of all lengths.
Poetry – to write formula poems, free-verse poems, rhyme schemes, figurative language, and more.
True Stories – to write biographies, news articles, memoirs, and other true tales.
Reports & Essays – to research and write book reports, science reports, history reports, essays, and other expository writing.
Letters  – to write letters to friends and family, write business letters, fill out forms, craft a resume, and more correspondence skills.
Persuasive Writing – to get people to come around to your point of view through appeals to authority, emotion, logic, and more.
Get all the nitty-gritty details for how to set up your own Writer's Workshop and mentor your kids to help them grow as writers in the Writer's Workshop Guidebook. The Guidebook teaches the mentor about the Writer's Workshop philosophy, how to set up Writer's Notebooks, and how to evaluate writing.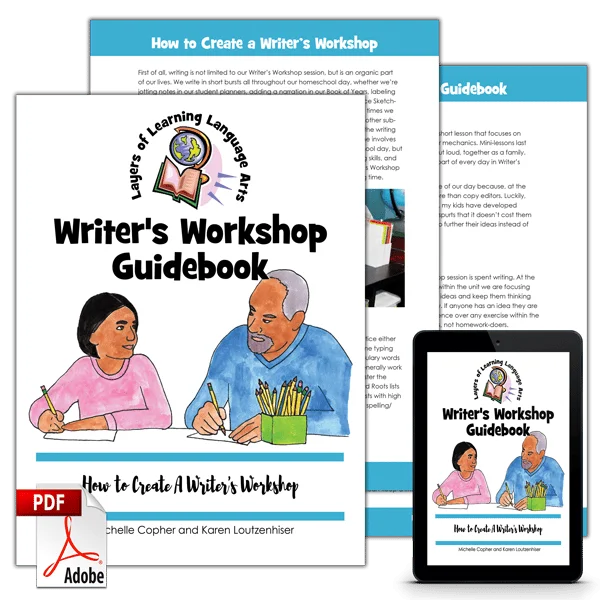 A Writer's Workshop Lesson
Writer's Workshop includes mini-lessons in the sidebars on every page in a pick-and-choose format. Each daily writing lesson starts with a five-minute mini-lesson including grammar, mechanics, writing skills, and genre lessons. Choose the mini-lessons that appeal to you and that your kids need extra help with. Next, choose from dozens of exercises. Each of the units is full of pick-and-choose exercises so the parent/mentor can select writing activities that keep your kids engaged.
Some of the exercises can be done in a single one-hour writing session, others you will want to extend over several days or even weeks. Finish up each unit with a monthly writing project from each student.
Evaluating Writer's Workshop
During the last week or of the unit, the student will take an exercise from the unit and take it all the way through the writing process. When the project is completed, it should be published and shared in front of a cheering audience. The writing project is the only part of Writer's Workshop that is evaluated. Writer's Workshop includes printable grading rubrics for each unit to help in evaluations that assess each writer based on his or her levels and growth during the unit, as opposed to an arbitrary standard.
Reusable and For All Ages
The units are repeatable so you can use the same Writer's Workshop book and program year after year with all of your children from beginning writers who sit on a lap and tell Mom what to write down, to high schoolers preparing for college-level writing.
The Writer's Workshop book is for the parent/teacher and includes mini-lessons on writing skills and grammar in the sidebars and dozens of writing exercises through the rest of the book.
The parent picks and chooses between mini-lessons that address the children's needs and then exercises that will engage the children's interests.
Extra Resources
YouTube playlists, Pinterest boards, links to helpful websites are all assembled and ready for you to access on the Writer's Workshop Resources for Layers of Learning page.
Printable Packs
Writer's Workshop also includes printables for every unit. The Printable Packs are available as a digital PDF download from Layers-of-Learning.com and come with your purchase on your receipt.
Also Sold As Individual PDFs
The Writer's Workshop program also comes as individual PDF units you can purchase one-by-one as you go. The individual PDFs are exactly the same content as the units that are included within the paperback or PDF Writer's Workshop book. It's like buying the program chapter by chapter.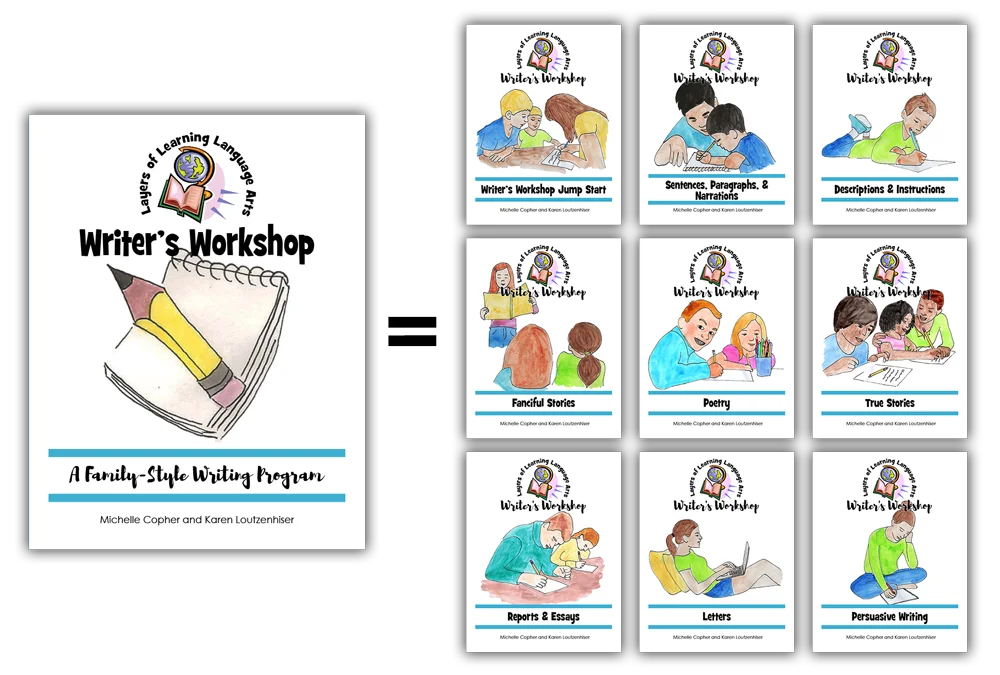 Supplemental Links, Videos, & Resources
There are Pinterest boards, web links, and a YouTube video playlist that go with this lesson on a separate page for Writer's Workshop.